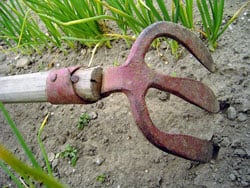 Newsletter: April 2012 Gardening Tips
April 2012 Edition
"To cherish what remains of the Earth and to foster its renewal is our only legitimate hope of survival."
~ Wendell Berry
Hello Subscriber!
Welcome to the April edition of Terroir Seeds Gardening Tips! We are seeing some great weather here in north central Arizona and have gotten a few cool season items in the garden while enjoying the greens from our greenhouse. It won't be long now and we'll all be able to be outside and romping in our gardens! Some rain is forecast for the weekend, but shouldn't be too terrible.
Our last Newsletter was the "Movie" issue, and this one is shaping up to be the "Tomato" issue. We think that it is appropriate that our thoughts turn to fresh tomatoes in the garden, as the weather is just about ready. A note of caution, however. Be careful of getting a bit too anxious and setting out your tomato starts too early, as there will be at least one or more cold snaps before winter calls it quits. If you are not quite sure of just exactly when your last frost date is- use this First and Last Frost Date tool to be sure. Just plug in your ZIP code, and you'll be able to see, by percentage, the chance of first last frost dates for the 3 closest weather reporting stations historically.
We are working in the planning stages for some really great new departments for next year's catalog, along with a few new varities that will debut for this year's Fall and Winter gardening time, and some really exciting culturally significant seeds that we are just starting the trial and grow-out process on. Cindy and Eileen are working on planning for 2014 offerings and seed contracts already! There is always something interesting going on here…
May 2nd and 3rd will see us at the Lawn and Garden exhibits in the National Hardware Show in Las Vegas. After that we're off to Zion National Park for some fun, quiet and backroads!
Planning a wedding, or planning on attending a wedding? Read our article on seed packet wedding favors for some ideas!
We have enjoyed meeting and sharing with those of you that have joined us on Facebook, and look forward to meeting more of you!
Let's see what's new!
---
Tasty Tomatoes Guide
To kickoff the start of gardening season in general and specifically tomato season we have a handy new publication called Tasty Tomatoes that will guide you into the delicious world of all things tomato. There are profiles of the 25 most popular varieties, companion planting and container gardening information, season extension and pest issues along with recipes for everything from appetizers and side dishes to soups, salads and sauces.
Whether you are a seasoned pro having years of experience with dozens of heirloom tomato varieties, or just getting started with your first season of these highly regarded, tender and delicious beauties, this book has something to offer. There is a load of great information all in one place that makes it an easy and handy reference that you'll turn to time and again.
---
Seed Packet Wedding Favors
"You know you're in love when you can't fall asleep
because reality is finally better than your dreams."
~ Dr. Seuss
Spring is in the air followed closely by love. This means many of you might be attending or having a wedding this spring and summer or maybe planning a wedding for the future. What better way to celebrate a marriage than by planting the seeds of a garden!
If you are looking for wedding favors, specially imprinted seed packets make a very thoughtful gift. Email us about adding your own quote or special date to the seed packet.
Attending a wedding? What better gift than giving the new couple a gift certificate for Terroir Seeds. We offer many unique collections to choose from or a beginner's collection for newbie's. All gift certificates include a copy of our current catalog.
Many weddings have been held in outdoor gardens. Botanical gardens make a lovely setting; for a listing of gardens near you visit the American Public Gardens Association. Many gardens now have full wedding packages to help make your day special.
Another new trend is sourcing locally grown wedding flowers. You can contract with local flower growers and have them custom grown for the occasion. A new book by Debra Prinzing- The 50 Mile Bouquet: Seasonal, Local and Sustainable Flowers goes into depth on this new trend which is softer on the earth. To find a flower grower near you check out her blog – The 50 Mile Bouquet, Local Harvest or if you are planning ahead- order some flower seeds and give it a try in your own garden!
Happy Wedding Season!
---
Heirloom Tomato Growing Tips
Let's talk tomatoes, can we? Specifically, heirloom tomatoes, as their meteoric rise in popularity over the past few years would have many a pop and rock star green with jealous envy. The heirloom tomato seems to be almost everywhere these days, from high end cooking shows with their ultra-close-ups and glamor shots to many new cookbooks focusing on home-grown and locally sourced produce to Farmer's markets, CSA's and almost everyone's home garden.
Our newest techniques and tips article is all about helping the tomato do it's best for you this year. Heirloom Tomato Growing Tips has 8 proven, easy to use recipes and remedies to tackle the pests and diseases that confound home gardeners in their never-ending quest to grow the best tomatoes possible. There are a couple of old favorites that have served well and earned their place, as well as some unique approaches that many folks have not heard of, but have also proven their effectiveness while being biologically friendly and non-toxic.
---
Home Gardening As Therapy
Are you in need of some therapy? Do you need a reliable way to clear your head of the cobwebs and stop constantly trying to herd the cats that are your thoughts? We're not talking about paying for "couch time" here, but something else entirely that just might be much more effective in several ways.
Read Home Gardening As Therapy for some insights into what some simple, focused, quality time in the garden can do for your mental, emotional and physical health. You just might be surprised!
Let us know if you enjoy this article, and we'll write more like it!
---
Our customers are friends that we have not yet met, as you share our interest and passion for growing incredibly delicious foods, preserving heirloom seed traditions and biological diversity for the future through our own home gardens. Sharing this is possibly the most important work, as it helps all of us make a definite, positive impact in our lives and in those that we share.
Thanks for your time this edition, we hope you have enjoyed it. Please let us know your thoughts and suggestions, as we are always working to improve.
Stephen and Cindy Scott
Terroir Seeds | Underwood Gardens
https://underwoodgardens.com/wp-content/uploads/2012/04/Old-Garden-ToolWeb1.jpg
188
250
Stephen Scott
https://underwoodgardens.com/wp-content/uploads/2018/07/TerroirSeedsNEWWebLogo3-300x69.jpg
Stephen Scott
2012-04-16 19:03:06
2018-04-23 11:09:45
Newsletter: April 2012 Gardening Tips