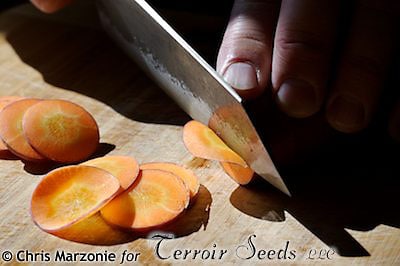 Newsletter: April 2014 Newsletter
April 2014 Edition
"April is one of those months that has four weeks but easily seven or eight personalities. You wake up one Saturday morning, say, and find the sun high and warm… and before you're done much work you break into a sweat and pull off your coat. Immediately, a cloud blows in from nowhere, the day turns from blue to gray; and a chill descends.
April is just that way: part June, part February."
~Thomas C. Cooper
In This Edition-
Quality Seed Saving for the Home Gardener
Chile and Pepper Growing Tips
Baked Yogurt Tart
The Carrot's Odyssey
Your Gardening Questions Answered
Hello Friends!
Welcome to April! As I'm sitting here writing this, we are having snow flurries here in central Arizona. The old saying is "April showers bring May flowers" so what does April snow flurries mean?
Many of you are experiencing one of the hardest, most challenging and strangest winters in a lifetime, wondering when warmer weather will finally arrive. We've had reports of 2 to 3 feet of snow still on the ground when normally grass is starting to peek through. Much of the country has had abnormally wet weather, while the West coast has been bone dry. With California suffering exceptionally dry conditions, we can all expect to see fresh food prices rising soon, as other parts of the country cannot make up for what the Central Valley produces. This very well may be the best year to have a home garden yet!
We want to welcome our numerous new subscribers – a very warm welcome to all of you that we've met over the past couple of weeks at the Sierra Vista master gardener conference as well as the PrepperFest AZ show! You can access all of our previous Newsletters under our Newsletter Archive section, and if you are social, please join us for some daily conversation and sharing of thoughts on our Facebook page. We share many things there that won't make it into the Newsletter.
The Verde Valley Bird and Nature Festival is later this month – April 24 – 27 and we'll be there with a booth, lots of bird and butterfly friendly seeds and collections as well as greeting cards made from hand-made paper with seed in the paper itself. After you are done with the card it can be planted and will grow some beautiful pollinator attracting flowers. If you are attending, please come by and say hi; we'd love to meet you!
That Sunday afternoon after the end of the birding festival, we will be doing a presentation on personal choice and education in the GMO arena for the GMO Free Verde Valley group. Visit their website for more info!
We've got some great information and inspiration in this edition, something to get you thinking about warmer weather! Let's dig in!
---
Quality Seed Saving for the Home Gardener
We are very pleased to announce our first class in cooperation with Yavapai College in Prescott, AZ!
For those of you within driving distance, please join us Thursday, June 26 at 10:00 am to 1:00 pm for an introduction to seed saving with an emphasis on the quality that makes everything successful. We will present an overview of seed saving basics and introduce concepts that will benefit you in making decisions and planning your seed saving adventures.
The course description is:
"Whether you are a home gardener or a small scale grower, whether you buy all of your seeds, save some for next season or a combination, this class will help you be better informed, buy more wisely and have better seed. Learn about seed quality as well as information for successful seed saving. Saving seed is fairly simple to do, but the results from planting those seeds can be mixed. Come to understand the basics of seed quality and get better results in your gardening."
The course – Quality Seed Saving for the Home Gardener – is available to view online, with registration opening April 15th. We'll see you there!
---
Chile and Pepper Growing Tips
One of the mainstays of the garden, chiles are often started from seed or bought and planted right along with their travelling companions from the central Americas, the tomatoes.
For those that aren't chile-heads, these sweet or hot little packets of history can be either boring or scary. Some gardeners will plant the same variety of green bell pepper year after year and not think too much of what else is on offer, while others are very concerned with the amount of "fire" some hot chiles pack. There is a lot of room to explore the world of chiles without being either bored or burned.
Chiles can be grown with great success in many varied garden climates across America. They are very adaptable to different conditions and have travelled widely, establishing themselves in many different locations and cuisines around the world. Chile and Pepper Growing Tips gives you some practical advice on getting your tasty little piece of history started successfully.
Have you ever tasted fresh-from-the-garden, home-made salsa, digging in only minutes after it was crafted? Did you marvel at the explosion of flavors and wonder how much work it took? The perfect transition from a few sweet pepper plants is into a salsa garden, as it takes little space and is easy to grow. Our Salsa Collection takes the guessing out of what to grow and what ingredients work well with others to craft your own "signature" salsa like an experienced pro!
---
Baked Yogurt Tart
Sometimes the simplest things are the most elegant and satisfying. This almost-custard yogurt tart is one example. Strained yogurt, a little sugar, vanilla and some eggs are all there is to it, but the resulting marriage of the rich egg and yogurt flavors along with the sweetness of the sugar, all tied up in the aroma and taste of high quality vanilla is captivating.
I made this for Cindy's birthday party last week and it was impressive to see how everyone made yummy noises, not wanting to interrupt their taste experience with talking. That's when you know you've got something special! Try the deceptively simple but incredibly delicious Baked Yogurt Tart yourself!
---
The Carrot's Odyssey
Ellen once again shows her agricultural research on the travels and history of carrots. We love these types of articles, packed with information and education, as they really show just how rich our culinary world is today, gives hints and history of where they originated or traveled on their journey to where we find these foods and ingredients today.
Let's celebrate the Odyssey of the Carrot, as told by Ellen!
---
Your Gardening Questions Answered
Question: "Just curious how I know I'm actually getting heirloom seeds? Are they certified? Been inspected? How do I know I'm not just getting regular seeds? Does the USDA inspect your facility?"
thank you,
toby
Answer: Hello Toby,
"Thanks for contacting us, and for your excellent question! There is a short and long answer to your question.
The short one is trust.
You must trust that the seed company and farmer who are growing your seed and food are being honest. For that matter, most decisions in life come down to trust, as there is simply no way to absolutely certify or guarantee that there is no possible way that someone, somewhere isn't gaming the system for their own profit or benefit.
Now for the long answer.
Trust is one of the main reasons we talk about getting to know your seed company, just like getting to know your farmer. If you don't trust a company and what they are saying is true, then simply don't buy from them. Spend your hard earned dollars where they will count and with whom you are comfortable with.
Depending on a third party inspection system or government agency inspection is not the answer either, as we all have seen time and time again how a food producer was inspected and passed with high marks a very short time before a pathogen outbreak from their facility sickened or killed a number of people.
A third party inspection would only be meaningful if they were involved with all aspects of seed production – from the seed germinating, to transplanting, to rogueing and selection, to harvesting, cleaning, drying and processing the seeds. Only then would an inspection be able to verify and certify the seeds for that year, and there isn't any way this can be accomplished in an economical, un-intrusive manner.
No one has more motivation to grow and provide the highest possible quality of seed than we – the seed company – do. It is simply in our best interest; it maintains our reputation and grows our customer base with happy gardeners coming back year after year for more seeds.
Let's look at your questions, both the surface and what's below. Are our seeds certified or have they been inspected? How can we guarantee that you aren't getting "regular" seed, and are we inspected by the USDA?
Good questions, all of them, and all of them are driving at one main question – how can you be sure that you are getting the seed you paid for?
Some of our varieties are Certified Organic through the National Organic Certification process. This certification is done on the farm where the seed is grown and cleaned, before it is shipped to us. Not all of our seed is Certified Organic, for a number of reasons. Some of our growers are large enough to meet the minimum production quantity to become certified, while others aren't. Some of our growers only produce a few varieties of seed and won't ever produce the minimum amount of seed to qualify for organic certification.
Is our seed inspected? We inspect our seed with our growers as we visit their farms in the fall for the quality we both expect. There is no government inspection process, and if there was, what would they be able to inspect? One tomato, pepper or any other variety of seed looks very much like another of the same species, regardless if they are different varieties, grown under different conditions, treated with chemicals or not. A seed inspection can simply not tell how they were grown, how they will perform or even if they are open pollinated vs hybrid. Only a grow-out can tell that – when it is grown in a garden and performs as it should, or doesn't.
Does the USDA inspect your facility? As an Arizona licensed seed company, we are subject to inspection from both the USDA and the state of Arizona. They do perform site inspections, but not on a regular basis.
As you have seen, this is a much more involved and complex matter than many think. That is one of the reasons we work to be as open as possible on how we do business and how we grow our seeds. Sections like "Get to Know Us Better", "Heirloom Seed Stories" and "Seed Saving and Seed Production" help our customers and visitors get to see who we are and what we do on a regular basis.
I know you probably weren't expecting such a detailed response, but it is an excellent question that deserves to be answered! I hope this helps, but feel free to ask more questions if they arise."
---
We believe in a world of healthy soil, seed, food and people. Everyone has a fundamental need for vibrant food and health, which are closely linked.
We work to achieve this by challenging and changing conventional gardening thinking, providing successful and unique methods and techniques while inspiring the power of choice and action for the individual.
Our customers are friends that we have not yet met, as you share our interest and passion for growing incredibly delicious foods, preserving heirloom seed traditions and biological diversity for the future through our own home gardens. Sharing this is possibly the most important work, as it helps all of us make a definite, positive impact in our lives and in those that we share.
Thanks for your time this edition, we hope you have enjoyed it! Please let us know your thoughts and suggestions, as we are always working to improve.
Stephen and Cindy Scott
Terroir Seeds | Underwood Gardens
https://underwoodgardens.com/wp-content/uploads/2014/04/Carrot-Purple-Dragon-Slicing-Closeup1.jpg
266
400
Stephen Scott
https://underwoodgardens.com/wp-content/uploads/2018/07/TerroirSeedsNEWWebLogo3-300x69.jpg
Stephen Scott
2014-04-03 08:25:33
2017-10-31 14:49:50
Newsletter: April 2014 Newsletter