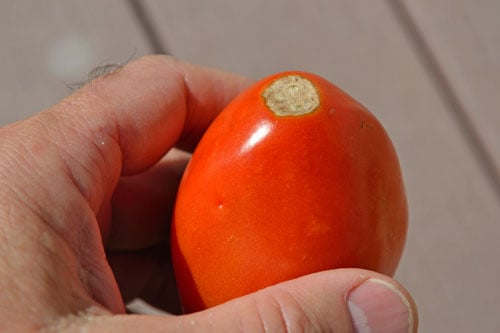 Newsletter: August 2011 Gardening Tips
August 2011 Edition
Hello Subscriber!
Welcome to the (late) August edition of Terroir Seeds Gardening Tips. Our focus from the end of July has been almost exclusively getting ready for The National Heirloom Exposition, from the design and construction of the heirloom seed display, booth banners and flags, Kids Garden auction basket, raffle giveaway basket, selecting and packing which varieties would best represent us, and on and on.
Mix this with finishing inventory, selecting new varieties for next year, planning the 2012 catalog, and we have been plumb busy! Honestly, though, we wouldn't have it any other way- this has been the blessing of a lifetime to be in the middle of all of our projects and be able to look several years into the future and see such positive changes, both for us and for our customers.
Our garden is doing nicely, especially since we didn't quite get everything planted that we really wanted to, something to do with being busy with this little seed business… There are several varieties of heirloom tomatoes that are just starting to ripen and look wonderfully delicious. We hope that your garden is producing well. Please drop us a note to let us know.
The compost experiment with charcoal, minerals, mycorrhizal fungi, milk, molasses, coffee grounds, etc is developing nicely. The chickens are doing most of the work in turning it as they scratch around eating the pill bugs and such that have exploded in the pile since I've started adding all of these beneficial ingredients. The level of the compost dropped about 3 inches within 3-4 weeks after starting the experiment, and the biological life that has shown up is impressive. I look forward to adding it to the raised beds and watching what is able to grow next year.
This will be a shorter than usual issue, with the next one expected to be longer as it will have articles and reports from the Heirloom Exposition. If you are in the area, please stop by and say hello, as we would love to meet and chat with you!
---
We're Getting Ready for
The National Heirloom Exposition
Santa Rosa, CA Sept 13, 14 & 15
The final stages of preparation for The National Heirloom Exposition are upon us! We've just received our seed display cabinet from our craftsman and finished loading it, and it is a thing of beauty. You can see some sneak peek photos here, in our Heirloom Seed Display Case album. The photo above is the Kids Garden basket we are donating to the auction that is raising money for school gardens.
We are presenting The Cycle of Terroir: From the Soil to the Seed to the Food You Eat. It is an overview of how the health of the soil combined with the quality and vitality of the seeds has a direct impact on the taste and nutrition of the food, which in turn directly influences your health. The presentation will be at 5PM Wednesday, Sept 14 in Finley Hall.
This is a World's Fair just for Heirlooms! There will be seed companies, farmers, gardeners, chefs and food organizations from across the country. The goal is to be the largest event for heritage agriculture ever held.
If you can't make it to see the presentation, we will have it on our blog once we return, so don't worry about missing out!
We still need some help! If you will be in the area, or attending the Heirloom Expo and want to meet us and help staff the booth, we would love to talk with you. Outgoing, friendly and energetic people are needed. You don't need to be an expert gardener or grower, just a friendly face! For a half day of help, we are offering a $50 seed order, and for a full day- $100 seed order. Please email Stephen with your contact information if you are interested!
---
Tomatoes Love Tums® and Molasses
Tomatoes are really hitting their stride across most of the country about now. Some areas are earlier, with some of the colder climates are a bit behind, but are coming on strong. Some of the things to watch for are cracking and blossom end rot.
Most cracking happens due to a swing in the water uptake that the tomato plant is used to. This happens most often after a heavier than normal rain, or a rain after being dry for a couple of weeks. The tomato plant takes up a large volume of water and shunts it to the tomato fruit, which splits the skin as it swells.
Blossom end rot is seen as brown or soft spots where the flowers were before the tomato started to emerge. Simple brown spots that are firm can be sliced off and the rest of the tomato used. Soft spots may or may not ruin the fruit for eating, it just depends on the extent of the soft area. You won't be able to tell until you cut the brown spot or end off and take a look.
The biggest cause of blossom end rot is a lack of calcium, which tomatoes need in abundance. Tums® are calcium carbonate and do much the same for your tomatoes that they do for you- give fast relief. Tucking a couple of Tums® into the roots at the base of your tomato plants will provide them with fast acting calcium, preventing blossom end rot on the next flush of tomatoes that are just starting to set right now.
Molasses is another fast acting pick me up for hard working tomatoes in the midst of setting lots of fruit. The natural sugars and minerals in molasses help with flower set and high quality fruit set. Unsulphured blackstrap molasses is the best as it has the highest amount of minerals, but any unsulphured molasses will do well. The least expensive place to find it by the gallon is the local feed and tack store, where horse and cattle feed is sold. Use a cup per gallon of water and feed through the drip system in the evening firs then the next morning, or hand water it in as a top dressing in the evening first, then the next morning. This gives the plants plenty of time to drink deep before they have the stress of the sun and higher temperatures of the daytime to deal with.
---
Potato Leaf and Regular Leaf Tomato
Potato leafed tomatoes aren't nearly as common as regular leafed tomatoes, and we get questions as to what, exactly, does a potato leafed tomato plant look like. We happened to have one of each growing next to each other, so were able to get a good photo to show the differences. The tomato on the left is the regular leaf with the potato leaf on the right.
---
Free Seed for Your Reviews
This was a very popular item about this time last year, so we wanted to bring it back. There is a review for each item we sell, and we want to have as many customer reviewed varieties as possible from as many parts of the country as possible. This helps everyone to see what has grown well (or not so well) in different locations and climates. It is easier to make informed decisions when choosing varieties for your location based on good reviews.
For any variety that has no reviews, we will give you 2 free seed packets on your next order for each review that you give, for growing that item. The screen shot at the right shows what to look for. You would click on the "Be the first to review this item" and give us your review. We will need your email address to credit your account for the free seeds, and your state will really help others when choosing whether to grow that variety or not. We really want honest, thoughtful reviews and not junk fluff to fill the page, as this is to help other gardeners.
If something grew great, let us know. If it didn't, let us know that as well. Please be honest yet civil, as we do cannot edit the reviews. Also check your spelling, as we cannot edit the reviews. If there are already reviews in place, we welcome yours but cannot give free seed for those.
---
Our customers are friends that we have not yet met, as you share our interest and passion for growing incredibly delicious foods, preserving heirloom seed traditions and biological diversity for the future through our own home gardens. Sharing this is possibly the most important work, as it helps all of us make a definite, positive impact in our lives and in those that we share.
Thanks for your time this edition, we hope you have enjoyed it. Please let us know your thoughts and suggestions, as we are always working to improve.
Stephen and Cindy Scott
Terroir Seeds | Underwood Gardens
https://underwoodgardens.com/wp-content/uploads/2014/10/DSC_0230.jpg
333
500
Stephen Scott
https://underwoodgardens.com/wp-content/uploads/2018/07/TerroirSeedsNEWWebLogo3-300x69.jpg
Stephen Scott
2011-08-15 18:48:53
2018-04-19 11:26:00
Newsletter: August 2011 Gardening Tips