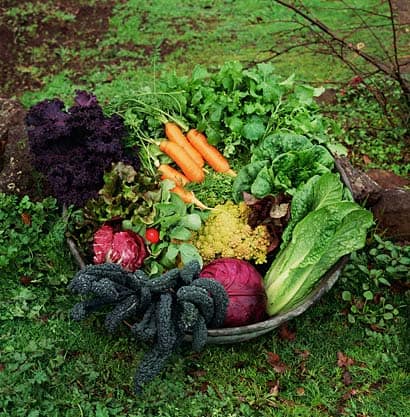 Newsletter: August 2012 Gardening Tips
August 2012 Edition
Gardening is about enjoying the smell of things growing in the soil, getting dirty without feeling guilty, and generally taking the time to soak up a little peace and serenity.
~Lindley Karstens
Hello Subscriber!
Welcome to the August 2012 edition of Terroir Seeds Gardening Tips. We've been hard at work and have an information rich, fun filled, jam-packed Newsletter for you this month. Let's dive right in!
---
Planting Your Fall Garden
Gardening in the cooler weather is becoming more popular to home gardeners looking to extend their growing season and stretch the family food budget while keeping taste and quality high. Nothing beats fresh home grown produce, especially when it can be grown most of the year!
Many reasons appear to support gardening more than just the traditional "Spring to Fall" American garden. One of the most obvious is that the sheer amount of food that can be grown from a family garden can be doubled and in some parts of the country almost tripled by growing in the cooler season. This has some very attractive financial incentives, as more fresh home grown produce equals that much less supermarket veggies and the resulting dollars in the pocket saved from buying seed instead of the finished product. Soil health is improved, as long as rich well decomposed compost is worked into the soil prior to planting the cool season crops. Keeping the soil active by growing during more of the year increases the biological activity in the soil and boosts soil health.
The two biggest factors in deciding what and when to plant is the time left in the growing season and the cooling of the soil temperature. Some varieties will really benefit from late summer and early fall planting, when soil temperatures are still warm and will jump start seed germination. To find the time left before your average first frost date, click the link. Now that you have an idea of how much time is left in your particular growing season, let's look at some varieties that can be direct planted in warmer soil, some that will benefit from being sprouted then transplanted, and some that will really like a cooler soil a little later on.
Asian or Mustard Greens

are always a success among fall vegetables, and are as easy to grow as lettuce. Sometimes used as edible cover crops. 21 days baby, or 45 days mature

Arugula (Rocket)

has a wonderfully mild flavor, becomes large and leafy and rarely bolts when grown in fall.

Endive

grown in the fall garden has big, crisp hearts, and taste less bitter compared to spring-grown crops. 40 days baby or 60 days mature

Beets

germinate quickly in the warm soil of late summer or early fall. 35 days to greens, 50 days mature

Broccoli Raab

turns bitter quickly in heat, but stays sweeter, richer and produces longer in cooler weather. 40 days, may be cut again

Cabbage

should be direct sown and transplanted after sprouting to extend the harvest. 60 days from transplanting.

Carrots

need a moist seed bed to sprout, but will become extra sweet as the soil cools off. 70 days

Cilantro

will bolt in hotter weather, but will produce over a much longer time in the fall. Cut and come again.

Cucumbers

will sweeten up as the weather cools off. Hot, dry weather and lean, poor nutrient soil makes them bitter. 60 days, frost sensitive

Kale

is incredibly cold tolerant, yet highly productive and easy to grow. Very nutritious and tasty on a cold fall or winter evening. 30 days baby, 60 days mature

Leeks

are excellent when overwintered. Plant in early fall to get a good start on growing, then mulch heavily just before first frost. In early spring, uncover just after last frost and enjoy the earliest, tastiest leeks you've ever had!

Lettuce

is a cool season crop that benefits from both direct seeding and transplanting to extend harvests. 60 days, or 30 days from transplanting

Mache (Lamb's Lettuce)

is a miracle green that grows strongly through winter with minimal protection and fills your salad bowl first thing in spring. 40 days baby, 60 days mature

Peas

are very often overlooked, but are a cool season crop that does well in the fall garden. Use an early maturing variety. 50 – 70 days

Radishes

grow well in fall including the familiar salad radishes, huge Daikon and radish blends.

Scallions or green onions

develop a richer flavor as cooler weather arrives. 65 days

Snap Beans

will be crunchier and sweeter as cooler weather arrives. 50 – 60 days, frost sensitive

Spinach

can be planted or harvested 3 times. Start seedlings indoors and transplant for an early fall crop, direct sow once soil temperature is below 70F and grow a third crop under a row cover or low hoop house until the coldest part of the winter. 30 days baby, 45 days mature

Swiss chard

is both heat and cold tolerant, but produces richer flavors once the first frosts set in. 30 days baby, 55 days mature

Turnips

will give you both tasty greens and crunchy roots that will store for several weeks. 40-50 days
---
The National Heirloom Exposition
and
Slow Food Terra Madre Delegates
The Heirloom Exposition in Santa Rosa, CA is just less than a month away! We are finishing the display and getting seeds and supplies ready for another great show and look forward to meeting a lot of you, either for the first time or again. One of our great pleasures was seeing many of our customers stopping by the booth to talk and update us on how your gardens were growing. If you are attending this year, please make a point to stop by and say hello!
By all accounts, it looks to be another successful Expo with attendance projected to be significantly higher than last year. There are 100 speakers scheduled from North America, Europe and Africa, along with chefs, exhibits, vendors, music and a farmer's market right on site.
The opening night's keynote address is by Carlo Petrini, founder of Slow Food. As many of you know, we are US delegates to the October Slow Food Terra Madre conference in Turin, Italy. It looks like Carlo will be stopping by our booth to talk and get some photos (and possibly video) documenting our work as an heirloom seed company in preserving and promoting the local, sustainable food movement. This is a great opportunity for us and for everyone who grows a garden, as we are working to bring back good usable information from other gardeners around the world to share with you!
I don't suppose that it is coincidence that the two biggest trips we will take this year – the Heirloom Expo and Slow Food Terra Madre – have begun to feed and support each other. Each reflects a different but equally important aspect of our work in gardening, local food and heirloom seeds.
A quick update on our Slow Food Terra Madre progress. Thanks to a very generous donation of airline miles and some special customers' support we are closer to our goal this month. There is still a ways to go, but we can see some light at the end of the tunnel! Here is our press release link, and our article on Slow Food Terra Madre if you are interested.
Thank you all so very much for your belief in us and our work to help us make this trip possible with your hard-earned contributions and support. We truly would not be able to do this without your help.
---
Harvesting Tips and Tricks
We have picked up a number of harvesting tips and tricks that don't really fit anywhere in particular, but we wanted to share them with you. Here they are, in no specific order! Please let us know if you have a favorite harvesting tip that works well with you so we can share.
Use old colanders or laundry baskets for harvesting vegetables. You can wash the produce right in the container. Laundry baskets make it easy to pull the harvest along behind you in the row.
A clothes line and clothespins can be used to hang and dry herbs. Also, garlic, onions and flowers can be hung from the line. For smaller or more delicate herbs, use a mesh laundry bag.
Paper bags are also very useful for drying herbs and collecting seed. Clip off seed heads as they begin to dry and store them in the paper bag for a couple of weeks in a warm spot, then separate the seeds from the chaff.
If you have too many tomatoes and they are falling on the ground, make sure to pick them up before they rot. Any fruit left on the ground leads to the very good possibility of "volunteer" plants next year. This can be an exciting experiment, but more than likely you will not remember what it was. Also, seed tends to migrate between rows and beds; we have a "volunteer" tomato growing in a bed we did not even grow tomatoes in last year!
If you have frost sensitive herbs planted and you want to extend their use, try digging them up and placing them in a pot. Make sure to dig a generous amount of soil to preserve the root structure and use a larger pot. Bring these pots inside before the first frost. We have successfully done this with chives and lemongrass.
If you wind up with excess peppers, make a Ristra. Here's an article showing

how to make a Ristra

.
Harvest beans when they pass the snap test. If beans are rubbery and won't snap when you bend them, give a little more time before picking. But don't let them go until they show bulges from bean seeds developing within, or you will be eating fibrous beans. If you can't get them at this stage, let them mature and use as dry beans or as seed for next year's crop.
Refrigerate melons only after cutting. Melons should be kept at room temperature until you cut into them, when they will keep better in the refrigerator. For the best flavor, eat within a couple of days after cutting open.
It is difficult to know just when a great big watermelon is ready to eat. Here are some visual cues to look for. The shaded underside will have warmed in color from whitish to a yellow tinge. If the tendril where the fruit stem meets the vine has dried, that is a sign the fruit is ready to harvest. Then there is the thump test! An immature melon will give a metallic ring but you will get a dull thud if the melon is ripe. Let us know if you swear by the thump test.
---
Planting Seeds
Refer A Gardener Program
A good number of you have passed along our catalogs, the Heirloom Times and seeds to your friends along with your recommendations, helping us gain new customers and grow our business.
We want to say "Thanks" for your trust with our new Planting Seeds referral program.
Here's how it works: When you refer a friend or family member, you will receive a $20 Gift Certificate when your referral makes their first purchase over $20. Your referral will also receive a 15% discount on their first order.
The Fine Print
No time limit between you referring a new customer and their first purchase.
Referral must not have ordered from Terroir Seeds in the last 3 years.
No limit on the number of referrals you can send us.
Gift Certificates will be valid for 1 year from the date of issue.
To get started, just click on the Planting Seeds – Refer a Gardener Program link for the form, download and fill it out and mail, email or fax it in. We will send them a catalog and a coupon for their discount right away.
---
Garden Photos and Reviews
Many thanks to those of you who sent reviews in during July! Jeff from Scottsdale, AZ was the winner of the drawing and wins the $25 gift certificate. There will be another $25 gift certificate drawn this month, so get your reviews in. There is one entry per review, so the more you enter the better your chances.
If you haven't submitted a review yet, it's easy! Go to the item you want to review and click on the item number, photo or name to get to the extended description. There you will see the review link. It will say "View Reviews | Review this item" if there have been previous reviews, and "Be the first to review this item" if not. Click on the link and enter your review.
We need real, constructive reviews that will help other gardeners, not just positive fluffy ones. Please enter your state, so that others can see how it did in your area. Your name is published if you enter it, but your email is not. We need your email address so we can keep track of the number of reviews for the drawing. If you choose not to enter your email in the review, make sure to send us a note letting us know what items you've reviewed so you get credit for your entries.
P.S. We still need your garden photos! We are in the process of creating a Customer's Gardens section on the website and we'd love to have your garden featured.
---
Two Great Recipes
We've been a little remiss on providing you with some great recipes lately, and for that we apologize. There has been a lot of work in other areas, so we wanted to bring you a couple of great ones that you should really love!
Both are unusual but highly tasty and will garner you some serious accolades when you bring them out to delight your family and guests' taste buds.
Our first recipe is taking an old familiar favorite a bit further along its journey of flavor and taste. Take some sun dried tomatoes; add some herbs, a little pickling brine and you've got another whole new dimension of flavor, ready for some seriously delicious dishes from your kitchen. Read Herb Marinated Dried Tomatoes for the whole story.
Next up is a recipe very much in honoring our commitment to highly tasty, sustainable and locally produced foods. So local, in fact, that you won't even need to leave your property to make it. If you've ever used or tasted capers in a dish and enjoyed them but don't enjoy the price tag or the overseas travel to get them into your refrigerator, this is for you. Pickled Nasturtium Pods uses the green seeds, or pods, of the mature nasturtium that grows well in just about any North American garden. After a short, easy pickling process, you'll have an ingredient that several chefs have said has a better flavor and presence than capers. Enjoy and let us know what you think!
---
Our customers are friends that we have not yet met, as you share our interest and passion for growing incredibly delicious foods, preserving heirloom seed traditions and biological diversity for the future through our own home gardens. Sharing this is possibly the most important work, as it helps all of us make a definite, positive impact in our lives and in those that we share.
Thanks for your time this edition, we hope you have enjoyed it. Please let us know your thoughts and suggestions, as we are always working to improve.
Stephen and Cindy Scott
Terroir Seeds | Underwood Gardens
https://underwoodgardens.com/wp-content/uploads/2011/07/Fall-Garden-Basket.jpg
417
410
Stephen Scott
https://underwoodgardens.com/wp-content/uploads/2018/07/TerroirSeedsNEWWebLogo3-300x69.jpg
Stephen Scott
2012-08-16 06:41:10
2018-04-23 11:09:49
Newsletter: August 2012 Gardening Tips