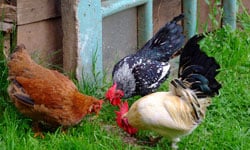 Chicken Epidemic Linked to Equine Pathogen
Free range chickens are great for the small scale grower or modern day homesteader for their eggs, bug control, funny antics and sometimes meat. One thing to be aware of is some of the dangers that face chickens, such as coyotes, dogs or hawks. Ravens are very fond of the eggs, often waiting until they know that a fresh egg is available and swooping down to carry off a tasty snack.
Another danger has recently re-surfaced on a free range chicken farm in Denmark. A pathogen that is commonly carried by horses has been shown to be the cause of a deadly outbreak of respiratory illness in the chickens. The bacteria Streptococcus equi zooepidemicus, often shortened to "Strep zoo" will colonize the skin and respiratory tracts of horses. It can cause pneumonia, strangles and other diseases, but also can be inactive in the horse, never showing signs or causing illness. These "silent carrier" horses can spread the pathogen within their area and to other animals. This is a prime reason for once or twice a year vet visits for your horses, as the vet will know what diseases are active in the immediate and surrounding areas along with what methods are best used to counteract them.
A large free-range poultry farm in Denmark had 80% of their chickens die over a four month series of outbreaks of respiratory illness. After laboratory testing at the University of Copenhagen traced the disease to the herd of horses living on the same property, researchers found that separating the horses from the chickens is one of the best methods of preventing the spread of the disease.
Outbreaks of Strep zoo in poultry have been very rare in recent decades, mainly due to the decline of the small farm with its varied populations of animals. With the increasing popularity and economic viability of the diversified small farms returning, we must be careful not to repeat the hard lessons learned by our grandparents and great-grandparents. This is just such one lesson; that of keeping the poultry separated from any direct contact with horses. The Strep zoo bacteria is a respiratory illness, so secondary contact should be fine, such as chickens pecking through the horse manure to control flies.
A Major Outbreak of Streptococcus equi subsp. zooepidemicus Infections in Free-Range Chickens Is Linked to Horses
https://underwoodgardens.com/wp-content/uploads/2012/02/Backyard-ChickensWeb.jpg
150
250
Stephen Scott
https://underwoodgardens.com/wp-content/uploads/2018/07/TerroirSeedsNEWWebLogo3-300x69.jpg
Stephen Scott
2013-04-02 09:04:39
2015-09-23 11:25:16
Chicken Epidemic Linked to Equine Pathogen