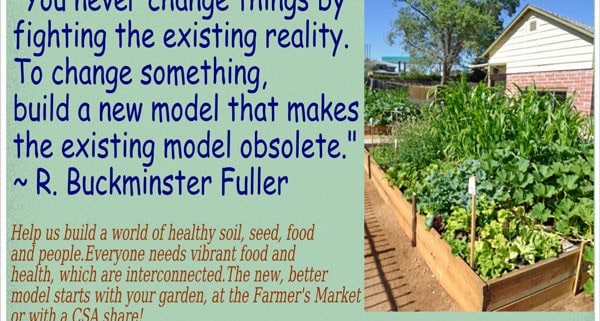 Newsletter: December 2013
December 2013 Edition
"There is nothing in a caterpillar that tells you it's going to be a butterfly."
~ R. Buckminster Fuller
In This Issue-
2014 Master Catalog available online
A Short History of Beans
Peak Industrial Agriculture
Holiday Gift Specials
Anyone have Wonderberry Jam?
Your Gardening Questions Answered
Hello Subscriber!
The smell of Juniper wood smoke in the air from our wood stove as we are outside feeding our animals forever imprints this time of year in my mind. It reminds me of the closing of one year and the beginning of a new one; of cold, crisp, frosty mornings and evenings with long nights by the fire as the days get shorter. It seems natural to pause for a bit and take stock in our lives at this time of year. We are finishing up our fifth year in this business of seeds, information and inspiration that you have partnered in with us. Throughout, we have grown, listened to your suggestions and worked hard to improve our business and our relationships with all of you. Every year has been better on all accounts, and this year is no exception. It's also no accident, as you – our customers – are the reason for our success. Thank you so very much from all of us – Allan, Eileen, Stephen and Cindy!
Prescott, AZ is well-known as "Arizona's Christmas City" and works hard to uphold that title. This Saturday is the Christmas parade followed by the famous Courthouse lighting in the evening. Most people in the area will turn out to watch, as well as visitors from across the state and nation. It makes us realize how fortunate we are to live in such a special place, a small to mid-sized town that has connections all around the world thanks to the marvel of the Internet. Thanks for letting us share our lives and passion with you!
As we round the corner on the final weeks of the final month of this year, we hope that you are well, have had a good year and are looking forward to a better one next year. We've got some special things in store for you next year, so stay tuned – it's going to be a great one!
---
2014 Master Catalog Now Available Online
Our 2014 Master Heirloom Seed Catalog is being printed next week and the electronic version is up on our website for you to get an early look at. Just go to our Heirloom Seed Catalog page and click on the "Electronic Catalog" link. We are working on packing seed as it arrives, so you'll see the "Currently Unavailable" notices going away as the seed is available!
As we talked about in our last Newsletter, we have spent much time in consideration, soul searching and thought and are changing how we produce our catalog to better reflect our philosophy of living lightly on the earth. Please keep this year's Master Catalog for future reference—we will no longer be printing a new catalog every year. Our reasoning is three-fold:
Environmental—Annual printed catalogs consume a tremendous amount of natural resources in paper and fuel for transportation – from the forest to the mill, to the printers, then on to you. Many catalogs are used only a few times and then are discarded.
Seed selection—A printed catalog is a snapshot in time and is static. Our website is adaptable and always contains the most up-to-date inventory and pricing, while significantly reducing the impact on the environment.
Quality of our products—Eliminating an annual catalog greatly increases our capability to provide the highest quality heirloom and open-pollinated seeds for our customers, and that – at its heart – is what we are all about.
The catalog will be updated and printed as needed—just not annually—to reflect inventory change and we will notify everyone periodically of new items as they become available.
Look for your Master Catalog in your mailbox between Christmas and New Year's!
---
A Short History of Beans
Our intern Ellen has been busy learning about what a family run seed company is like with packing seeds, pulling orders and helping us prepare for "seed season." She has also been engaged in learning and writing about the varied history of several varieties of seeds and their uses.
Today we share her article A Short History of Beans that has a unique twist, in how a bean features prominently in a treasured family tradition and makes the day for a lucky person. Enjoy!
---
Peak Industrial Agriculture
What if we are seeing the peak of industrial agriculture, sort of like Peak Oil? What if this is as good as commercial, chemical, industrial and corporate agriculture gets? There are some early signs that this may, in fact, be true.
We've said many times that we will wind up in a sustainable economy with sustainable agriculture, either by choice or by force.
Either we will figure out how to grow enough food to feed ourselves without stripping the soil of its nutrients and wrecking the planet or we will be thrown off that cliff and find ourselves at the bottom, picking ourselves up and trying to figure out how to feed those that remain. The same goes for the economy, we will learn to live within our means or face the consequences. "Are We At The Peak of Industrial Agriculture?" explains more of our thoughts.
---
Holiday Gift Specials
When shopping for a gift, many people search for something that holds real meaning for both giver and recipient; a gift that honors the relationship and bonds they both share. Deep down, we all want that connection, but rarely find it in today's over-commercialized world.
Gardening is an interesting activity; requiring patience, observation, work, planning and lots of learning. Hope springs eternal for a gardener – there is always next year for a failed crop or a mistake realized too late.
A gift of gardening creates that lasting meaning and symbol of honoring relationships, as it returns many times the initial gift, reminding the gardener each time of the wonderful, bountiful gift they received. Our Holiday Gardening Gifts make exceptional and thoughtful gifts for the gardener in the family, for a friend or to treat yourself. From the beginner Garden Seeds Special, to our Shea Butter Special or the Lavender Special, one of several collections or gift certificates, there are several choices to honor your gardener this year and for years to come!
---
Anyone Have Wonderberry Jam?
We need a favor from you! A gentleman contacted us looking for a source for Wonderberry jam, as he wasn't able to find any. I couldn't find any commercial sources either. He said his mom used to make it when he was growing up in Montana in the 1940s.
This Christmas he wants to give her a gift of Wonderberry jam, as she is somewhere around 95+ years of age and this jam is one of his strongest childhood memories. He told of going out picking the berries, snacking on some but bringing a bucket full back to make the jam with. His mom used a little sugar and some lemon juice or lemon zest, depending on what they had on hand at the time and then would simmer the pan down until it thickened up. There were times where his lunch was a couple of pancakes folded in half with the Wonderberry jam inside, and he still remembers the slightly sweet/tart flavors.
If anyone of our wonderful readers has some jam that they would consider sharing with this gentleman, it would make his and his elderly mother's Christmas. He is looking for a small amount, like a half pint or a pint at the most as a remembrance for the two of them. Please contact us and we will put you in touch with our seeker! Thank you so much in advance.
---
Your Gardening Questions Answered
We received this question from a Newsletter reader:
Q: I have a question from your newsletter, you said you were going to give " a good drink of milk and molasses" to the ground. This is only my second year of gardening SO I was wondering HOW MUCH and WHY you do this? THANK YOU for your answer in Advance !!!
A: Ahhh, Gerry, I see you've noticed the rabbit hole! Allow me to show you Wonderland, and just how deep that rabbit hole goes.
You have just seen the beginning of a different type of agriculture that we educate people about. Most of it is not new, but is highly effective and kept out of the mainstream. For instance, Milk is a great soil food, foliar fertilizer, soft-bodied insecticide and fungicide – all proven through studies and research. Molasses feeds the micro-organisms in the soil.
It is best to start doing some reading on our website on the "Building Great Soil" section of our blog – specifically the Compost article, then the other articles there.
Q: THANK YOU for your quick response, tonight after dark this will be my first read. LOVE the rabbit hole reference!! I seem to be doing that ALOT since starting my garden in 2012, I have switched to "No Till" and my husband thinks I have lost my mind…
---
We believe in a world of healthy soil, seed, food and people. Everyone has a fundamental need for vibrant food and health, which are closely linked.
We work to achieve this by challenging and changing conventional gardening thinking, providing successful and unique methods and techniques while inspiring the power of choice and action for the individual.
Our customers are friends that we have not yet met, as you share our interest and passion for growing incredibly delicious foods, preserving heirloom seed traditions and biological diversity for the future through our own home gardens. Sharing this is possibly the most important work, as it helps all of us make a definite, positive impact in our lives and in those that we share.
Thanks for your time this edition, we hope you have enjoyed it! Please let us know your thoughts and suggestions, as we are always working to improve.
Stephen and Cindy Scott
Terroir Seeds | Underwood Gardens
https://underwoodgardens.com/wp-content/uploads/2013/12/Change-the-World11.jpg
465
600
Stephen Scott
https://underwoodgardens.com/wp-content/uploads/2018/07/TerroirSeedsNEWWebLogo3-300x69.jpg
Stephen Scott
2013-12-06 09:12:26
2018-03-12 14:13:03
Newsletter: December 2013