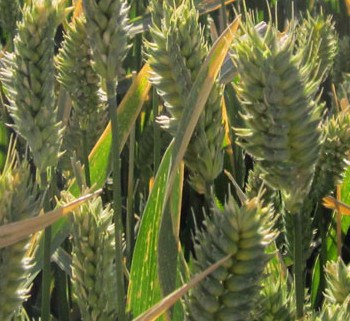 Newsletter: February 2014 Highlights
February 2014 Highlights
"Odd as I am sure it will appear to some, I can think of no better form of personal involvement in the cure of the environment than that of gardening. A person who is growing a garden, if he is growing it organically, is improving a piece of the world. He is producing something to eat, which makes him somewhat independent of the grocery business, but he is also enlarging, for himself, the meaning of food and the pleasure of eating."
~ Wendell Berry,
The Art of the Commonplace: The Agrarian Essays
In This Issue-
Introducing Pima Club Wheat
Customer Survey – Help Us Help You!
Spider Milkweed for Monarch Butterflies
Mother Earth News Blog
Pickled Cucamelons with Dill and Mint
Hello Friends!
Welcome to our Mid-February Highlights! We are enjoying what is known to local old-timers as the "false spring" here in central Arizona, with warm days and nights in the mid-20s or above. There is such a strong temptation to start working the garden with the shirt-sleeve weather we're having, but we've learned the hard way not to start planting those seeds or seedlings in the ground too early. There is always a hard freeze, late and unexpected snow storm or a freezing rain that kills all of the hard work that is put in too early. This all changes if you use a greenhouse, hoop house or multi-layer row cover to protect those tender plants early on.
We wish all of our new subscribers a very warm welcome, so glad you could join us! For those of you that are new, or have just forgotten, we have a complete Newsletter archive of all of our past issues on our sign-up page. Just click the link and browse to your heart's content!
To tempt you and help you look forward to the warmer weather that is (hopefully) just around the corner, we are sharing a tasty recipe to use the ever-popular Cucamelons, as well as introducing another heirloom wheat that has been grown in the southern Arizona and northern Mexico regions since the mid-1600s. Just like the White Sonora wheat, this is low in gluten and is not hybridized.
Let's dig in!
---
Introducing Pima Club Wheat
We are very pleased to help re-introduce another ancient, heirloom wheat. Pima Club wheat is considered to be "functionally extinct" in Gary Nabhan's book "Renewing America's Food Traditions: Saving and Savoring the Continent's Most Endangered Foods." Functionally extinct is defined as "no longer recorded in any current catalogs, fairs, or markets that bring it to the table, although it still may exist in government repositories or private collections of individual citizens or tribes."
Pima Club wheat is one of four varieties used by the Pima Indians in southern Arizona since it was introduced by Father Kino in the sixteenth century into the Sonoran region of Northern Mexico and Southern Arizona that completely altered the food life of the Pima tribes. The four varieties that became the backbone of the Pima or O'odham nation are: the White Sonora, the Pima Club, a semi-hard variety called Baart and a black wheat. Pima Club is preferred for making Pinole as it is a round, beardless and soft type of wheat. Pima Club was lost for a time, but was rediscovered in one of the O'odham village and grown out by a few families for Pinole, an ancient drink made from finely ground, toasted wheat or corn.
Pima Club is similar to White Sonora wheat that has been very popular with many of our customers as they are both perfect for the home gardener looking to grow some grain without needing a lot of space or having to go to a mill to remove the husks and grind the grains. Pima Club is great for cookies, cakes and pastries, along with tortillas or crackers. In some circles, Pima Club wheat is highly valued as a "cracker wheat" for the texture and rich, nutty flavor that the toasted and ground wheat gives.
---
Customer Survey – Help Us Help You!
Help us help you better with our Customer Survey. Your input helps us give you more of what you want and need; from gardening advice and soil improvement, to seed starting and seed saving. Many of our most popular articles and seed varieties were from customer feedback or requests. It only takes a couple of minutes, and we thank you!
---
Spider Milkweed for Monarch Butterflies
2014 seems to be shaping up as the "Year of the Milkweed", in support of the declining Monarch butterfly populations seen across the country. The Spider or Antelope Milkweed that we have helped bring into production is very popular, especially across the Mid-West and Western US, where it is the preferred species of milkweed for the Monarchs as they make their yearly migrations to Mexico. The Spider milkweed wasn't available commercially until the Xerces Society contacted us for help in growing it out and getting a seed crop to be able to offer to the public. You can read our article "Growing Milkweed for the Monarch Butterfly" to see the project from idea to planting plugs to harvesting seeds.
Both the Xerces Society and Make Way for Monarchs are working hard to get more seed available, get more plants into the ground along the migratory pathways and educate people as to how and why to plant more milkweed plants.
Make Way for Monarchs is having an event in Prescott, AZ at 2pm on March 5 at the Natural History Institute with Gary Nabhan discussing the reasons for the decline in the Monarch population and what we can do about it. Gary's talk will transition into a group discussion to develop community-based solutions for restoring and conserving Monarch habitat.
For those of you that are within driving distance of Prescott, we welcome you to join us in this program, or visit the Xerces Society and Make Way for Monarchs websites to learn more on what you can do, no matter where you are!
---
Mother Earth News Blog
We have been invited to share our knowledge of gardening, soil, seeds and food with readers of Mother Earth News through their Organic Gardening and Real Food blogs! This is a wonderful opportunity to be able to talk to a wider audience about the things that you folks have enjoyed for some time – the holistic approach to gardening and how everything works together.
Our first article is "Better Lettuce Seed Germination", where we look at why lettuce bolts and turns bitter in warmer weather, how we've been taught by the supermarkets that lettuce should be available all year long, and some tips and tricks to increase the germination, especially when the temperatures start to rise.
Read our article on the Mother Earth News website and please share it with your friends and leave a comment if you found it to be helpful!
---
Pickled Cucamelons with Dill and Mint
Cucamelons are tiny watermelon lookalikes originally from Central America that are enjoying their spot in the limelight these days. Home gardeners are captivated with the look of these jewel-like melons and then often fall completely in love with their crisp, crunchy, cucumber-tinged-with-lime flavor.
After you've gotten your fill of fresh cucamelons in salads, salsas, as appetizers in bowls of assorted olives and as garnishes for high-brow Martinis, save some for the winter months with this delightful Pickled Cucamelon with Dill and Mint recipe!
---
We believe in a world of healthy soil, seed, food and people. Everyone has a fundamental need for vibrant food and health, which are closely linked.
We work to achieve this by challenging and changing conventional gardening thinking, providing successful and unique methods and techniques while inspiring the power of choice and action for the individual.
Our customers are friends that we have not yet met, as you share our interest and passion for growing incredibly delicious foods, preserving heirloom seed traditions and biological diversity for the future through our own home gardens. Sharing this is possibly the most important work, as it helps all of us make a definite, positive impact in our lives and in those that we share.
Thanks for your time this edition, we hope you have enjoyed it! Please let us know your thoughts and suggestions, as we are always working to improve.
Stephen and Cindy Scott
Terroir Seeds | Underwood Gardens
https://underwoodgardens.com/wp-content/uploads/2014/02/Pima-Club-WheatWeb1.jpg
350
350
Stephen Scott
https://underwoodgardens.com/wp-content/uploads/2018/07/TerroirSeedsNEWWebLogo3-300x69.jpg
Stephen Scott
2014-02-20 12:53:38
2016-02-12 12:29:28
Newsletter: February 2014 Highlights