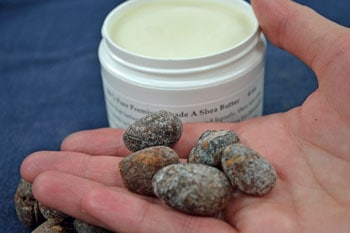 2012 Holiday Gifts for Gardeners
December 2012 Holiday Edition
Hello Subscriber!
As the gift-giving seasons of Christmas and Hanukkah approach, we wanted to give you some ideas for unique, thoughtful and deeply meaningful gifts for the gardeners, or would-be gardeners in your life.
Deep down, most people search for something that holds meaning for both giver and recipient, a gift that honors the relationship and bonds that they both share. Gardening is an interesting activity; requiring patience, observation, work, hope, planning and lots of learning. Hope springs eternal for a gardener – there is always next year for a failed crop or a mistake realized too late.
A gift of gardening can really create that lasting meaning and symbol of honoring relationships, as it returns many times the initial gift, reminding the gardener each time of the wonderful, bountiful gift they received.
We disagree with the overt commercialization of the holidays in today's world, so we are sending this message out in plenty of time for you to do your shopping without feeling pressured. Don't worry – we won't hound you about last-minute shopping! Here are some ideas we've seen used to great success as gardening gifts.
Please feel free to call or email us with any questions you might have about these ideas or in creating a special, one of a kind gift. We hope that you have a wonderful celebration with those special people in your life, and enjoy the richness of the gift of their bond with you!
---
Gift Certificates and Memberships
Gift certificates are a great choice for the gardener in your life whether they seem to have absolutely everything or are just getting started, experienced or not.
Last year, quite a few Gift Certificates were teamed with a Membership, creating a gift that truly keeps on giving! The Member receives a 20% discount on purchases – making the Gift Certificate go further – and each Membership supports some great programs that Terroir Seeds works with. This becomes a gift that moves in several directions with one beginning, building positive results all around.
With amounts from small to large, we offer our unique personal service for questions or help in planning next year's garden.
---
Collections and Gardening Books
Our Heirloom Seed Collections offer some unusual and highly thoughtful gifts. Many gardeners have been thrilled at this unexpected but highly appreciated gift!
The collections range from vegetables, herbs and flowers to kids gardening. The Beginning Gardeners Collection is a perennial favorite for introducing gardeners to heirlooms, followed closely by the Urban Garden Collection for those that have gardening space challenges but want some fresh tasty vegetables. Our newest collection comes from customer's requests – Grow Your Own Edible Seeds.
Several of the herb collections are standouts; Herbal Tea, Kitchen Herb and Herbes de Provence Collections are all best-sellers. The Flower Arranger's Collection, Butterfly Garden and Edible Flowers are always popular in the flowers.
Kids love the Zuni Waffle Garden and Pizza Patch Collections, as described in the "Roots, Shoots, Buckets and Boots" book that is the foundation of our kids gardening collections and activities.
A good book is always appreciated; a great book is a constant source of deeper learning and better insights, becoming a treasure over the years. A few that belong in the second category are "The Winter Harvest Handbook" that, despite the title is a revolutionary guide showing how to grow more food year round. "Fresh Food from Small Spaces" is another, guiding you in the best ways to grow in small spaces you might have overlooked as being able to produce food in. Our newest book also results from customer requests for diversifying the family garden into grains on a human scale. "Small Scale Grain Raising" is not a new book, but has been revised and brought back into print for today's generation of home gardeners looking to provide better food and health for themselves.
---
100% Pure Shea Butter
One final thought for a great, long-lasting gift is our 100% pure Shea butter. A little bit goes a long way in moisturizing and healing dry, chapped hands and skin, so a jar of Shea butter usually lasts well into late spring or summer.
Many of our customers are familiar with the quality of our Shea butter and have been buying it for years. A gift of our Original, Lavender or Happy Feet will be especially welcomed as soon as the soothing and healing starts working! We are very selective in our Shea butter, and you can learn more about the process and work that goes into making it in this article we wrote – Healing and Moisturizing Miracle.
---
Our customers are friends that we have not yet met, as you share our interest and passion for growing incredibly delicious foods, preserving heirloom seed traditions and biological diversity for the future through our own home gardens. Sharing this is possibly the most important work, as it helps all of us make a definite, positive impact in our lives and in those that we share.
Thanks for your time this edition, we hope you have enjoyed it. Please let us know your thoughts and suggestions, as we are always working to improve.
Stephen and Cindy Scott
Terroir Seeds | Underwood Gardens
https://underwoodgardens.com/wp-content/uploads/2012/09/DSC_0025.jpg
233
350
Stephen Scott
https://underwoodgardens.com/wp-content/uploads/2018/07/TerroirSeedsNEWWebLogo3-300x69.jpg
Stephen Scott
2012-12-06 06:11:18
2020-03-07 12:30:51
2012 Holiday Gifts for Gardeners