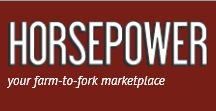 Horsepower – Direct to Consumer Online Marketplace
We recently met the wonderful folks that started Horsepower at The Heirloom Exposition in Santa Rosa, CA mid September. The founders are both active farmers that attended Cal Poly. The development team is also from Cal Poly, and David is a great person. Not a farmer, but highly interested in the local food economy and finding ways to use technology to help bolster local agriculture.
Horsepower is an online marketplace that helps consumers find producers and a lot more. In addition to the standard "Where can I buy …" type of connections from consumers looking for locally produced foods, Horsepower goes beyond this to its' real strength, of providing producers a portal to promote and sell their produce to the market of their choosing, from consumers to distributors to restaurants to processors. This is a perfect place for the diversified farms who are growing, raising and producing much more than just a couple of commodities. As their website says, "Horsepower users are made up of a community of sellers and buyers wanting to connect directly with each other. They are farmers and ranchers, farm suppliers, consumers, restaurants, FFA and 4H projects."
There are a number of other web based producer to consumer applications that do a good job. What makes Horsepower different is that it was started by farmers and has grown from the perspective of a producer and how to communicate what is grown or raised to their customers. The depth and breadth of the menu can be a little overwhelming as a consumer, with listings such as Commodities, Animals, Farm Supply, Fresh Produce, Nursery, Dairy, Meat, General Store and even Real Estate. Each category is broken down into more defined areas to make it easier to search for what you are looking for. While most other farm-to-consumer website feature exclusively food and food related items, Horsepower will help you find equipment, buy or rent land, get a load of compost or see who has the closest supply of home-made apple butter. As a consumer, it is a bit like getting to see what the old fashioned feed or general store would have been like, as this is exactly how many of them worked within a farming community.
Horsepower was started by Diane and Ralph Friend after they had gotten frustrated by brokers earning more income than they did as producers, as well as seeing their customers paying much higher prices than they themselves would have charged. The concept was solid, but technology and social networks needed to grow to the point of being able to support the direct to consumer, social based web presence that it has become. That has taken some time for technology to catch up, but it has now. They are in the start-up or initial roll-out phase of getting everything working, with some great initial response and results. Both producers and consumers have shown a high level of interest, as the program provides transparency and empowerment for the farmer, giving them more control over who they're selling to and how they're selling. This translates to a win for the consumer as well, due to the fair, honest prices for the farmer usually reflect a savings to the consumer in the direct-marketing model. The consumer gets to know and understand the producer while directly supporting that producer and receiving a premium product at a better than average market price in the bargain. How's that for a win-win solution?
Family Farmers Breathe New Life into Direct-to-Consumer Online Agricultural Marketplace
https://underwoodgardens.com/wp-content/uploads/2012/10/Horsepower.jpg
111
216
Stephen Scott
https://underwoodgardens.com/wp-content/uploads/2018/07/TerroirSeedsNEWWebLogo3-300x69.jpg
Stephen Scott
2012-10-24 07:40:49
2016-01-03 12:16:50
Horsepower – Direct to Consumer Online Marketplace