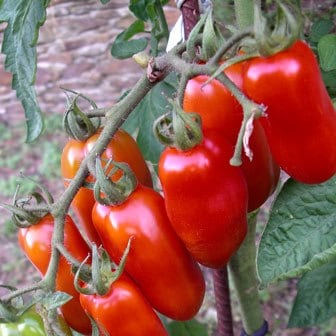 Newsletter: January 2013 Catalog Highlights
Mid – January 2013 Edition
"Out of gardens grow fleeting flowers but lasting friendships."
~Beverly Rose Hopper
Hello Subscriber!
Welcome to our Catalog Highlights for January. This issue has a great planning article to get your creative juices flowing, a follow-up to our catalog reading and garden planning tips. We go much more in depth with this article, so get ready for some note-taking! There is also a history tour of the San Marzano tomato, and a unique and very unusual variety that didn't make it into the catalog.
Let's dig in!
---
World Famous San Marzano Tomatoes
Here's a story that reads like a top-shelf thriller; decades of glory and domination followed by gradual neglect, then being taken for granted, eventually forsaken, replaced and faced with the threat of extinction. Rescued and redemption found in the very characteristics that led to its replacement, regained prosperity combined with uncanny politics and great public relations, DNA testing for verification eventually leading to gaining protected status alongside protectionism, all finishing with being restored to its throne.
This is the story of the San Marzano tomato, one that not many Americans know. Read "World Famous San Marzano Tomatoes" for all of the twist and turns!
We harvested over 80 pounds of these delicious beauties from one plant, with several more pounds lost as we were traveling to Turin, Italy for the Slow Food conference last fall and just couldn't harvest them all.
---
Planning and Planting Your Spring Garden
Now that the fun and excitement of Christmas is over, New Year's has come and gone and life is getting back to whatever consists of normal for you and your family, it's time to dig into our garden seed catalog and start planning the eternally anticipated Spring garden.
After spending a little time reading- and realizing that you want to plant one of everything- the realization sinks in that this could be some work, and that's before the real work of actually digging in the garden even begins!
What to plant, how to plant, when to plant, what will grow for me, should I start my heirloom tomatoes from seed or just buy starts, what do I need to do for my soil, and what exactly is succession planting are all questions that crop up and need answers.
All of a sudden, a garden seems pretty intimidating, definitely not for amateurs and something that might be best left to the experts. Well guess what? Everyone was an amateur at some point, starting out with not much knowledge and needing some help. It is easier to start your home garden today than in any other time in history, as there are mountains of information and education out there and it is all pretty easy to find. The Internet is full of good gardening advice in many areas.
What we will look at today are some points to consider about your home garden, we'll do some initial planning and pass along some tools that will be very helpful in building your toolbox of gardening knowledge and problem solving. Let's get started!
---
Too Late for the Catalog
Now Showing!
In our 2012 catalog we had listed that Achocha/Caihua seed might be available and it wasn't; then in our 2013 catalog we did not even list it but it is now available! In the world of seeds things can change from day to day!
We are pleased to announce that Achocha seed is here and in good quantity. This very unique vine-like cucumber type plant is full of amazing medicinal qualities, but can be the centerpiece of an arbor or trellis.
It is day-length sensitive, thus the long process to actually get fully mature pods for seed production. Our grower finally had a long enough season to produce seed and before we were sure we would actually have seed the catalog had gone to print. It should grow well in many areas, but if you are growing it for seed-saving this may be a very long term project depending on your latitude.
To learn more about Achocha we present this excerpt from the amazing book "Lost Crops of the Incas: Little-Known Plants of the Andes with Promise for Worldwide Cultivation". The complete book is available to read online!
Achocha. (Cyclanthera pedata) is not a true squash, but it belongs to the same family, Cucurbitaceae. It, too, is common in the Andes. The fruits are small "gourds" 6–15 cm long, with flattened sides and soft spines. Pale green with darker green veins, they have a spongy interior containing up to a dozen seeds. Some immature achochas look and taste like tiny cucumbers, for which they are fair substitutes in many culinary uses. (They are never as crunchy, however.) Others are covered in soft green spines and have a curious shaggy appearance. In the immature form (that is, before the seed becomes black and hard), they can be eaten raw or cooked. When mature, they are better cooked, and the hard, black seeds must be removed. Filled with mincemeat or vegetables and baked, mature achochas make a tasty dish, not unlike stuffed peppers, with a flavor that has been likened to artichoke.
Achocha is undoubtedly of South American origin—probably including the Caribbean—but it is found in Mexico as well. In fact, the crop is cultivated from Mexico to Bolivia and grows prolifically in mountainous valleys up to 2,000 meters elevation. Achocha has been tested in cultivation outside the Americas and seems to have widespread promise. It fruits well in subtropical climates, such as northern New Zealand. In South Florida and southern Taiwan, it has grown and set fruit well. In Nepal, it is occasionally cultivated at about 2,000 m elevation and has escaped in places. In England, it has fruited in a greenhouse. In several parts of the Andes, a wild relative, Cyclanthera explodens, is used. The fruits of this species are eaten by peasants, boiled or as a salad. Like achocha, this is a "poor-people's plant." It seems to tolerate more cold than other cucurbits. It grows at 2,600 m elevation near Bogotá.
---
Join Stephen At
Missouri Organic Association Conference
We are almost ready for the Missouri Organic Association Annual Conference at the University Plaza Hotel in Springfield, MO. The conference is February 7 – 9 and includes extensive presentations and workshops from national and internationally known experts in the Organic and Sustainable Agriculture and Green Energy industries. Stephen will be giving Friday's keynote presentation at 9am.
The presentation is "The Cycle of Terroir – From the Soil to the Seed to the Food You Eat" that ties together the holistic concepts of healthy, vital soil combined with heirloom seeds to produce the most nutritious, flavorful and local food possible. We look at how to build healthy, fertile soil with an increasing spiral of production, nutrition and pest, weed and disease resistance each year. This starts the cycle of improved plant health, leading to better food that ultimately results in greater health for us. You can watch The Cycle of Terroir presentation as a slide show on our blog if you can't attend the conference.
---
Our customers are friends that we have not yet met, as you share our interest and passion for growing incredibly delicious foods, preserving heirloom seed traditions and biological diversity for the future through our own home gardens. Sharing this is possibly the most important work, as it helps all of us make a definite, positive impact in our lives and in those that we share.
Thanks for your time this edition, we hope you have enjoyed it! Please let us know your thoughts and suggestions, as we are always working to improve.
Stephen and Cindy Scott
Terroir Seeds | Underwood Gardens
https://underwoodgardens.com/wp-content/uploads/2013/01/San-Marzano-Tomato.jpg
336
336
Stephen Scott
https://underwoodgardens.com/wp-content/uploads/2018/07/TerroirSeedsNEWWebLogo3-300x69.jpg
Stephen Scott
2013-01-23 17:15:35
2017-01-10 11:28:35
Newsletter: January 2013 Catalog Highlights