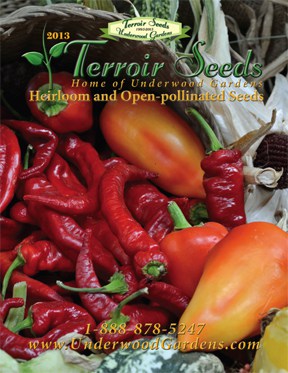 Newsletter: January 2013 Gardening Tips
January 2013 Edition
"If you think in terms of a year, plant a seed; if in terms of ten years, plant trees; if in terms of one hundred years, teach the people."
~ Confucius
Hello Subscriber!
Welcome to our first Newsletter for 2013! We have finished another successful year with new friends and customers and more plans to keep making things better for you this year. Stay tuned for some new projects that will help you be more successful in your garden!
By now you should have received your copy of our Heirloom Seed catalog and have a good source of reading and planning materials for your upcoming garden during these colder months. Many of the gardeners we know consider the interval between the last fall harvest and first spring planting as "planning time", when clearing off the dining table and spreading all of the catalogs out, marking pages or circling items and cross-referencing them on the garden planning worksheet is the highest order of the day.
This year we celebrate a particularly cherished milestone that has two parts; Terroir Seeds turns 5 years old this year, while Underwood Gardens observes its 20th anniversary! We have posted part of a conversation we had with Mayo Underwood, the founder of Underwood Gardens, on our "About Underwood Gardens" page. The condensed version is at the bottom of the introduction in the catalog as well. There are a great many thanks due to a number of people, and we will be thanking them throughout the year.
Starting now thru May you will receive two Newsletters monthly. We have so much exciting information to share in helping you be successful in your garden, we just can't get it into one Newsletter! In the next edition look for information on late arriving seeds that did not get into the catalog and which seeds went MIA and why.
This year, share your love of gardening with at least one friend or relative, a grand-child, niece or nephew or even just a casual acquaintance. Give them a nudge to get started. Gardening is more than just plants – our "Home Gardening As Therapy" article takes a deeper look at the true benefits of spending time in your garden. Do you want to help make the world a better place, but don't know how, or don't see how one person can make any real difference, especially now? "Help Build a Better World" shows you how, in simple terms, you can start right now, today. Give that beginning gardener friend, co-worker or neighbor that you know a referral to our Planting Seeds – Refer a Gardener program and we will take the time to answer all their questions, help them plan their garden and get them started in the right direction.
---
Free Heirloom Seeds With Your Order
We gave out over 2,000 free seed packets with orders last year, did you get yours?
Do you know about our free seed program and how it works?
Those of you who have received free seeds responded very favorably to our new program last year, so we are continuing it!
For the short and easy details read "Complimentary Heirloom Seeds with Your Order".
---
Catalog Reading and Garden Planning Tips
Perusing the newest crop of seed catalogs while engaging in some garden planning is a favorite pastime of gardeners everywhere during the cold, short days of winter. It is an excellent way to take your mind off of the often drab and dreary days that separate the last harvest from the first plantings. Seed catalogs can be much more than a pleasant distraction and fodder for summertime daydreams. They can help you with your upcoming garden planning by helping to visualize succession and companion plantings while arranging the palette of colors in the most attractive ways possible.
We've written this article to help you make the most of this time by adding in some planning advice and things to think about when reading our seed catalog. Imagining your garden is the first step in planning it! "Catalog Reading and Garden Planning Tips" has the full article to get you started dreaming, plotting and planning in the right direction.
---
Controlling Fungus Gnats in Seedlings
As you start your seedlings for this year's garden, you will probably notice tiny white flying insects that seem to infest some of the seedling trays. Sometimes they are everywhere, other times only on certain plants or sections of the seedling flats. These little critters are known as fungus gnats and are more of a nuisance than a real problem to the plants, but they can cause some issues if their population gets high enough.
We've already had a couple of calls from customers who are seeing these pesky flying insects and wonder what to do about them. There are a couple of approaches that we've found to be effective. Closely monitor the amount of water or moisture that is in the flats or cups where the seedlings are. They are usually concentrated where there is a bit more moisture. Over-watering is one of the most common mistakes of all gardeners, new and experienced. This is understandable, as the seeds need a moist and warm environment to soften the seed coat and start the germination process, but afterwords they don't need nearly as much water. This is where the over-watering condition sets in. It doesn't take very much excess moisture at all to attract the gnats.
Yellow sticky traps are very effective means of monitoring and capturing the gnats. They will show up as black specks on the bright yellow background. This may be all you need to do, but if they persist there are a couple of biological friendly sprays that we've had success with. The first is from Safer products, is called "3-in-1" and is effective on insects, mites and fungi. We have found that one or two applications are effective. The other is Safer brand "Yard and Garden" spray with plant-derived pyrethrins that are highly effective on insects. Both products are OMRI listed as accepted for organic growers.
Here is a great article on fungus gnats by Marie Iannotti, an About.com gardening writer who gives an overview of these critters, their life-cycles, where they come from and some more methods of controlling them. Read "Fungus Gnats – A Pest of New Seedlings and Cuttings" for the complete story.
---
(Re) Introducing
White Sonora Wheat
Whenever we can help to re-introduce a particularly wonderful heirloom variety, it is a tremendous event for us. It is an affirmation that we are, indeed, fulfilling our mission in life.
This is exactly the case with White Sonora Wheat, the oldest and by many accounts the best flour for cakes, breads and tortillas ever. It was originally brought to the American Southwest by missionaries and grew in popularity so that by the early 1700s it was one of the most widely planted wheat varieties in all of the Southwest. This was due to its resistance to Fusarium fungus, drought tolerance and its exceptional sweet flavor for baking. It was also prized as a brewing grain, again for its flavor it gave the beer.
White Sonora is a low-gluten wheat, baking off into a dense, moist and chewy loaf having an abundance of flavor that lingers afterward on the tongue. This is the historical type of bread that people ate before the super-hybridization of wheat created high-gluten strains that are fluffy and rise high but have much less flavor or nutrition. Recent research has begun to show that many who are sensitive or intolerant to gluten do well with ancient or historical wheat grains that predates modern strains.
There have been a number of requests from our customers about offering some of these grains, so we started researching them almost 2 years ago. What we found is that many of the historical grains were not well suited to the modern home gardener or even small scale grower, due to their needing to be hulled by specialized equipment. Historically the hulling was handled by the local gristmill prior to grinding. Modern wheat is hulled during threshing, eliminating the need for hulling.
The hull on the White Sonora wheat is papery and easily removed, making it ideal for the home gardener or small scale grower to add a cereal crop to their growing. Its ability to stretch, low-gluten properties, memorable flavor, disease resistance and tolerance of harsh climates make this an easy choice to try. We offer 3 sizes of packages for differing sizes of plots.
---
Can the FDA be Trusted with our Food Safety?
The safety of our food is one of the most important concerns in our daily life today, especially with the skyrocketing number of food recalls in the past few years. 2012 was an especially active year for recalls ranging from peanut butter, sushi, cantaloupe, ground beef and pork, tuna, chicken, eggs, smoked salmon (5 times in 3 months!) to almost every vegetable and fruit that we eat on a regular basis. People have been made sick by their food in ever increasing numbers over the past 10 years, with more serious cases requiring hospitalization than ever before.
Why the massive increase in recalls, who is supposedly responsible for keeping our food safe and what can you as an individual do about it? These are big questions that we look at in "Can the FDA be Trusted with Our Food Safety?". As with any complex problem, there is no single culprit as to why the food safety system is failing us and there is no single answer in the government or regulatory world. There is one simple and single answer that we examine and how you can act on it to guarantee your food safety.
---
Planting Seeds
Refer a Gardener Program
Many of you have passed along our catalogs, the Heirloom Times and seeds to your friends along with your recommendations, helping us gain new customers and grow our business.
We want to say "Thanks" for your trust with our new Planting Seeds referral program.
Here's how it works: When you refer a friend or family member, you will receive a $20 Gift Certificate when your referral makes their first purchase over $20. Your referral will also receive a 15% discount on their first order.
The Fine Print
No time limit between you referring a new customer and their first purchase.
Referral must not have ordered from Terroir Seeds in the last 3 years.
No limit on the number of referrals you can send us.
Gift Certificates will be valid for 1 year from the date of issue.
To get started, just click on the Planting Seeds – Refer a Gardener Program link for the form, download and fill it out and mail, email or fax it in. We will send them a catalog and a coupon for their discount right away.
---
Our customers are friends that we have not yet met, as you share our interest and passion for growing incredibly delicious foods, preserving heirloom seed traditions and biological diversity for the future through our own home gardens. Sharing this is possibly the most important work, as it helps all of us make a definite, positive impact in our lives and in those that we share.
Thanks for your time this edition, we hope you have enjoyed it! Please let us know your thoughts and suggestions, as we are always working to improve.
Stephen and Cindy Scott
Terroir Seeds | Underwood Gardens
https://underwoodgardens.com/wp-content/uploads/2013/01/2013CatalogFRONTcover.jpg
373
288
Stephen Scott
https://underwoodgardens.com/wp-content/uploads/2018/07/TerroirSeedsNEWWebLogo3-300x69.jpg
Stephen Scott
2013-01-09 06:12:53
2018-04-23 11:09:51
Newsletter: January 2013 Gardening Tips