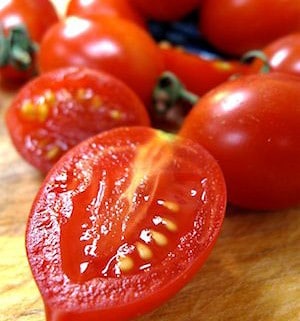 Newsletter: January 2014 Highlights
January 2014 Highlights
"The love of gardening is a seed that once sown never dies."
~ Gertrude Jekyll
In This Issue-
Bulk Seed Available
Membership Drive
Sour Cream Biscuits
Ellen's Rhubarb Article
Seed Orientation During Planting Improves Germination
Variety Highlight – Gourds
Hello Friends!
Welcome to our mid-January edition! Last night, we saw the Full Wolf Moon of January, sometimes called Old Moon or the Moon After Yule. It was named the Wolf Moon by Native American tribes for the wolf packs that would howl outside their villages at this time of year.
We can't wait until we've got a garden full of these beautiful tomatoes. With much of the US caught in some serious cold, planning a garden and doing some cooking sounds pretty good! We've got some of both for you this edition, so let's dig in!
---
Bulk Seed Available
We are pleased to announce that bulk seed is available for many varieties; please visit our new Bulk Seed Department for what is currently available. If you have a larger garden, really like carrots or just want to share some seeds with your friends and family than maybe buying a variety in bulk is for you.
For example-
We have

bulk tomatoes

in quantities of 1/8, 1/4, 1/2 or 1 oz. Great for the market grower, garden club or community garden!
If you need a 1lb of

bulk corn

to plant a bigger plot than a few packets will do, check out what is available.
There are about 80 varieties of vegetables available in bulk, and a number of herbs too.
Remember when you're shopping there will be a drop down menu on the items that have more than a packet quantity available. Make sure if you just want a packet to make that choice!
We hope our new Bulk Seed Department will help those of you who have asked for some larger quantities. Remember all our seed is limited by our current year's supply, and when it's gone it's gone! Some items may have limited quantities available.
---
Membership Drive
Do you know about our Membership Program? Our members are a very special group of folks who love seeds as much as we do. Want to learn more about our membership program and how it benefits you and how it helps us spread seeds, gardening and good food around the country to worthy programs? We are planning many new benefits to our membership program for 2014 and if you enroll now, you can be a part of it!
In preparation for our improved Membership program, we are starting a Membership Drive. As the number of our Members has increased we have been able to provide more support of seed and consulting to more gardening programs that are making a real and positive difference in their respective communities.
Our Membership Program has benefits for the programs and people supported as well as you, our customers. In addition to seed donations, we also provide education and consulting. As a customer, you receive 20% off all your purchases for the year, including sale items. Members receive a welcome package and special treats during the year.
How can one person help make such a difference? Become a Terroir Seeds Member today! Read about the organizations we've helped support along with our members.
Do you know of a great organization in your community that is deserving of support? Let us know, or send them our Seed Donation Request Form to fill out!
---
Sour Cream Biscuits
Fresh, home-made, hot-from-the-oven biscuits are a real treat, especially on a cold winter's evening or for a special breakfast with friends or family. For a long time our favorite was the Black Powder Buttermilk Biscuits from Hell's Backbone Grill in Boulder, UT. They still hold a special place in our hearts, but our new find of Sour Cream Biscuits are wonderful in an entirely different way!
They are from a very old recipe that has been updated to reflect today's diet and cuisine. Easy and quick to make, these are delicious and will impress your audience!
---
Ellen's Rhubarb Article
Ellen brings us her take on the history and her experiences with Rhubarb's Story.
A deep red stalk is more popular among consumers, but often has poor growth and yield. Green varieties are often much more productive. People often assume red stemmed rhubarb is sweeter than other colors but color and sweetness are not necessarily related. The Victoria variety, which is probably the greenest variety, often producing some very sweet stems.
---
Seed Orientation During Planting Improves Germination
When you are planting your seeds, do you pay attention to how they go into ground? Do you think it matters?
It turns out that for some seeds it does make a difference not only in germination but the vigor and strength of the adult plant. The seeds will have a head start if planted correctly but will suffer if not. If this is beginning to sound complicated, don't worry – it isn't!
We gardeners spend a lot of time planning, preparing, planting and tending our gardens, so why not take a tiny extra step that might give us much better results? "Seed Orientation During Planting" gives you all the details to help make your garden the best possible this year!
---
Variety Highlight – Gourds
This edition we bring you a variety that might surprise you for a couple of reasons. Gourds are very closely interwoven into our collective human history, but are usually thought of today for arts and crafts projects, bird houses, decorative pieces or occasionally art.
What many don't know is that they are great pollinator attractants and their prolific vines and leaves can provide a lot of shade and wind protection for a garden arbor, tall fence, outdoor room or other garden vegetables that need some help. If you put them to work for you, the harvest of gourds can be a cash crop at the end of fall! "Gourds Today" shows you around and has a great identification chart to get you started.
---
We believe in a world of healthy soil, seed, food and people. Everyone has a fundamental need for vibrant food and health, which are closely linked.
We work to achieve this by challenging and changing conventional gardening thinking, providing successful and unique methods and techniques while inspiring the power of choice and action for the individual.
Our customers are friends that we have not yet met, as you share our interest and passion for growing incredibly delicious foods, preserving heirloom seed traditions and biological diversity for the future through our own home gardens. Sharing this is possibly the most important work, as it helps all of us make a definite, positive impact in our lives and in those that we share.
Thanks for your time this edition, we hope you have enjoyed it! Please let us know your thoughts and suggestions, as we are always working to improve.
Stephen and Cindy Scott
Terroir Seeds | Underwood Gardens
https://underwoodgardens.com/wp-content/uploads/2014/01/King-Umberto-Sliced1.jpg
400
300
Stephen Scott
https://underwoodgardens.com/wp-content/uploads/2018/07/TerroirSeedsNEWWebLogo3-300x69.jpg
Stephen Scott
2014-01-16 08:08:02
2017-10-31 14:50:03
Newsletter: January 2014 Highlights