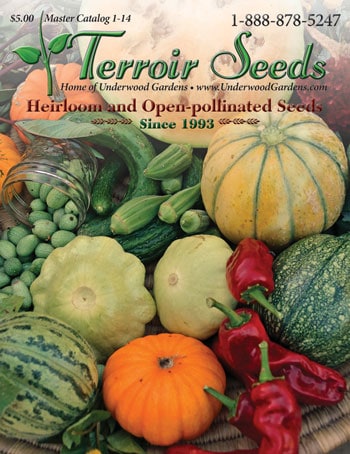 Newsletter: January 2014 Newsletter
January 2014 Edition
"The most noteworthy thing about gardeners is that they are always optimistic, always enterprising, and never satisfied. They always look forward to doing better than they have done before."
~ Vita Sackville-West
In This Issue-
2014 Master Catalog in Your Mailbox
Catalog Reading and Garden Planning Tips
Roasted Butternut Squash Soup
Compost – What We've Learned
Scatter Flower Seed Now
Hello Friend!
Welcome to 2014! We hope that your garden did well last year, and we'll work hard to help you make it better this season. Just like the quote for this edition, gardeners are some of the most faithful, eternally hopeful lot about doing better next year, no matter how well or poorly things turned out. There is always something new to learn, making gardening one of the most life-long learning experiences we can do.
Our family extends a very warm welcome to our new readers and customers, thanks for joining us! If you've wondered what you've missed, there is a Newsletter archive on the main sign-up page, so feel free to browse and see what we've said in the past several years.
Whether you are a new gardener or have grown for a number of years, we can help. We approach gardening from a holistic point of view starting with the soil and working through the cycle to the seed and the food that is grown from it. Expect to see soil building articles from a biologically friendly viewpoint, seed starting techniques, gardening tips, insights into pest, weed and disease challenges to recipes for the fresh food from your garden!
Our Membership Program will see some significant improvements this year, with new features and access to exclusive Members only content. We can't give too much away quite yet, but be assured that it will be very good to be a Member this year! Membership fees will still exclusively be used to support valuable gardening programs, but the benefits will increase.
If you are social, please join us on Facebook, Pinterest or Twitter where we share daily insights and thoughts that won't make it into the Newsletter.
Let's get this year started, shall we?
---
2014 Master Catalog in Your Mailbox
By now you should have received your 2014 Master Heirloom Seed Catalog in the mail. They were sent to customers that have purchased in the past 3 years. If you haven't received yours yet, please let us know! The online version is also available on our Heirloom Seed Catalog page, just click on the "Electronic Catalog" link and download it for free.
In the last couple of Newsletters we've talked about why we are going away from printing a yearly catalog. We will update and print a new catalog reflecting current inventory changes as needed, just not annually.
The large majority of our business is online; along with the most up to date information, articles, recipes, gardening tips and seed saving advice. Our website is unlimited in the amount of information and education we can offer while any catalog is limited whether in printed or electronic formats. By reducing the amount of paper, fuel and other resources used to print a catalog, we are freeing ourselves up for other things that will be a benefit to you! Keep reading our Newsletters to see what we've got in store for you this year.
---
Catalog Reading and Garden Planning Tips
We are once again engaged in that favorite pastime of gardeners everywhere – dreaming and planning of how our garden will be this year, with the newest seed catalogs at hand. What is it about these cold, short days of winter – just past the winter solstice, the days growing by a couple minutes each day – that grabs us so firmly with visions of summer gardens bursting with life?
Whatever it is, seed catalogs can be much more than just a pleasant distraction and fodder for those summertime dreams. We've worked to make this year's Heirloom Seeds catalog better at helping you with the planning and visualizing the succession and companion plantings, while arranging the palette of colors in your garden.
"Catalog Reading and Garden Planning Tips" helps you make the most of your time with planning advice and important things to think about when reading our seed catalog. Imagining your garden is the first step in planning it! Read more and get started dreaming, plotting and planning in the right direction.
---
Roasted Butternut Squash Soup
Roasted Butternut squash is the mainstay in many delicious cold season soups, with good reason.
They are satisfying, slightly sweet and lend themselves to many savory seasonings without being overwhelmed. Here's an unusual take on the classic with a slightly sweet twist thanks to maple syrup!
It is very easy to make and works equally well as a cold weather soup served hot or a surprising spring soup served chilled.
Dig into a different Roasted Butternut Squash Soup!
---
Compost – What We've Learned
We are sharing an article that we've written for magazine publication and has been in the October 2013 issue of Acres USA as well as the Fall 2013 edition of Small Farmer's Journal.
Compost is one of the foundational cornerstones of any successful garden, but has been over-thought and made much too complex by people wanting to make it "faster" or sell you some piece of equipment or machinery to make it "better". It really is simple to make and doesn't take any equipment, only needing time to accomplish. After all, who turns and works the compost in nature?
Here is our experience and what we've learned from about 15 years of composting. Enjoy "Compost – What We've Learned"!
---
Scatter Flower Seed Now
If fall is the best time to plant your flower and wildflower seeds, late winter and early spring are a close second. That beautiful patch of wildflowers or heavenly aromatic flower garden is still possible in your garden this year!
Unlike the domesticated vegetables, flowers need to be exposed to different cold and warming cycles to break their dormancy and prepare them to sprout when the weather turns warm. This is called "cold stratification" and can be replicated in a freezer/fridge cycle, but is best done as naturally as if they had fallen off the flowers themselves. If you don't have snow on the ground, scattering the seeds and lightly covering them to protect them from birds will start this cycle. If you do have snow, wait for it to melt, and then scatter the seeds.
It is increasingly important for home gardeners to plant flower habitats for pollinators as industrial insecticides and herbicides continue to kill off major portions of their populations. Many of our vegetables need some form of pollinator to spread pollen and produce our food.
Over the past few years, we've heard highly positive results from our customers who have started a pollinator flower patch with greatly increased garden production. There are a number of different pollinator species that we ultimately depend on, from several types of bees to hummingbirds, butterflies, moths and even some flies.
Our Flower Department has a great selection, especially the Pollinator Attractants section, with the Flower Mixes giving you a fast, easy start. Don't forget that many herbs are also important to pollinators, so spend some time in our Herbal Pollinator Attractants section as well.
---
We believe in a world of healthy soil, seed, food and people. Everyone has a fundamental need for vibrant food and health, which are closely linked.
We work to achieve this by challenging and changing conventional gardening thinking, providing successful and unique methods and techniques while inspiring the power of choice and action for the individual.
Our customers are friends that we have not yet met, as you share our interest and passion for growing incredibly delicious foods, preserving heirloom seed traditions and biological diversity for the future through our own home gardens. Sharing this is possibly the most important work, as it helps all of us make a definite, positive impact in our lives and in those that we share.
Thanks for your time this edition, we hope you have enjoyed it! Please let us know your thoughts and suggestions, as we are always working to improve.
Stephen and Cindy Scott
Terroir Seeds | Underwood Gardens
https://underwoodgardens.com/wp-content/uploads/2013/01/2014CatalogCover1.jpg
454
350
Stephen Scott
https://underwoodgardens.com/wp-content/uploads/2018/07/TerroirSeedsNEWWebLogo3-300x69.jpg
Stephen Scott
2014-01-02 09:38:33
2017-08-14 18:32:55
Newsletter: January 2014 Newsletter