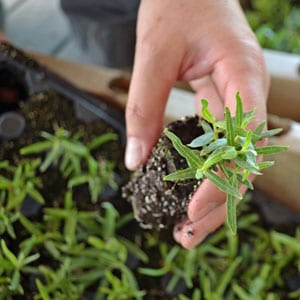 Newsletter: July 2012 Gardening Tips
July 2012 Gardening Tips
"When weeding, the best way to make sure you are removing a weed and not a valuable plant is to pull on it.
If it comes out of the ground easily, it is a valuable plant. "
~Author Unknown
Hello Subscriber!
Welcome to the July 2012 edition of Terroir Seeds Gardening Tips.The summer monsoon rains announced themselves earlier this week with very welcome big fat drops that gave us a little over half inch of rain that the thirsty ground drank in quickly. We have been lucky so far with just enough rain to soak into the ground without causing runoff and erosion. Over the past week, we have doubled our moisture amount for the year, going from 2.09 inches to 4.33 inches. Welcome as it is, this doesn't ease our 18 year drought that we are in. All of the gardeners and farmers here in north central Arizona are watching the skies while hoping and praying for more rains to come.
Our first tomatoes have ripened and come in off the vine, and we enjoyed the first of what looks to be many fresh pesto dishes from several strains of basil. The first pesto was with Genovese basil, aged hard Irish cheddar and almonds, along with garlic, freshly ground black pepper and sea salt. It was most tasty, with the fresh flavors making our day. There is some summer squash that are almost ready, and we are looking forward to tasting them soon!
Although this is a slow time of year for orders, we have been almost non-stop busy with preparations for this fall and next seed season. The first round of seed germination testing is just getting underway, with inventory forecasting and seed orders being prepared. Cindy and Eileen have had their hands full deciding what new varieties to offer next year and working on the new catalog layout. We have updates coming in from our growers, and are looking forward to visiting a couple of them after the National Heirloom Exposition in mid-September in central California.
A number of you have requested more information and commentary from us about topics we routinely talk about – such as home gardening, sustainability, local food, health and nutrition from the garden, and so on. We have started adding shorter articles to our Heirloom Seeds Blog that we've read and feel that they contribute well to the direction of our conversations with you. We are also adding information that we don't agree with, but we feel is important to know, be aware of and feel you should as well. Please visit, read the articles and subscribe via the RSS feed if you feel that this information is valuable to you. Please, feel free to drop us a line with suggestions of other topics you'd like to see covered.
You might have noticed our Facebook icon at the top right of the Newsletter. Please come visit us, join the daily conversations and be a welcome part of this online community that we are creating!
Here's hoping that your garden is doing well!
---
Fall and Winter Gardening Season
Surprisingly, it is once again time to think about your Fall and Winter garden. July seems counter intuitive but is the perfect time for most folks to plan for what they want to have for fresh, crunchy, tasty greens and vegetables as the weather turns cool. The initial planting takes place during the month of August, with succession planting going through September in most parts of the country. For most gardeners in the US and Canada, there is an entire second growing season available that is just now beginning to be recognized. This is the Fall and Winter gardening season. We have talked about it for the past 3 years, and many of our customers have given it a try and been very pleasantly surprised at how much and how tasty the food can be in the cooler season. They are also excited at how late in the year they can grow fresh vegetables, having that superb fresh-from-the-garden taste past Thanksgiving and sometimes almost until Christmas.
We have created a new Heirloom Times that is entirely devoted to the Fall and Winter garden. It starts with our How to Plan for Fall and Winter Gardening article showing how easy it is to do the planning and tips to be more successful your first time. From seeds that are ideal for most fall and winter gardens, to sprouting seeds that can easily provide a highly nutritious source of food in only 6-8 days, books and tools and tips for helping you preserve the harvest make up the new Heirloom Times. There is also a great article showing how and why pure Shea butter is so healing and soothing to dry and overworked skin.
---
Slow Food Terra Madre Update
Thank you so much for the early donations and support for our upcoming Slow Food Terra Madre conference in Turin, Italy in October!
Information continues to arrive on the schedule of events, speakers and demonstrations of local food networks from around the world. Here is an inspiring and informational short video from Terra Madre 2008 to give you a taste of what we are expecting. To learn more about why you should help support our participation in this landmark food and farming conference, please read Slow Food's Letter of Support for our work.
To make a contribution, please visit Slow Food Terra Madre 2012 store site.
---
Growing Milkweed for the Monarch Butterfly
Monarch butterflies have seen steady population declines across their native range since population monitoring first began in 1976. Several 2012 reports show that Monarch numbers will drop almost 30 percent this year, continuing a decline that has lasted for the past decade. The severe drought seen across Texas and Northern Mexico, combined with wildfires across the entire southwest has been a large factor. The biggest contributor is simply the loss of land that supports the Monarch's food source and hatchery – the Milkweed plant. Much of the land has been converted to commercial herbicide tolerant corn and soybean production, or developed into housing. Overuse of persistent chemical herbicides and roadside mowing for weed control has also created loss of milkweed habitat and thus reduced Monarch numbers.
At the end of this past January, we were contacted by Brianna Borders, Plant Ecologist for The Xerces Society about a possible project to propagate a subspecies of Milkweed – Asclepias asperula that is native to Arizona. She had about 2 ounces of seed (approximately 7,000 seeds) that had been collected in the southern portion of our local county by the Desert Botanical Garden volunteers in Phoenix. Through grant funding, a California native plant nursery could propagate the seeds into plugs ready for planting. The Xerces Society was looking for a grower in our area that could bring the project into being. This would be a minimum 2 year project to grow a commercial quantity of seed to offer for sale. Read the whole story and see photos of the planting in Growing Milkweed for the Monarch Butterfly.
---
Please Share Your Garden Photos and Reviews
How is your garden growing this year? Interested in sharing photos and some information about it, to be included in our upcoming Customer's Gardens section of the website?
This year's focus is how your garden fits into everyday life, from planting, gardening, weeding to the food it grows and how you use and benefit from it. We will use these photos to show ideas of how well a garden can integrate with daily life, as well as some of the delicious fresh food grown there. Send in your garden photos with people in it; kids, family or pets enjoying the space, planting, harvesting or just smelling the flowers! Bunches of fresh greens, veggies or garden goodies would be perfect as well, or show us what delicacies you've made with your garden bounty. Community gardens and school gardens would be wonderful to show as well as balcony, container, urban and other smaller gardens!
We will be drawing a $25.00 gift certificate each month from July through September from the photos entered. To enter and qualify, just send in some high quality digital photos of your garden "in action" working for you, with a short description of your life with the garden. Good luck!
This year we are doing a second monthly $25.00 gift certificate drawing for your reviews. One review will give you one entry into the drawing each month from July through September, so the more reviews your enter, the better your chances!
If you haven't submitted a review yet, it's easy! Go to the item you want to review and click on the item number, photo or name to get to the extended description. There you will see the review link. It will say "View Reviews | Review this item" if there have been previous reviews, and "Be the first to review this item" if not. Click on the link and enter your review.
We need real, constructive reviews that will help other gardeners, not just positive fluffy ones. Please enter your state, so that others can see how it did in your area. Your name is published if you enter it, but your email is not. We need your email address so we can keep track of the number of reviews for the drawing. If you choose not to enter your email in the review, make sure to send us a note letting us know what items you've reviewed so you get credit for your entries.
---
Upcoming events and shows
We will be at a few shows around the Southwest and California in the upcoming months and we'd love to see you stop by and say hi!
On July 28 we will be at the Prescott Iris Society's Rhizome Sale at Dan's Garden in the small town of Yarnell, AZ with a booth, our seed display and the brand new Heirloom Times Volume 2. This is a popular event with signs directing new visitors to the gardens.
September 11 – 13 sees us back at the beautiful Sonoma County Fairgrounds in Santa Rosa, CA for the 2nd annual National Heirloom Exposition. It is billed as the World's Fair for the heirloom and local food movements. The first year saw over 10,000 visitors over 3 days, and this year looks to have bigger attendance. Visit The National Heirloom Exposition website for more information, including speakers, vendors and exhibits.
The Arizona Highlands Garden Conference is in Flagstaff, AZ this year on October 6 at the du Bois Center on the Northern Arizona University campus. The topic this year is "Growing in Thin Air", focusing on successful growing in high altitude, short season and challenging environments. There is a focus on food gardening with talks on edible landscaping, container gardening, effective pollination strategies and cooking from the garden. Visit AZ Highlands Garden Conference for the complete listing.
---
Our customers are friends that we have not yet met, as you share our interest and passion for growing incredibly delicious foods, preserving heirloom seed traditions and biological diversity for the future through our own home gardens. Sharing this is possibly the most important work, as it helps all of us make a definite, positive impact in our lives and in those that we share.
Thanks for your time this edition, we hope you have enjoyed it. Please let us know your thoughts and suggestions, as we are always working to improve.
Stephen and Cindy Scott
Terroir Seeds | Underwood Gardens
https://underwoodgardens.com/wp-content/uploads/2012/07/MilkweedWeb1.jpg
300
300
Stephen Scott
https://underwoodgardens.com/wp-content/uploads/2018/07/TerroirSeedsNEWWebLogo3-300x69.jpg
Stephen Scott
2012-07-18 06:08:46
2018-04-19 11:27:41
Newsletter: July 2012 Gardening Tips