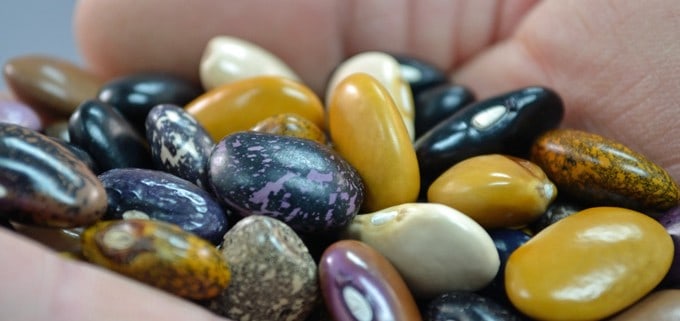 June 2014 Edition
"A man should never plant a garden larger than this wife can take care of."
~T.H. Everett, English horticulturist 1903-1986
In This Issue-
Seed Production with Yavapai College
Sedona Community Farmer's Market
Gardener's Hand Soap
P4P Expo in Pomona CA This Weekend!
Design Your Own Seed Saving Course
Hello Friends!
Welcome to June and to all of our new readers! My how time flies, especially when things are busy! Writing has been a bit slower as of late due to work in the garden re-designing and installing a new drip system, along with several shows and expos we've attended in and around Arizona. We are also working on some experiments to moderate the extreme wind pressures we've seen this year to grow a great garden.
We've been involved in creating some classes for seed saving and are very happy to see that our very first one with Yavapai College has enough students to go forward! Seed Saving for the Home Gardener is a 3 hour introduction on June 26, and we are working on a much more involved 6 part online subscription course that we talk about more in this edition.
With our wacky weather this year, don't forget succession planting for those crops that are coming out now, as well as making space for new ones. Even though it seems like spring was very short and we've just gotten into warmer weather, start thinking about what you want to eat as the season cools down. Getting a jump on Fall and Winter planning and planting means to start the process soon. In some areas, planting for fall crops can start in as little as a month to 6 weeks! If you need some ideas, visit our Fall and Winter section.
If you are "Social", join us on Facebook for daily conversations or on Pinterest for photos. Meanwhile, let's dig in!
---
Seed Production with Yavapai College
We are fortunate to have a dynamic community college in our area. Yavapai College has been recognized for its viticulture and winemaking program, and we might just be helping to create another unique program. We are partnering with the Chino Valley agribusiness campus to grow seed as a trial program this year. They are growing bush beans for seed for us, with the goal of extending the agriculture program into the summer and offering a more diverse class schedule that will have positive benefits for graduating students.
There is a critical need for educated, experienced seed growers for open pollinated and certified organic seed. The ever-increasing demand for organic food has created a situation where there aren't nearly enough growers who understand the demands and challenges of growing heirloom seed, so the resulting quality has really suffered. We've heard from a number of growers contacting us for larger quantities of our seed that finding high quality germination, true to type seed is becoming harder each year.
If this pilot program is successful, we hope to branch out to other seed crops and increase the seed production capability along with the educational and experience opportunities for new seed growers. We will keep you posted as things progress!
---
Sedona Community Farmers Market
We are pleased to announce to our Northern Arizona customers we will be at the Sedona Community Farmers Market the 4th Friday of each month – June 27, July 25, Aug 22 and Sept 26th. We are excited to participate in this great local market in the beautiful environment of Tlaquepaque Creekside in the red rocks of Sedona. If you are in the area or traveling to Sedona, come visit us, we will have a variety of seeds available and we will be more than happy to answer your gardening questions.
The market is open from 8am – 11:30am on Fridays, so come out and see us while picking up some freshly picked local and seasonal fruits and vegetables, sprouts & micro-greens, raw honey, grass fed beef, relishes, herbs, flowers, eggs, pecans, raw truffles & chocolates, freshly milled breads and pastries, jams, salsas, sauces, goat milk soaps and lotions, local lavender, beeswax candles and more!
---
Gardener's Hand Soap
June is the month of anticipation in the garden. Hopefully, most of your seeds are in and transplants have been put out. Here in Arizona, we have been experiencing extremely dry, windy conditions; we are currently under a Red Flag Warning for winds gusting to 57mph and blowing dirt. So, if our tomatoes survive the winds, they will be very sturdy! Anticipation comes from waiting for the first fruits of our labors to be harvested.
Meanwhile, another activity can take a lot of your time… weeding! What to do with your green streaked and dirt crusted hands after an evening of weeding in the garden? How about trying our Gardener's Hand Soap! All of our soaps are made with the finest organic ingredients, but the Gardener's Hand Soap has a special twist. It has exfoliates of ground apricot kernels and coffee beans to help gently scrub clean the dirtiest hands. Combine this with our favorite Nail Brush and your hands will be feeling clean and refreshed. Enjoy a cup of fresh mint tea and take some time to admire the wonders of your garden.
---
P4P Expo in Pomona CA This Weekend!
Cindy, Allan and I are on the road again, this time to Pomona, CA for the P4P Expo at the Pomona Fairplex this Saturday and Sunday, June 21 – 22. We will have a booth with seeds, books and information along with a talk that Stephen is doing about gardening as a critical skill that needs to be learned over time and that just about anyone can grow some of their own food.
It has been very educational for us to meet and talk with folks who identify themselves as "preppers". Many have some gardening experience with a number coming from the permaculture world. Permaculture is "permanent agriculture" where the goal is to create food forests in and around the home property that provide food throughout the entire year, expanding the garden to encompass the entire property with nut and fruit trees, berry bushes and forage greens for small livestock like chickens, ducks and geese. As you can imagine, we really enjoy these conversations!
Others will stop by our booth out of curiosity, ask some questions about getting started gardening and detail some of their challenges. Most who don't garden seem to have preconceptions as to how hard it will be, how much time it will take and how much food they can grow in their backyard or on their back deck in containers. It is wonderful to see their expressions as their eyes are opened to the possibilities of fresh food from their own garden!
If you are around the Pomona area, come on out and see us this weekend!
---
Design Your Own Seed Saving Course
We've had some great responses to our question of "What do you want in a seed saving course?" in our last Newsletter. Some of you have given us suggestions and questions, while others have shared points of success or initial failure to pass along. Thank all of you very much!
Many of you know that we also write for Mother Earth News Organic Gardening blog, where we posted a more detailed look at what our class – Design Your Own Seed-Saving Course – would encompass. Please take a moment to read it and give us your questions, feedback and experiences to learn from, as well as sharing it with any of your friends, gardening club members or family who might be interested in learning from this course. This will be an online subscription course, available to everyone at their convenience beginning early Fall.
Give it a read and let us hear from you!
---
We believe in a world of healthy soil, seed, food and people. Everyone has a fundamental need for vibrant food and health, which are closely linked.
We work to achieve this by challenging and changing conventional gardening thinking, providing successful and unique methods and techniques while inspiring the power of choice and action for the individual.
Our customers are friends that we have not yet met, as you share our interest and passion for growing incredibly delicious foods, preserving heirloom seed traditions and biological diversity for the future through our own home gardens. Sharing this is possibly the most important work, as it helps all of us make a definite, positive impact in our lives and in those that we share.
Thanks for your time this edition, we hope you have enjoyed it! Please let us know your thoughts and suggestions, as we are always working to improve.
Stephen and Cindy Scott
Terroir Seeds | Underwood Gardens
https://underwoodgardens.com/wp-content/uploads/2014/06/Ayocote-de-Camote1.jpg
408
680
Stephen Scott
https://underwoodgardens.com/wp-content/uploads/2018/07/TerroirSeedsNEWWebLogo3-300x69.jpg
Stephen Scott
2014-06-18 05:52:50
2017-08-14 18:31:01
Newsletter: June 2014