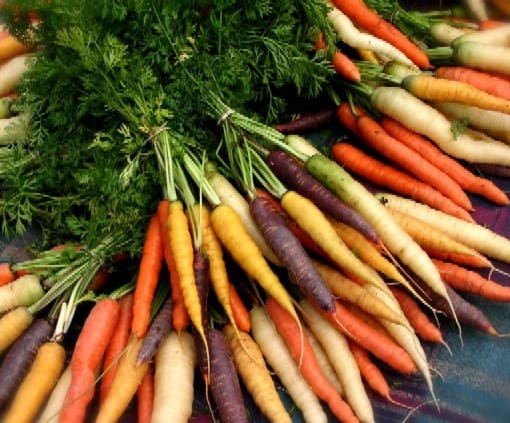 Marinated Heirloom Carrots
Today's recipe is a wonderfully different yet tasty way to prepare Heirloom Carrots, but will work equally well with other, similar vegetables, such as celery, bell peppers, beets, radishes or other root crops. The preparation is quick, and done the day before makes a special lunch or dinner even more so. Other herbs will work well, such as fresh oregano, basil or thyme. Get creative and try a couple of root crops, or several!
Heirloom Carrots
Marinated Carrots
1 Lb carrots- best fresh from your garden or farmer's market
2 1/2 Tbsp Lemon juice
1/2 Tsp Dijon mustard or stone ground mustard
1/4 Cup Extra Virgin Olive Oil
1 to 2 green onions, chopped
1 Tbsp Fresh Parsley, chopped
1 Clove garlic, crushed
Fresh ground salt and black pepper, to taste
Bring a medium pot of water to a boil.
In the meantime, scrub and slice carrots into uniform slices. Matchsticks work well if using for garnish or presentation.
Blanch carrots in boiling water for about 2-3 minutes, or until just barely tender, but slightly crunchy.
Combine lemon juice, mustard, olive oil, onions, parsley and garlic in tight fitting jar with lid. Shake well to mix.
Pour marinade over carrots in sealable dish, season with salt and pepper. Refrigerate at least 8 hours or better yet, overnight.
Serve by themselves as a side dish, as a garnish or presentation.
Makes about 3 cups.
https://underwoodgardens.com/wp-content/uploads/2010/04/Organic-Carrots.jpg
423
510
Stephen Scott
https://underwoodgardens.com/wp-content/uploads/2018/07/TerroirSeedsNEWWebLogo3-300x69.jpg
Stephen Scott
2010-04-20 14:01:46
2015-10-31 10:11:34
Marinated Heirloom Carrots