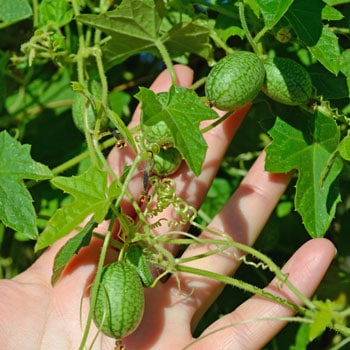 Newsletter: May 2011 Gardening Tips
May 2011 Edition
Hello Subscriber!
Welcome to the May edition of Terroir Seeds Gardening Tips. This month we have some great news to share with you, plus some planting tips and more wonderful stuff!
Many of you have written commenting on how you enjoy the information we provide. Now you can help us even more, as we will be sending an email evaluation soon. We will use the information, comments and suggestions from you to refine the information we send, how often we send it and what type of content is in each edition.
Lots of folks have asked us if they are too late to start planting. Not at all! Many of the direct-sow crops need warm days and nights with warm soil to do well, and it's only now that those conditions are becoming ideal. This edition will focus on what is good to plant now with some great resources for you.
Enjoy the new format and please let us know what you think of it!
---
We're in Sunset Magazine!
We are featured in Sunset Magazine's Southwest edition for June for two unusual varieties that you can plant directly in your garden this month.
The Cucamelon is first, also known as Mouse Melons or Mexican Sour Gherkins. The last name comes from the Mexican tradition of pickling them whole. They have been described as,"cucumber with a bit of watermelon rind and a squeeze of lemon juice." Incredibly productive and crunchy, they are eaten fresh out of hand, in salads, as appetizers or pickled.
Grow them along your garden fence to allow them space to spread out without taking over your garden, and to have a ready supply of garden snacks! Click on the photo for more information.
The second variety is the Fuzzy White Italian Cucumber. While botanically a melon, it is grown and eaten like a cucumber. The "fuzzy" outer layer comes off easily. The Italians consider it to be best at small cuke size, and too bland to eat once it is larger.
When we grew it, the smaller size was tasty and crunchy, but we found the larger, cantaloupe size to be juicy and while mild in flavor, was not bland in our opinion but more like a mild honeydew.
---
CoffeeCSA Article and Update
In our last Newsletter, we introduced you to CoffeeCSA, and promised a follow-up article and evaluation once we had received our first shipment.
After sampling several cups of wonderfully rich, flavorful and tasty coffee, mocha and lattes, we finally had to write the article, and you can find it on our Heirloom Seeds Blog.
We think it is pretty cool to know that the Peruvian coffee we are drinking was grown by Belhermina Aguilar in Santa Teresa, Peru on her 3 acre plantation!
If you visit the CoffeeCSA site, you can watch a video of the Aguilar family as they harvest the cherries; wash and separate the beans; ferment them and do the final hand selection and get them ready for transport to the cooperative.
---
Time to Direct Sow Your Garden
For many of us, it is finally warm enough to be able to plant seeds directly in your garden! This is a time that is much anticipated, as it truly signals the end of the cold and start of warmer seasons. The warm time in between the cold and hotter weather just ahead of us is truly magical, if we can stop and spend a few minutes looking at all of the rebirth and new life emerging into the world right now. Here in Northern Arizona we have newborn Pronghorns, baby calves and horses everywhere, along with newly minted sheep and goats. Wildflowers are blooming, grasses are greening up and life is just downright wonderful!
This is the time to transplant and direct sow your garden, if you haven't been able to already. There are a few things to keep in mind when you start poking seeds into the warm soil in anticipation of tasty garden treats to come.
Make sure it's truly warm enough to plant, not only overnight temperatures, but also soil temperatures. A couple of good resources to help are Mother Earth News Organic Gardening page– scroll down to the "What to Plant Now" section and "All About Growing…" section. Both have very useful information on regional planting and how to prep, sow and grow your garden. Another good resource is the Companion Planting Chart that will help you get the maximum production from your garden space. With companion planting, you can plant seeds closer together and stagger the plantings with varieties that "get along" with each other, thus effectively increasing your gardening space.
Lots of folks, us included, get caught up in the mainstays of the traditional American backyard garden- sweet corn, tomatoes, sweet peppers and zucchini. Lots of time and attention are focused there at the loss of some really good possibilities elsewhere. Look at succession planting varieties such as yellow and purple carrots, beets, radishes, spinach and arugula. Cucumbers, Summer and Winter squash and pumpkins are excellent choices as well. Winter squash and pumpkins will keep well and don't need constant attention at the height of the garden production.
The technique of succession planting will keep you and your family in fresh vegetables throughout the summer and fall. Succession planting is simply re-planting a small open section of the garden every month of the fast maturing vegetables so that you never run out or have a huge harvest that you get tired of eating every day or giving away. For example, if you have a 10 foot row for carrots, plant 3 feet this month, another 3 feet next month and the final 4 feet the month after.This method can be used until late Summer for some late season treats once the weather cools down.
---
Growing Your Own Chicken Feed
Do you keep chickens, or have a friend that does? It's very easy to grow your own chicken feed that is highly nutritious and can help egg production. Amaranth is an ancient grain that was used as we use wheat by the Incas and is very nutrient dense, as are sunflowers. Amaranth and Sunflowers are extremely easy to grow and don't need equipment to harvest, but don't forget that your garden can produce a lot of fresh food for your chickens. Kale, spinach and Swiss chard are special treats chickens will go crazy over, but any of your leftover or over production out of the garden will be eagerly consumed by the chickens, resulting in some very tasty and nutritious eggs.
Last year our kale and Swiss chard plants really grew out, so we trimmed them about every third day and gave the excess to the chickens and horses. It got so that whenever we went into the garden the horses would come up and wait at the fence for their treats! The eggs were some of the tastiest we had ever had, and the yolks were so deeply yellow they were almost orange.
Not only is it easy, growing some or most of your own feed can really save money by reducing the amount of commercial chicken feed you have to buy.
---
Our customers are friends that we have not yet met, as you share our interest and passion for growing incredibly delicious foods, preserving heirloom seed traditions and biological diversity for the future through our own home gardens. Sharing this is possibly the most important work, as it helps all of us make a definite, positive impact in our lives and in those that we share.
Thanks for your time this edition, we hope you have enjoyed it. Please let us know your thoughts and suggestions, as we are always working to improve.
Stephen and Cindy Scott
Terroir Seeds | Underwood Gardens
https://underwoodgardens.com/wp-content/uploads/2014/02/Cucamelon8.jpg
350
350
Stephen Scott
https://underwoodgardens.com/wp-content/uploads/2018/07/TerroirSeedsNEWWebLogo3-300x69.jpg
Stephen Scott
2011-05-15 18:42:49
2018-04-19 11:25:18
Newsletter: May 2011 Gardening Tips