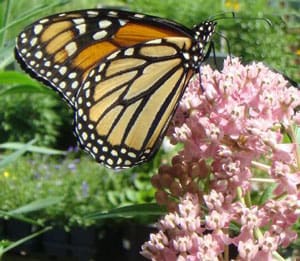 Newsletter: May 2013 Highlights
Mid – May 2013 Edition
"From May on, I can hardly wait to get up to see what has happened overnight, for one of the pleasures of a garden is that something is always happening; it is not static, even for a day. I go out by six-thirty and sometimes earlier, still in my pajamas and a wrapper, to take a look around before breakfast."
~ May Sarton, Plant Dreaming Deep, 1968
In This Issue-
Emergency Seeds – How to Feed Your Family in a Crisis
From New York to Africa, Why Food is Saving the World
Watermelons – Size and Flavor
What's Wrong With Our Wheat?
Hello [fname]!
Welcome to our Highlights for May! We have had a lot of wind this year in our part of Arizona, but things are beginning to progress in the garden. For many across the country, gardens are in full swing and the serious business of growing is really getting underway. We wish you the absolute best year in your garden!
We have come to realize that we have the perfect jobs for us – we get to wake up each and every day to find new ways of inspiring and educating the best people around – you, our customers! We continually find new and exciting things that we want to share with you, and after almost 5 years of doing this we have more information to share now than ever before! We are branching into more video as a means to share with you, so look for more short clips in the near future.
This highlight edition has some great information and a different way of looking at the "preparedness" mindset, so let's get started!
---
Emergency Seeds – How to Feed Your Family in a Crisis
Have you thought about how you would feed your family in an emergency? If you are like many people, you haven't thought too much about this, as it seems to be a bit fuzzy and vague. What kind of emergency are we talking about, a zombie apocalypse or the power being out for an extended period of time from a tornado, hurricane or other natural disaster? The latter is much more realistic, and can be dealt with in a rational, reasonable manner. The former is a good setting for video games.
This topic came about during a conversation with a customer who lives in Florida. As he put it, "You can pretty much count on the power being out for 3 weeks or more once every year to a year and a half from the storms." He asked for some "instructions and a bucket of seeds" that someone could start when the disaster hit that would help feed them and their families for 3 – 4 weeks until power could be restored. He wanted to share this information with others that hadn't thought ahead and weren't familiar with what to do in a situation where the grocery stores were out of food for a period of time.
We have spent some time researching this more thoroughly, talking with preparedness folks who look at the most likely emergencies in life such as car accidents, freeway closures, house fires and such and work on getting ready for those, then preparing for larger scale events like the very recent tornadoes in Oklahoma City. What we found surprised us, mostly in the assumptions and mindsets that are very prevalent in the gardening and seed preparedness arenas.
Please realize that this is an introductory article, intended to get you thinking and take some action. We examine some of the marketing and school of thought, as well as offer one common sense approach toward making an unpleasant, unplanned situation a lot more livable and tasty at the same time. Emergency Seeds – How to Feed Your Family in a Crisis gives you the story and a plan.
---
From New York to Africa, Why Food is Saving the World
Brian Halweil shares an important message about how food can and does change the world for the better. This short TED talk reminded me of my days in college and reading the same Paul Ehrlich title. Sometimes as individuals we can be overwhelmed with facts and figures, doom and gloom. In order to make positive changes in the world and home, we each need to take one step at a time. We hope this video inspires you to do just that!
---
Watermelons – Size and Flavor
Fearing Burr had this to say about Watermelons in his 1863 book Field and Garden Vegetables of America. "The Watermelon is more vigorous in its habit than the Muskmelon, and requires more space for cultivation; the hills being usually made eight feet apart in each direction. It is less liable to injury from insects, and the crop is consequently much more certain. The seed should not be planted till May, or before established warm weather; and but two good plants allowed to a hill."
Last summer we had the opportunity to taste several of the watermelons that we are offering this year, including the smaller Katanya Watermelon and the much larger Klondike Striped Watermelon. Did you know that watermelon seeds are fully mature when the melons are ripe, so seed harvesting and eating can go hand in hand? The Katanya, Sugar Baby, and Golden Midget melons are very popular choices because they are smaller in size and can be eaten readily in a couple of meals. They also take up less room than larger watermelons in the garden while growing and in the refrigerator. The Klondike Striped and Moon and Stars are much larger – coming in as big as 35lbs under certain growing conditions. These are perfect for parties and large gatherings but may be too much melon for a small family.
During our tastings we learned that the larger melons actually have a much more pronounced "watermelon" flavor. Sweeter, richer and with a fuller body, larger melons have a flavor that lasts longer on the tongue. Upon comparison, the smaller melons had a milder, less noticeable or intense flavor. Not to say that the smaller melons didn't taste good or have a pleasing flavor, they just weren't as rich or complex in flavor as the smaller ones.
Watermelons have experienced large amounts of hybridization over the years, how do you think we got to the seed-less watermelon? The smaller watermelons were bred most likely from their larger relatives. The smaller melons have a great flavor, but maybe this summer try growing a large variety and a smaller variety and taste them yourself. Watermelons are the fruit of summertime; why not give them a try? If you grow some larger watermelons you'll have a great reason to have a summer barbeque and celebrate the bounty of your garden.
---
What's Wrong With Our Wheat?
Today's common wheat – a semi-dwarf, high-yield type – is causing many people to be sick. Gluten intolerance or celiac disease has skyrocketed since the 1970s and shows no sign of slowing down.
A decade ago, gluten intolerance levels were at 1 in 2,500 worldwide. Today, it's at 1 in 133! What has happened that the grain that has fed us for thousands of years is inedible for an increasing number of people? So what has happened? Why has bread, and by extension many grains, become bad for our health?
First, we look at the differences between historical wheat and today's modern hybrid. Then we'll look at how the wheat is made into breads and the differences in how we do that today vs. historically. We need this groundwork to establish how and why wheat is not the same grain it once was. What's Wrong with our Wheat? has the full story.
---
We believe in a world of healthy soil, seed, food and people. Everyone has a fundamental need for vibrant food and health, which are closely linked.
We work to achieve this by challenging conventional gardening practices, providing successful agricultural methods along with the finest heirloom seeds, all while inspiring the power of individual choice and action.
We work for a world where the food we grow is good for us, our health and our communities.
Our customers are friends that we have not yet met, as you share our interest and passion for growing incredibly delicious foods, preserving heirloom seed traditions and biological diversity for the future through our own home gardens. Sharing this is possibly the most important work, as it helps all of us make a definite, positive impact in our lives and in those that we share.
Thanks for your time this edition, we hope you have enjoyed it! Please let us know your thoughts and suggestions, as we are always working to improve.
Stephen and Cindy Scott
Terroir Seeds | Underwood Gardens
https://underwoodgardens.com/wp-content/uploads/2012/07/MonarchButterflyWeb.jpg
261
300
Stephen Scott
https://underwoodgardens.com/wp-content/uploads/2018/07/TerroirSeedsNEWWebLogo3-300x69.jpg
Stephen Scott
2013-05-23 10:31:55
2020-03-07 12:13:00
Newsletter: May 2013 Highlights