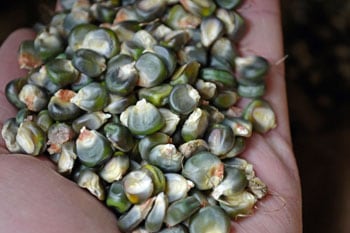 May 2014 Edition
"Gardens, scholars say, are the first sign of commitment to a community. When people plant corn they are saying, 'let's stay here'. And by their connection to the land, they are connected to one another."
~Anne Raver
In This Issue-
Corn – More Than Just Sweet
Milkweed Seed Germination Procedures
Smoked Yogurt Marinated Beef Roast
What Happened To My Seed Germination?
What to Plant Now – Updated
What Would You Want in a Seed Saving Course?
Hello Friends!
Welcome to our May Newsletter and the continuation of possibly one of the most challenging gardening seasons in recent memory! Coming off of a very harsh, cold and wet winter, many are just now starting to plant, with some still waiting for the rains to stop and the ground to dry out. It seems the large majority of gardens are one to two months later this year, so perhaps the fall and winter gardening will be our saving grace! The preliminary predictions are for a wet summer and fall out here in the West, so we are hopeful for some much needed rains to ease our 20+ year drought.
Two things and we'll dig into this month's Newsletter. First off, registration is open for our one day intro course on seed saving "Quality Seed Saving for the Home Gardener" in June. If you are interested (and local), please sign up so the college will see how many students to plan for. For those of you that aren't local, don't worry – we've got some great news for you in this edition!
Secondly, we will be at the Arizona Survivalist/Prepper Expo in Prescott Valley AZ at the end of the month, May 31 – June 1. We will have a booth and Stephen will be doing a talk each day – "From the Soil to the Seed to the Food You Eat – Why Gardening Matters", so come on out and say hi if you are in the area! If you are wondering that we've lost our minds, don't worry – most "preppers" are everyday, thoughtful people who realize that having some extra food and supplies handy is probably a good thing, unlike the "zombie Apocalypse" types that run around worrying about the end of the world.
We want to show that gardening and providing food for yourself shouldn't be done only when the emergency hits, but everyday and is something that almost anyone can do. I bet you – as a gardener – never thought that you might be a "prepper", huh? Feels kinda good to be a rebel, doesn't it?
Now let's dig in, we've got a lot for you!
---
Corn – More Than Just Sweet
Corn planting season is just around the corner and we wanted to give you something different to think about. Sweet corn is what most people are familiar with when it comes to corn, but there are several different types of corn for several different uses. Sweet corn, like Golden Bantam or Stowell's Evergreen is delicious when picked fresh and preferably roasted or boiled immediately, then served hot. That fresh stage is called the "milk" stage, where the juices in the corn have the most sugars available, making the sweet component noticeable. It must be used soon after harvesting to keep that wonderful flavor.
Dent corn is a little different. It isn't as noticeably sweet but has a more complex, rounded flavor when roasted fresh in its milk stage. Black Aztec, White Eagle or Oaxacan (Wa-Ha-Can) Green are all excellent examples of dent corn with flavors that will amaze those who haven't eaten anything except hybrid super sweet corn. Dent corn has more to offer, as the delicious, robust flavors carry over when it dries and forms dents in the tops of each kernel, earning the name. There is no tastier cornbread, corn pone, biscuits or corn flour pancakes than when you cook with your own dried and ground heirloom corn. The bland, insipid and uninspiring yellowness of commercial cornmeal or corn flour is gone!
Flint corn is similar to dent corn in that it forms wrinkles in the end of the kernel, but are used almost exclusively for a finer, harder cornmeal or polenta after the ears are completely dry. Hopi Blue makes a sweet, rich cornmeal that is very high in protein but is delectable when roasted fresh. Early Riser corn is a short season variety that is said to make better polenta than many Italian varieties. Garland Flint is another hardy short season variety that has bright yellow and red kernels, making a very colorful cornmeal or polenta.
Sweet corn will always have its place at the summer cookouts and barbeques, but to keep some of that rich, satisfying taste of summer – plant something different also, whether it is a dent or flint corn for hearty winter cornbread or a lazy weekend breakfast with some seriously satisfying Hopi blue corn pancakes!
---
Milkweed Seed Germination Procedures
Our friends at Painted Lady Vineyard and The Xerces Society have provided detailed instructions to cold soak and stratify your milkweed seeds to get better and faster germination!
Slow soaking and rinsing milkweed seeds removes a naturally occurring chemical from the seed surface to enable quick germination. In nature, this chemical prevents premature sprouting during extreme conditions such as prolonged drought or extreme cold.The stratification process mimics environmental conditions for the seeds that would naturally germinate at the end of a long wet winter.
Get all of the details here – "Milkweed Seed Germination Procedures."
---
Smoked Yogurt Marinated Beef Roast
This smoked, yogurt marinated beef roast was served for Cindy's birthday dinner, where I wanted to do something very tasty, a bit unusual and didn't require hovering over the stove in the kitchen for a long time, as we were busy with catching up in the office after two successive weekends presenting at gardening shows.
We are fortunate to have some locally raised beef that is delicious in its own right, so that made a perfect base on which to build. We slow roasted and smoked it over mesquite charcoal in a Kamado, or Japanese ceramic grill.
The results were fabulous – the beef roast had a rich, smoky beef flavor that is missing in store bought beef, followed by the tangy, complex flavors of the marinade. Prepare this in the morning and roast it in the afternoon, planning about 2 – 3 hours for the roasting, depending on the size of your roast.
This is the perfect centerpiece for an impressive and delicious dinner that won't take all of your day to prepare!
---
What Happened To My Seed Germination?
Seed germination issues happen every spring and challenge many new and experienced gardeners and growers.
Over the years we have found a lot of commonality in why our customers have problems with seed germination. The four biggest issues are soil temperature, moisture levels, knowledge or experience and patience. We've put this guide together to help everyone learn where the problems lie and make changes to become more successful.
We have a vested interest in you being successful both in starting seeds and in your gardening efforts. After all, we put our name and reputation on each and every one of the seed packets we send out. If you fail, we also fail; so we really want to help you succeed!
"What Happened To My Seed Germination?" has the information and questions to ask yourself to start troubleshooting.
---
What to Plant Now – Updated
In the last Newsletter issue we talked about tools to help gardeners find the best time to plant, and we've received a lot of comments – both positive and negative. A number of readers commented that the All Things Plants Calendar is off as far as their personal experiences in several different areas of the country, and that the recommendations were not always accurate either.
We truly appreciate these comments, as we can only base our observations on our location, and did make the caveat statement that for the lower deserts the timing was more for the traditional spring to fall gardening than the fall to spring season that works best in Phoenix, Tucson, Las Vegas and similar locations. A few of you thought that we had built the calendar. Several gave alternate recommendations for tools, which we appreciate and are researching a bit more.
So where does all of this leave us? Unfortunately, pretty much at the same place we started this little journey. There are a number of useful tools available online – many free and some with paid subscriptions – but they all have limitations and most likely won't be perfect or 100% accurate for your specific garden. The paid tools can have inaccuracies and holes in their information, just like the free ones. Even if an online resource is perfect for your garden this year, with first and last frost dates, planting times and everything else, it probably won't be next year, as each year is different in every garden. Just think of how this year compares to last year in last frost dates and early planting! Some tools will work well for some gardeners or growers, but are inaccurate for others.
The take-away here is to sort through what tools are available; see what makes sense and are useful for you, use those and bookmark the rest because they might come in handy later on. Don't fret if there is not one special tool that you can click a button to get all of the information that you need that is accurate and without fail for your garden. This is one of the most common questions we get all the time – "I want to start gardening, but can't find one source to find all of the answers I need, or a button to click that will tell me what to plant, when, how deep, when to transplant, water and harvest." That resource doesn't seem to exist, yet!
We've assembled a short list of tools, from the simple ones like Doug Green's "Vegetable Seed Starting Dates" to the tried and true "First and Last Frost Dates" by ZIP code from Dave's Garden to GrowVeg.com's "Online Garden Planner" which also powers Mother Earth News' "Vegetable Garden Planner" and several others, free for the first 30 days and $25 per year. Another viewpoint is this article from Modern Farmer – "Why the Farmer's Almanac Isn't Used By Farmers (Anymore)" that showcases how small farmers use technology like the National Weather Service, the Weather Underground website and their own personal weather station to determine what they need to plan for in their specific location.
---
What Would You Want in a Seed Saving Course?
Have you done any seed saving, or are you interested in learning but are hesitant or intimidated by possibly making a mistake and not getting what you were wanting?
We are working on a 6 part online seed saving class to be offered later this fall. It is designed to be a pretty comprehensive but still entry level course to give a student a very good overview with the next step being practical experience. It will be a six week course with a presentation and reading before the next week. This is much more involved than our one day introduction we are doing locally at the end of June!
As we finalize details, we will announce the opportunity for the class and how to register.
The question for you good folks is what key components would you need in a course like this? Please be as specific as needed, or as general to get the overview in. We've got the outline built, but your input will greatly help make it better – so please give us your thoughts, comments, suggestions and share with anyone you think could help! Please email us your suggestions and we will fit them into making this the best course on seed saving for a home gardener!
---
We believe in a world of healthy soil, seed, food and people. Everyone has a fundamental need for vibrant food and health, which are closely linked.
We work to achieve this by challenging and changing conventional gardening thinking, providing successful and unique methods and techniques while inspiring the power of choice and action for the individual.
Our customers are friends that we have not yet met, as you share our interest and passion for growing incredibly delicious foods, preserving heirloom seed traditions and biological diversity for the future through our own home gardens. Sharing this is possibly the most important work, as it helps all of us make a definite, positive impact in our lives and in those that we share.
Thanks for your time this edition, we hope you have enjoyed it! Please let us know your thoughts and suggestions, as we are always working to improve.
Stephen and Cindy Scott
Terroir Seeds | Underwood Gardens
https://underwoodgardens.com/wp-content/uploads/2012/12/DSC_0187.jpg
233
350
Stephen Scott
https://underwoodgardens.com/wp-content/uploads/2018/07/TerroirSeedsNEWWebLogo3-300x69.jpg
Stephen Scott
2014-05-20 12:55:05
2020-03-07 12:11:17
Newsletter: May 2014