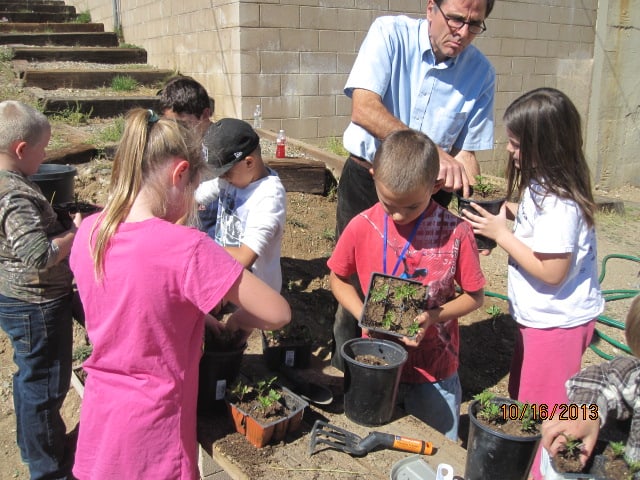 Newsletter: April 11, 2015
Trouble reading this email? View the online version!
Little Sprouts, School Seed Fundraiser, Chipotle Cultivate Festival & Membership
Hello Subscriber,
This edition is about the future. Our future, for all of us.
Children and younger gardeners are not only the future for humanity; but the future for local, human scale, sustainable food for everyone. Gardening and growing food in a small backyard garden plants skills, experience and a sense of wonder in a child's mind that cannot be unlearned. Those accomplishments will stay with them throughout their lifetime, leaving positive marks on the way that child chooses to live and the decisions they make.
Every single gardener has the responsibility (response – ability) to help nurture, educate and inspire a younger generation in the garden. It really doesn't matter if that inspiration is through flowers, hummingbirds, butterflies and beautiful pollinators, herbs for teas, tinctures and medications or simple food production that feeds the family.
Whether it is your child, grandchild, neighborhood children or a local school gardening club that you work with, you can make a direct, positive change in many lives and futures – all with one simple effort to share and spread something you already enjoy so much.
Join with us in this work. We will be spending next weekend with Chipotle and Slow Food USA's School Garden Program doing a "Plant a Seed" garden demo for children in Phoenix to get them started and excited about planting their very own seed. We also support many school gardens and other regional programs across the USA that teach how to garden, grow food, save seeds and cook delicious dishes from the fresh food they've raised.
Little Sprouts – Gardening with Children
"Gardening teaches children about the miracles to be found in nature. What could be more magical than a seed sprouting?" says Sharon Lovejoy.
Gardens offer endless opportunities for developing a deeply rooted sense of wonder in children that often last their whole lives. We invite you to celebrate your garden with a child, and remember that your child's wonder will spring from the deep roots of the seeds you planted in the fertile soil of imagination during your time together.
The special seed collections that we've created perfectly complement the activities detailed in Sharon Lovejoy's children's gardening book, "Roots, Shoots, Buckets & Boots: Activities To Do In The Garden". The "Little Sprouts" department offers every single activity in the book as a seed collection designed to engage, entertain and inspire your young gardener.
See The Entire Collection!
School Seed Fundraising
Our school fundraising program uses heirloom seeds and combines several benefits – raising funds for school programs, improving awareness of gardening, health, nutrition, soil education and plant diversity. Food—how it's grown and prepared, who grows it and the connection to wellness—all starts with a seed.
Schools earn 50% of what is sold, which is better than what many of the cookie or candy programs offer. Grow With Us – A Seed Fundraising Program benefits your school, your students and your local gardeners. Any school needing to raise funds, including school gardens, is eligible! We are honored to partner with Slow Food USA's National School Garden Program with our fundraiser.
Please share our program with teachers, parents and educators in your community; we want to help as many schools as possible across the country. Now is a great time to be involved with this program and have students spread seeds in their community and gardens.
Chipotle Cultivate Festival
We are very pleased to be partnering with Chipotle's Cultivate Festival along with Slow Food USA's National School Garden Program to do a hands-on "Plant a Seed" garden demo in the festival's Kid's Zone next weekend – April 18 – in Scottsdale, AZ.
Kids (and parents) will be able to decorate their very own biodegradable pot and plant an heirloom seed provided by Terroir Seeds, especially suited for Arizona's unique climate, to transplant later in their home garden. We will give a short demo at the top of each hour and answer any gardening questions from parents. In addition to our program, the Kid's Zone will have a giant interactive chalkboard, snack station and a cotton pit for jumping and bouncing in.
The Cultivate festivals typically attract several thousands of visitors, and recently Chipotle has begun focusing on bringing children's activities that educate and inspire as well as entertain. Their recent formal partnership with Slow Food USA has brought more gardening into the picture, and this is where Terroir Seeds comes in. We were asked to provide regional and seasonally appropriate heirloom seeds for the demos, where kids go home with everything needed to start an heirloom plant of their own.
We are excited to introduce another generation of young gardeners to the deeply rooted sense of wonder that gardening provides.
Membership Program
You know that gardening has many beneficial rewards, from fresh food to exercise to better health to mental clarity and calm. Your garden, no matter how small, can serve as a tool to help others learn how to grow some food of their own.
Did you realize that your gardening efforts can have a real and very significant influence for a number of people you've never met? By joining us in our Membership Program, you do just that – partner with us to help transform school gardens, community gardens, food banks, fresh food initiatives and educational programs that use gardens as their main tool all across our country.
Read how you and the gardens we both support both benefit in our Membership Program and together let's improve food security for lots of people!
---
From the soil to the seed to the food you eat – we'll help you grow your best garden!
"We believe in a world of healthy soil, seed, food and people. Everyone has a fundamental need for vibrant food and health, which are closely linked.
We work to achieve this by challenging and changing conventional gardening thinking, providing successful and unique methods and techniques while inspiring the power of choice and action for the individual."
Stephen and Cindy Scott
Terroir Seeds | Underwood Gardens
https://underwoodgardens.com/wp-content/uploads/2014/02/music-drummarimba-10-13-029.jpg
480
640
Stephen Scott
https://underwoodgardens.com/wp-content/uploads/2018/07/TerroirSeedsNEWWebLogo3-300x69.jpg
Stephen Scott
2015-04-11 11:56:34
2020-03-07 12:35:39
Newsletter: April 11, 2015