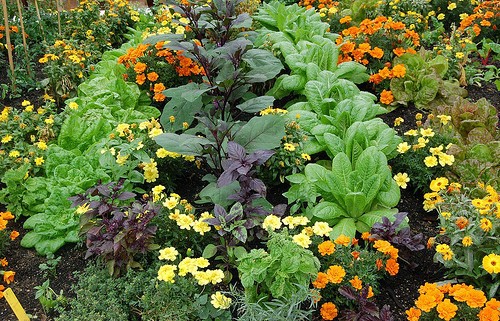 Newsletter: April 25, 2015
Companion Herbs, Squash & Recipe Ideas
Companion Herbs
When talking about companion planting, many gardeners think of vegetables with an occasional marigold or nasturtium thrown in for good measure. Herbs are one of the original beneficial companions because their volatile oils and organic compounds are natural repellents to troublesome insects and pests.
Not only are herbs repellent to the undesirables, but have many positive contributions to the garden as well. Some enrich the soil, others encourage beneficial insects and microbial communities to establish themselves and most create positive results for the growth of other vegetables and plants they are around.
Here is a small sampling of some well-known herbs that have great benefits in your garden. They shouldn't be planted all by themselves, but in amongst those vegetables that they can best benefit. This is the beginning of intensive gardening and permaculture.
For most parts of the country, it is not too late to get these sown into your garden!
Basil – Good companion for tomatoes, improves growth and flavor, repels flies and mosquitoes. Due to its round size, grow parallel to tomatoes and not among them.
Sweet Marjoram – A general beneficial herb, improves growth and flavor for all other garden vegetables. Tiny white flowers attract pollinators. A culinary substitute for oregano, it has a milder flavor.
English Pennyroyal – A huge butterfly and pollinator attractant, increases production in garden by increasing pollinators. It is beneficial for broccoli, Brussels sprouts and cabbage against cabbage maggots. Repels ants at entrances and good mosquito repellent when rubbed on skin or clothing. Fresh and dried sprigs are a good flea repellent.
Nasturtium – This perennial garden favorite is beneficial with radishes, cabbage and the cucurbit family- all of the squash and pumpkin family – against aphids, squash bugs and striped pumpkin beetles. Also improves the growth and flavor of all of the above.
Zucchini & Squash Recipes
Is Zucchini an Italian vegetable, or a very old American one? There are arguments both ways, but in a way each is partly correct!
Zucchini is the Italian name for a summer squash that has been grown in the Americas for at least 2,000 years! In fact, the very name "squash" is a derivative of a Native American word for these vegetables.
The first European explorers took seeds back with them, where zucchini and many other squash varieties became very popular. Americans became "re-united" with this old staple food during and after World War II when they found themselves eating and enjoying this American vegetable in countries that border the Mediterranean – especially Italy.
We've found a great little recipe and history book that looks at the impact these vegetables have had on many cultures, as well as sharing some unusual but delicious ways to enjoy both summer and winter squash without the burnout. With this guide, you won't be playing the "knock and run" game with bags of extra Zucchini this summer! You'll most likely have those same folks showing up on your doorstep looking for more of the tasty dishes like Chocolate Squash Cookies and Zucchini Brown Betty.
Here are some of the squash featured in the cookbook and tasty recipes made from them:
Cocozelle Zucchini – also known as Costata Romanesca, is a rich flavored zucchini that is deep green when young, but ribbed with yellow stripes when mature. Adds flavor to Dark Moist Squash Bread and Chocolate Squash Cake.
Tonda Nizza Squash – or "Round of Nice" is an early maturing, round squash with light-green thin-skinned fruits for grilling, stuffing, frying or using in parmigiana instead of eggplant. Excellent when grilled after drizzling with olive oil and fresh ground salt and pepper. Makes wonderful Squash Banana Nut Bread and Squash Carrot Cake.
Australian Butter Squash – Looks a lot like a pumpkin, keeps really well and has a thick, creamy semi-sweet flesh. Very prolific and great for the Squash 'N Apple Pie, as well as Winter Squash Soufflé.
Waltham Butternut Squash – One of the most popular of the Butternuts, with good reason. It's rich, dry yellowish flesh has a distinctive nutty flavor that stands well simply roasted and dressed with butter. It rounds out the flavors of Baked Winter Squash with Stuffing and Creamy Winter Squash Soup.
See More Recipes Here!
Hortopita (Spring Greens Quiche)
Hortopita is a savory pie from Greece that is stuffed with horta, or edible wild greens such as dandelions, chard, kale, and lamb's quarters- commonly called spring greens.
Horta directly translates as "grass" in Greek, but refers to about 80 different greens growing all over the country. It's delicious alone (sautéed with lemon and olive oil) but obviously much more savory when feta cheese and filo pastry sheets are used. Hortopita is a cousin of the well-known Spanakopita—layers of crispy filo dough stuffed with cheesy, leafy spinach greens.
We've got two distinct but delicious recipes for you to try – one directly from a customer in Greece and another that is a modern adaptation of a long-standing family recipe.
---
From the soil to the seed to the food you eat – we'll help you grow your best garden!
"We believe in a world of healthy soil, seed, food and people. Everyone has a fundamental need for vibrant food and health, which are closely linked.
We work to achieve this by challenging and changing conventional gardening thinking, providing successful and unique methods and techniques while inspiring the power of choice and action for the individual."
Stephen and Cindy Scott
Terroir Seeds | Underwood Gardens
https://underwoodgardens.com/wp-content/uploads/2015/04/HerbCompanionPlanting.jpg
333
500
Stephen Scott
https://underwoodgardens.com/wp-content/uploads/2018/07/TerroirSeedsNEWWebLogo3-300x69.jpg
Stephen Scott
2015-04-25 11:00:44
2020-03-07 12:36:42
Newsletter: April 25, 2015