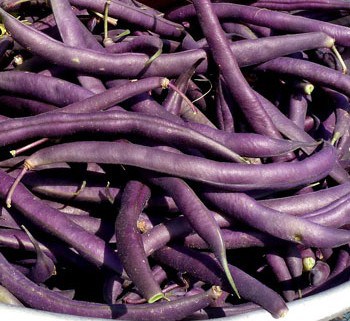 Newsletter: April 4, 2015
Fresh Beans, Aquaponics Seed Starting & Seed Cards
Fresh Beans for Spring
Beans and man have a very long history together, whether green, snap, shelled or dried.
Wild beans exhibit bush, climbing, and sprawling habits and disperse their seed once pods are dry. The pod splits at the bottom and spirals outward as it opens, dispersing seed. I have yet to see this method of seed dispersal with agricultural dry beans so I suspect humans have bred this trait out of the bean for ease of harvest. It is much easier to pick beans in their pods than to search the ground for them!
Royalty Purple Pod Bush Bean – New!
The Royalty Purple Pod Bush Bean certainly deserves its name with incredibly attractive deep, rich royal purple colored bean pods. The fresh beans are pictured at top, with the seeds above. Highly valued as a fresh snap bean, the stringless pods are 5 – 6 inches long and slightly curved. Hugely productive as well as highly attractive and ornamental, these bushy plants have very distinctive dark greenish-purple foliage and eye-catching lavender flowers, sending out short runners. Very easy to pick, as the clusters of dark royal purple pods stand out against the leaves.
Buff-colored seeds germinate and grow well even in cool, damp soil. Delicious as a fresh snap bean in salads or a vegetable plate, the shelled beans are very substantial and meaty when cooked lightly in soup or as a side dish.
The French White Garden Bush Bean, also known as the French Filet Blanc or French Flageolet Blanc is a famous heirloom bean variety originally from the south of France, developed in the 1800s as a dwarf cultivar and originally known as 'Nain Hatif de Laon', or Early Dwarf Laon. Known as the 'Caviar of Beans' and rightfully so! They are very hard to find and expensive in stores, but very easy to grow in your garden.
Very often served as an honored traditional side to a slow roasted leg of lamb in France, these are best prepared and served in simple recipes where the light and delicate flavors can be best appreciated.
See our complete selection of beans here!
Aquaponics Seed Starting
Aquaponics is the combination of aquaculture (raising fish) and hydroponics (the soil-less growing of plants) that grows fish and edible plants in one integrated system. The fish waste provides an organic food source for the growing plants while the plants provide a natural filter for the water the fish live in. This is made possible by the microbes and composting earthworms that thrive in the growing media. They convert the ammonia from the fish waste first into usable nitrates and the solids into vermicompost that becomes food for the plants.
Growing a surprising amount of food at home with aquaponics can be very simple, but there are a few basic things to know before getting started. We want to introduce you to the techniques of seed starting in aquaponics and how to keep the growth cycle continuing so that you get the most out of your system.
Handmade Seed Cards
We've shared these beautiful handmade seed cards a couple of times in past Newsletters, and it seems like we almost sell out each time. A new batch is in stock for warmer weather, and is great for upcoming Mother's Day, weddings, anniversaries and birth announcements. These have become very popular and we wanted to share them again with you.
These cards are made in the USA by hand in a family owned and run business that inserts the wildflower seeds into the paper as it is being made. They have commissioned independent artists for the exquisite artwork, and the result is gorgeous.
By controlling pressure on the press and all aspects of the drying process, the highest germination rates possible are guaranteed. So when your family or friends have finished with the card they simply plant it indoors or outside following the simple instructions included with each card, and they will be amazed at how it will grow into beautiful flowers.
These cards can be planted, but everyone who picks them up says they are simply too beautiful to do so. See for yourself!
See Them Here!
---
From the soil to the seed to the food you eat – we'll help you grow your best garden!
"We believe in a world of healthy soil, seed, food and people. Everyone has a fundamental need for vibrant food and health, which are closely linked.
We work to achieve this by challenging and changing conventional gardening thinking, providing successful and unique methods and techniques while inspiring the power of choice and action for the individual."
Stephen and Cindy Scott
Terroir Seeds | Underwood Gardens
https://underwoodgardens.com/wp-content/uploads/2015/04/Royalty-Purple-Bush-Bean4.jpg
350
350
Stephen Scott
https://underwoodgardens.com/wp-content/uploads/2018/07/TerroirSeedsNEWWebLogo3-300x69.jpg
Stephen Scott
2015-04-04 11:55:06
2020-03-07 12:35:04
Newsletter: April 4, 2015