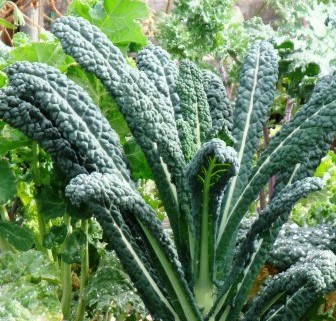 Newsletter: August 1, 2015
Plant Your Fall Garden
Welcome to August and the beginning of the Fall and Winter gardening season! Otherwise called cool season gardening, this is the time of year when you can enjoy another taste of those greens and veggies that don't like the heat, and the best part is most will get much sweeter and fuller flavored as the weather cools off.
The reason is the plants put more sugar into their leaves and roots as a biological anti-freeze, giving us the sweeter, deeper and richer flavors that won't be found in warmer weather.
If you haven't finished your fall garden planning and think you are late, don't worry – our helpful article "How to Plan and Plant for Fall and Winter Gardening" will bring you up to speed fast. After reading it you'll know your expected first frost date, have the timing down for when to plant and have a list of favorite veggies to get started with!
If you are new to what has been called "Second Season" gardening, we've put together three selections of vegetables that are easy to plant, fast growing and very tasty. The Cool Season Greens are for those that love kale, Swiss chard, spinach and salad greens, while the Cool Season Roots covers carrots, radishes, beets, leeks and other root crops for fall.
Some folks just want a really simple, easy to do starter kit. Our Gourmet Lettuce Starter Pack was hand-picked just for you – 6 fast growing lettuces with a hand seeder to make planting those tiny seeds easier, all in one pack so you can have fresh salads as the weather cools off.
If you live where the summers are hot and the winters mild, here's a printable planting calendar just for you! It's based on conditions in Maricopa County, AZ where Phoenix is located, so applies directly if you live in a similar climate like Las Vegas, Palm Springs, Tucson, south Florida, etc.
See the complete Fall and Winter vegetable selection here!
Growing Quality Heirloom Chiles
One of the wonderful things that we get to do in this business is visit seed growers and breeders. This is how we maintain the quality of our seed – personally knowing our growers.
We were invited to south-eastern Arizona to spend the day with a world-class chile breeder. He currently supplies most of the seeds for the Hatch chile growers in New Mexico, and has been breeding and refining chiles for about 30 years.
We first met him at a Master Gardener conference where he presented a talk about the genetics of the breeding he was doing, explaining how much more complex a chile plant is than a tomato, with the resulting complexities in breeding and selecting to get certain characteristics to come through reliably.
Membership Drive & Renewals
We've finished our first month of the Membership Drive and have exceeded our expectations – thanks so much to all of you who have partnered with us! This means we will be able to support more programs next year, with more schools and community gardens growing better food while teaching how to garden, eat better and become healthier.
One excellent example of this is the Community Tire Salsa Garden in Phoenix, AZ. Using our donated seeds, this family owned tire store started a community garden in a "food desert" to involve and help feed the neighborhood, which is lower income. The photo shows their latest progress.
Using recycled and repurposed tires as raised beds, they are focusing on involving and educating the children of the community. We have helped support them with seeds for two years now!
Has your Membership lapsed? Don't worry – we've got you covered! If you've been a Member at any time in the past, you can renew at the current Member rate for the month of August. Just click here for the renewal package.
When you join our Membership program you will receive our membership thank you package and an extra seed bonus you can plant this Fall.
We invite you to become a vital part of our small family owned business on a whole new level. It is individuals like you purchasing seeds and supporting our membership program that allows us to continue to provide great information on gardening and encourage a new generation to grow some of their own food.
This is truly an example of one person making a big difference in several lives!
Join us today!
---
From the soil to the seed to the food you eat – we'll help you grow your best garden!
"We believe in a world of healthy soil, seed, food and people. Everyone has a fundamental need for vibrant food and health, which are closely linked.
We work to achieve this by challenging and changing conventional gardening thinking, providing successful and unique methods and techniques while inspiring the power of choice and action for the individual."
Stephen and Cindy Scott
Terroir Seeds | Underwood Gardens
https://underwoodgardens.com/wp-content/uploads/2015/09/Lacinato-Kale1.jpg
336
336
Stephen Scott
https://underwoodgardens.com/wp-content/uploads/2018/07/TerroirSeedsNEWWebLogo3-300x69.jpg
Stephen Scott
2015-08-01 15:38:00
2020-03-07 12:49:02
Newsletter: August 1, 2015