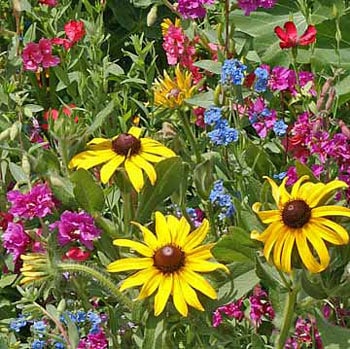 Newsletter: August 15, 2015
This week we are on the road visiting some of our growers in central and northern California. We always look forward to these visits as we get to renew friendships, see the crops and seed production and do some brainstorming on seed quality and possible new varieties for the future. These visits are a core part of our seed quality control, as we get to see successes and challenges in the field and make corrections as needed without delay.

It is great to take a break from the office routine and freshen our minds for a few days.

Our internet access will be limited, but we will monitor phone messages and email as we can and respond as we have connection and time.

We are looking forward to bringing back some beautiful photos and video, as well as some new ideas from our trip!
Plant Your Spring Flowers in the Fall
Do you know when the best time is to plant wildflower and flower seeds for next spring?
Fall to early winter.
It's true – if you want a beautiful patch of flowers for their scent, color or to attract pollinators, the best time to plant them is not next spring, but very soon – this fall.
Most wildflowers can (and should) be sown in the fall to early spring throughout many regions of the U.S.
Almost all varieties of flowers, whether domesticated or wild, need periods of cold followed by a warming, such as freezing and thawing that naturally happens in the soil outside. This is called stratification, and keeps the seeds dormant for enough time to make it to the warm spring days to sprout successfully.
Young Green Beans with Dijon Vinaigrette
Whether you have a bounty of young green beans from your garden, or have gotten a great deal at the Farmer's Market – here's a quick and simply delicious way to make them into a very memorable side dish that will be talked about after it is devoured!
Pairing the fresh crispness of young green beans with the slightly sharp tartness of the Dijon mustard based vinaigrette gives you a flavor combination that often takes diners by surprise and has them coming back for more.
Membership Drive
As our Membership Drive enters its final two weeks, we are extremely grateful for all of you individual, independent gardeners who have put your trust in us and joined in helping more programs and teaching more people about growing their own food.
Our Membership Program is a core group of members working alongside us and we want to include you! One of the great benefits is our members receive 20% off any order all year round.
Together we – you and us – provide seed, inspiration, education and consulting in how to improve the soil, grow healthy food and improve health. It is said that "If you want to change the world, grow a garden". The amazing thing is that the statement is completely true!
The world-changing part isn't only the garden or the food it grows; obviously one garden can't change or feed the world by itself.
The magic of what one small garden can do is share.
It can share its food, the knowledge and experience of how that food was grown, why it tastes as wonderful, rich and delicious as it does and the excitement and contentment that only comes from food you've grown.
Do not make the mistake of thinking that you cannot make a difference.
As Margaret Mead said, "Never underestimate the power of a small group of committed people to change the world. In fact, it is the only thing that ever has."
Even today, the actions of one person makes a big difference in someone's life.
Join us today!
---
From the soil to the seed to the food you eat – we'll help you grow your best garden!
"We believe in a world of healthy soil, seed, food and people. Everyone has a fundamental need for vibrant food and health, which are closely linked.
We work to achieve this by challenging and changing conventional gardening thinking, providing successful and unique methods and techniques while inspiring the power of choice and action for the individual."
Stephen and Cindy Scott
Terroir Seeds | Underwood Gardens
https://underwoodgardens.com/wp-content/uploads/2013/08/Humid-Climate-Flower-Mix2.jpg
349
350
Stephen Scott
https://underwoodgardens.com/wp-content/uploads/2018/07/TerroirSeedsNEWWebLogo3-300x69.jpg
Stephen Scott
2015-08-15 12:01:58
2020-03-07 12:49:02
Newsletter: August 15, 2015