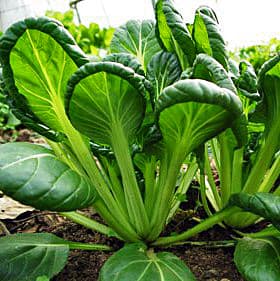 Newsletter: August 22, 2015
Cool Season Greens Collection
Welcome to cool season gardening, the time of year when you can enjoy another taste of those greens and veggies that don't like the heat, and the best part is most will get much sweeter and fuller flavored as the temperature drops off.
The reason is the plants put more sugar into their leaves and roots as a biological anti-freeze, giving us the sweeter, deeper and richer flavors that won't be found in warmer weather.
If you haven't finished your fall garden planning and think you are late, don't worry – our helpful article "How to Plan and Plant for Fall and Winter Gardening" will bring you up to speed fast. After reading it you'll know your expected first frost date, have the timing down for when to plant and have a list of favorite veggies to get started with!
If you are new to what has been called "Second Season" gardening, we've put together the Cool Season Greens selection of vegetables that are easy to plant, fast growing and very tasty for those that love kale, Swiss chard, spinach and salad greens.
See the full selection of Fall and Winter gardening here!
Long Island Improved Brussels Sprouts
If you've never eaten Brussels sprouts fresh from the garden, forget what you've tasted as a kid because store-bought sprouts just can't compare!
The medium length stalks are loaded with firm little sprouts, each one having a bold and rich flavor that is deeper and more assertive than cabbage with a nutty finish.The plants are semi-upright with medium green leaves and heavy sets of firm sprouts over an extended season.
They are excellent roasted with other cool season vegetables and sausage. The large leafy greens can also be used like a collard green – either fresh with the ribs trimmed off or lightly sautéed.
Surprisingly good for the freezer, they keep their flavor well if frozen soon after harvest.
This was the chief commercial variety in California until the more uniform hybrids were introduced.
Easy Homemade Pesto
Fresh, homemade basil pesto is one of the treasures of summer.
It freezes well and there is very little that evokes the flavor and fond memory of warm summer days than the taste of a batch of pesto on a cold winter's day.
It might be because almost all of the other garden offerings are cooked in some way while preparing them for storage, while pesto is just frozen.
It retains that true, fresh flavor better than many other vegetables that are frozen while fresh.
Get the recipe and see the process here!
---
Milpa: Seed to Salsa Book
A Milpa is an ancient system of community agriculture – companion plantings of corn, beans, squash, amaranth, chile and more – carefully chosen over millennia to complement and sustain each other in growing lots of food.
If you are intrigued by ancient agricultural knowledge combined with mouth-watering recipes and stunning photography, we have a most unusual treat for you!
Milpa!: From Seed to Salsa is a new book that is available for pre-order, signed by the photographer – Judith Haden. We got to know Judith through our search for the Chile de Agua seeds – which originate in the Oaxaca region – and have been following the progress of this book ever since.
You can read the pre-release book review here, where you'll also see the information on discounted pre-ordering through August 31.
---
From the soil to the seed to the food you eat – we'll help you grow your best garden!
"We believe in a world of healthy soil, seed, food and people. Everyone has a fundamental need for vibrant food and health, which are closely linked.
We work to achieve this by challenging and changing conventional gardening thinking, providing successful and unique methods and techniques while inspiring the power of choice and action for the individual."
Stephen and Cindy Scott
Terroir Seeds | Underwood Gardens
https://underwoodgardens.com/wp-content/uploads/2015/09/Tatsoi-Chinese-Mustard.jpg
281
280
Stephen Scott
https://underwoodgardens.com/wp-content/uploads/2018/07/TerroirSeedsNEWWebLogo3-300x69.jpg
Stephen Scott
2015-08-22 12:04:05
2020-03-07 12:49:02
Newsletter: August 22, 2015