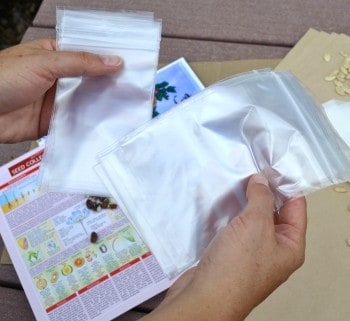 Newsletter: August 29, 2015
Seed Saving Basics Kit
New to seed saving? Don't know where to begin and need some help?
We developed this kit from tools we regularly use in selecting, germination testing and storing seeds in our business, as well as including some other very useful items that will set you up for success.
This kit has all of the tools you need to get started in saving your favorite vegetable, herb or flower seeds.
Learning to save seeds – even one variety – will help you become a better gardener as you learn the complete life cycle and what conditions create better seeds. Every season you will learn new things that will improve your abilities and your garden's productivity.
Get the full details here!
How to Pick Perfectly Ripe Heirloom Vegetables
Finding and picking perfectly ripe heirloom vegetables or fruit seems second nature to some, but those new to gardening can be confused and frustrated by the seemingly endless choices.
One the one hand, you don't want to pick too early and miss out on the scrumptious flavors, but you also don't want to pick too late and not only miss the flavors, but lose the time and work of growing the vegetables in the first place.
What's a hard-working home gardener to do? Read the full article here!
Once you've got the art of picking your tomatoes at their peak and find that you have way too many – use our traditional Italian Fermented Tomato Conserve recipe to keep that fresh "tomatoey" flavor through the winter!
Membership Drive – The Finish Line!
We are in the last week of our Membership Drive and have greatly exceeded our expectations – thanks so much to all of you who have partnered with us! We can now provide more seed, consulting and education for new and current programs.
This week you can still renew a lapsed Membership at the current renewal rates, without buying a new one.
Our Membership Program is a core group working alongside us and we want to include you! One of the great benefits is our members receive 20% off any order all year round.
Thanks to your partnership we – you and us – provide seed, inspiration, education and consulting in how to improve the soil, grow healthy food and improve health. It is said that "If you want to change the world, grow a garden". This statement has never been more true than today!
The world-changing part isn't only the garden or the food it grows; obviously one garden can't change or feed the world by itself.
The magic of what one garden can do is share.
It can share its food, the knowledge and experience of how that food was grown, why it tastes as wonderful, rich and delicious as it does and the excitement and contentment that only comes from food you've grown.
Do not make the mistake of thinking that you cannot make a difference.
As Margaret Mead said, "Never underestimate the power of a small group of committed people to change the world. In fact, it is the only thing that ever has."
Even today, the actions of one person makes a big difference in someone's life.
Join with us in this important work!
---
From the soil to the seed to the food you eat – we'll help you grow your best garden!
"We believe in a world of healthy soil, seed, food and people. Everyone has a fundamental need for vibrant food and health, which are closely linked.
We work to achieve this by challenging and changing conventional gardening thinking, providing successful and unique methods and techniques while inspiring the power of choice and action for the individual."
Stephen and Cindy Scott
Terroir Seeds | Underwood Gardens
https://underwoodgardens.com/wp-content/uploads/2015/10/SeedSavingBasics1.jpg
350
350
Stephen Scott
https://underwoodgardens.com/wp-content/uploads/2018/07/TerroirSeedsNEWWebLogo3-300x69.jpg
Stephen Scott
2015-08-29 12:06:35
2020-03-07 12:49:03
Newsletter: August 29, 2015