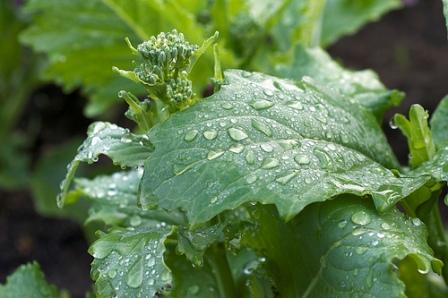 Newsletter: August 8, 2015
Broccoli Raab or Rapini
This Raab/Rapini Broccoli is one of the "Cima di Rapa" strains that makes small heads or shoots with lots of edible leaves and is very popular throughout Italy, especially in the South.
Also called "asparagus broccoli" in Italy.
Its tender shoots have a slightly spicy/peppery, broccoli-asparagus flavor that gives zing to salads, stir-fries and steamed dishes. Great as a very early spring or a fall and winter crop.
Plants will grow to about a foot tall and will grow side shoots after the first harvest – a true "cut and come again" variety. A second, smaller harvest is normally possible within 7 – 10 days after the first.
Here's what a gardener in Texas had to say:
"I am VERY pleased with Broccoli Raab and I'm not a big fan of bitter greens; however, I cannot believe how EASY it was to grow this veggie. I'm in zone 8b, and we're still in a drought; but Raab simply took off when I planted 6 week old plants in the ground in October technically, I was already 4 weeks late with planting. Out of the 20 seeds I planted 20 germinated.
It grows fast! I've given more away than I can eat! If you want almost instant gratification in the garden try Broccoli Raab just don't overcook them! We had our first freeze 29-33 degrees overnight and they still look amazing. All my other brassicas look ticked-off. I've really enjoyed growing this plant."
See it here!
Milpa!: From Seed to Salsa
A Milpa is an ancient system of community agriculture – companion plantings of corn, beans, squash, amaranth, chile and more – carefully chosen over millennia to complement and sustain each other in growing lots of food.
It is a living example of how small scale, sustainable agriculture feeds the community while restoring and maintaining the health of the land and people.
If you are intrigued by ancient agricultural knowledge combined with mouth-watering recipes and stunning photography, we have a most unusual treat for you!
Milpa!: From Seed to Salsa is a new book that is available for pre-order, signed by the photographer – Judith Haden. We got to know Judith through our search for the Chile de Agua seeds – which originate in the Oaxaca region – and have been following the progress of this book ever since.
You can read the pre-release book review, where you'll also see the information on discounted pre-ordering through August 31.
Old-Fashioned Vegetable Garden Recipes
Old-Fashioned Vegetable Garden Recipes describes long ago methods of raising and preserving vegetables, adapted for today so they are quick and easy to prepare. The book contains 73 recipes for soups, salads, hot and cold main and/or side dishes, pickles, relishes and baked goods.
Try Barbecued Green Beans, Broccoli with Blue Cheese or Swiss Corn for unusual flavors from old favorite vegetables. Rhubarb Relish is an old New England recipe, dating back more than 150 years. Succotash was prepared by Native Americans who planted corn and beans together.
See more here!
---
P.S.–
– Our Membership Drive continues for August, so if you haven't joined us yet – you still can and will receive our "Thank You" package along with a hand-selected seed bonus for planting this fall.
Many gardeners have joined with us in helping more incredible programs working to teach and inspire gardening, and growing one's own food.
This simple skill is key to boosting people out of crime, a sense of hopelessness and dependence on assistance while setting them on a road to better nutrition, health and ultimately a better life. Your Membership fees support programs that use gardening as an educational tool to help others.
Even today, the actions of one person makes a big difference in someone's life.
Join us today!
---
From the soil to the seed to the food you eat – we'll help you grow your best garden!
"We believe in a world of healthy soil, seed, food and people. Everyone has a fundamental need for vibrant food and health, which are closely linked.
We work to achieve this by challenging and changing conventional gardening thinking, providing successful and unique methods and techniques while inspiring the power of choice and action for the individual."
Stephen and Cindy Scott
Terroir Seeds | Underwood Gardens
https://underwoodgardens.com/wp-content/uploads/2015/10/Broccoli-Raab.jpg
298
448
Stephen Scott
https://underwoodgardens.com/wp-content/uploads/2018/07/TerroirSeedsNEWWebLogo3-300x69.jpg
Stephen Scott
2015-08-08 11:52:45
2020-03-07 12:49:02
Newsletter: August 8, 2015