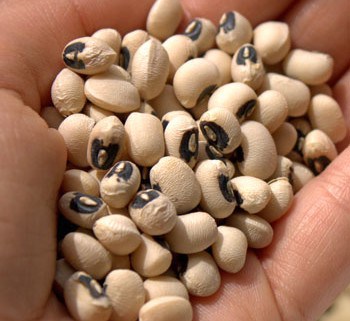 Newsletter: December 20, 2014
Blackeye Peas, Sprouting Oats & Seed Questions
---
Blackeye Peas
New for 2015 is the venerable Blackeye Pea or Southern Pea. Well known and loved in the southern states as a comfort food and soil improver, blackeye peas have a long history both in the United States and the world.
Very nutritious as a food for both humans and animals, these "peas" also help feed the soil with the nitrogen they fix. Blackeye peas are really a cowpea and are part of the family of beans and peas. Although called a pea, it is actually a bean.
China and India have grown blackeye peas, which are related to the mung bean, since pre-historic times. Greeks and Romans preferred them to chickpeas.
---
Sprouting Oats
Hulless Sprouting Oats are the newest addition to our sprouting selection. All sprouting seeds must be certified organic – which these are – for food safety reasons as the seeds are eaten directly after sprouting, so there can be no chemicals on the seeds.
What makes these oats special is their lack of hulls that must be removed with regular oats. These can be sprouted directly and have a surprising nutty sweetness, along with lots of protein and other scarce nutrients at this time of year. All it takes is 4 – 6 days in a quart jar on the kitchen counter or windowsill to grow tasty, nutritious greens!
---
Seed Questions
We've re-connected with many of you, asking what your biggest garden question is and this week's question had to do with seeds. Specifically, how to determine the different types of seed – heirloom or hybrid and what makes them unique.
There are two articles that answer that question and really help set the foundation of better understanding seed quality and the differences there are in the market today.
What Are Heirloom Seeds explains and discusses the difference in seed types, as well as several terms that are often used incorrectly in media and conversations today. The Tale of Two Seeds- Heirloom vs Hybrid Seed Production shows how the two types of seeds are different from a production or growing standpoint.
---
Master Catalog
As new catalogs start arriving in the mail, did you know you can download our Master Seed catalog?
Because of our efforts to provide the best seeds to you – our customers – we are no longer printing and sending an annual seed catalog.
Don't worry, our webstore is always up-to-date with availability and what's new. Plus, our website is packed full of gardening resources you wouldn't find anywhere else; with articles on improving soil health, dealing with pests and diseases, gardening tips, seed saving and recipes.
If you are a die-hard fan of a printed catalog we have you covered; you can order a printed copy delivered by first class mail to your door.
---
From the soil to the seed to the food you eat – we'll help you grow your best garden!
"We believe in a world of healthy soil, seed, food and people. Everyone has a fundamental need for vibrant food and health, which are closely linked.
We work to achieve this by challenging and changing conventional gardening thinking, providing successful and unique methods and techniques while inspiring the power of choice and action for the individual."
Stephen and Cindy Scott
Terroir Seeds | Underwood Gardens
Unsubscribe or update your email preferences
This email sent by Stephen at Terroir Seeds at P O Box 4995 Chino Valley, AZ 86323.
https://underwoodgardens.com/wp-content/uploads/2014/12/Black-Eye-Peas-3Web1.jpg
350
350
Stephen Scott
https://underwoodgardens.com/wp-content/uploads/2018/07/TerroirSeedsNEWWebLogo3-300x69.jpg
Stephen Scott
2014-12-20 14:22:53
2020-03-07 12:13:23
Newsletter: December 20, 2014