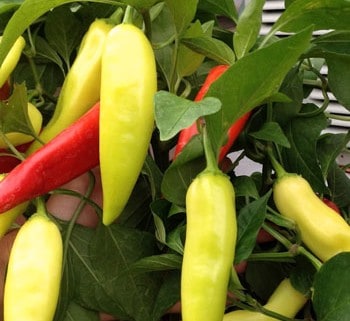 Newsletter: December 27, 2014
Hungarian Peppers, Homemade Polenta & Favorite Seeds
Hello Subscriber,
We hope your holiday season has been bountiful, and you've been able to spend time with family and friends. This is our last Newsletter for 2014, and we look forward to inspiring and assisting your gardening adventures in 2015!
We want to express our deep gratitude for your support and belief in our mission, helping us to grow and bring more people to the satisfaction and joy of home gardening.The kindest gift you can give us is a referral!
---
Hungarian Hot & Sweet Peppers
Hungarian Hot Wax Peppers are well known in the gardening world, and we've brought in a medium hot variety for the 2015 season. It's about as hot as an average Jalapeno, but with different flavors as it matures. Most people know them as yellow pickled pepper rings, but if you wait until they are orange or red, then you'll get to experience what the Hungarians have known for centuries – the delicious, rich and unique flavors they gain during ripening.
We are very pleased to introduce a completely different and mostly unknown Hungarian pepper – the Sweet Wax Pepper. Shaped like the Banana Pepper, but with much more flavor and just a slight touch of heat, these have been called the Hungarian Stuffing pepper for excellent reason. When ripened to a deep orange or red, stuffed with ground meat and spices and then roasted, they have a deep rich smoky-sweet flavor that is almost impossible to describe.
It is thought that the Turks introduced peppers to the Hungarians in the mid-1500s; they've been growing both sweet and hot varieties ever since. Hungary is located at the far northern limit of where peppers can be grown and matured, so these varieties have adapted to shorter seasons and will do well in cooler climates – even down to a Zone 4 in the US!
---
Blue and Yellow Polenta
Homemade polenta is a labor of love, care and time that results in a very memorable meal. Originally a starvation food for poor subsistence farmers in Northern Italy, it has been elevated to high fashion in trendy restaurants. Still revered by Italians as a comfort food and a remembrance of how far they've come, being served polenta by an Italian family is a sign that you are no longer considered "company" and are more a part of the family, an honor.
We share our Southwestern adaptation of Marcella Hazan's classic cornmeal and buckwheat polenta with our Blue and Yellow Cornmeal Polenta. If you use locally grown ingredients with homemade chicken or turkey broth, you'll understand in the very first bite why it is well worth growing your own corn just to make the coarse polenta cornmeal! You will remember the exact moment when you first tasted this treasured dish.
---
Where Did My Favorite Heirloom Seeds Go?
There have been a number of questions lately as to why we don't offer specific varieties of seeds any longer. There are a number of reasons, which we explain in Where Did My Favorite Heirloom Seeds Go?
The single biggest reason a seed variety is discontinued is that not enough seed is sold to justify growing it out. The way we produce seed is very time and labor intensive. The decision is much more than simply an economic one; the grower's time and use of space, the effort in harvesting and extracting the seed and our time and materials used to pack the seed all go into the choice of what varieties to grow for seed.
The things you can do to ensure that those seed varieties that you love are still carried are grow them, share them and eat them. Come to think of it, this is exactly what needs to be done with any food that we don't want to go extinct!
---
Master Catalog
As new catalogs start arriving in the mail, did you know you can download our Master Seed catalog?
In our efforts to provide the best seeds to you – our customers – we are no longer printing and sending an annual seed catalog.
Don't worry, our webstore is always up-to-date with availability and what's new. As a plus, our website is packed full of gardening resources you won't find anywhere else – articles on improving soil health, controlling pests and diseases, gardening tips, seed saving and recipes.
If you are a die-hard fan of a printed catalog we have you covered; you can order a printed copy delivered by first class mail to your door.
---
From the soil to the seed to the food you eat – we'll help you grow your best garden!
"We believe in a world of healthy soil, seed, food and people. Everyone has a fundamental need for vibrant food and health, which are closely linked.
We work to achieve this by challenging and changing conventional gardening thinking, providing successful and unique methods and techniques while inspiring the power of choice and action for the individual."
Stephen and Cindy Scott
Terroir Seeds | Underwood Gardens
Unsubscribe or update your email preferences
This email sent by Stephen at Terroir Seeds at P O Box 4995 Chino Valley, AZ 86323.
https://underwoodgardens.com/wp-content/uploads/2014/12/Hungarian-Sweet-Wax-PepperW1.jpg
350
350
Stephen Scott
https://underwoodgardens.com/wp-content/uploads/2018/07/TerroirSeedsNEWWebLogo3-300x69.jpg
Stephen Scott
2014-12-27 11:24:42
2020-03-07 12:13:39
Newsletter: December 27, 2014