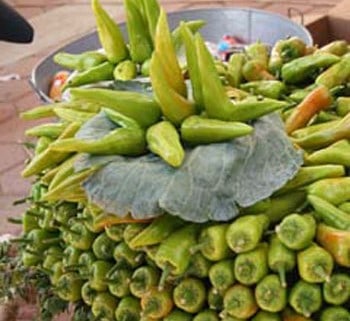 Newsletter: December 13, 2014
New Seeds, Cold Killer, Shea Butter & Master Catalog
Hello Subscriber,
Home gardening is at an all-time high right now, and we are sending out gardening gifts like never before. Thursday, Dec 18 at noon AZ time (MST) is the deadline to place your order for delivery in the US before Christmas. We don't want you to be left out!
---
New Seed Varieties –
As promised, you have the very first look at our new varieties – soon after we've gotten them packed and up on the website! Here's one we are particularly proud of:
Chile de Agua Pepper
We absolutely love being part of the effort to bring a new or unknown seed variety to market. Sometimes the process reads like a novel, beginning with the hunt for seeds soon after a famous chef starts looking for them for his restaurant, followed by a few years of struggle and selection of the best and most correct specimens for that variety, with the finale being a new seed offering for a wider audience.
This is just such a story! Several years ago a well-known Chicago chef starting looking for a very specific Oaxacan (Wa-ha-can) chile that he had tasted and cooked with in Oaxaca, Mexico but couldn't find in the US. One of our mentors – known as "Mr. Allium" for his long-standing work with many varieties of garlic – became involved and enlisted our help, knowing Stephen's confirmed love of all things chile.
After much searching, a photographer from Sante Fe, NM was found who just happened to be in Oaxaca at the time – finishing the photography for a book on the historic cultural restoration of small scale community agriculture – and was able to source some seeds from local growers and bring them back. She supplied us with seeds, and our work began.
After a couple of years of challenges in growing out trials of this chile, we sent several seed samples to our most experienced seed grower – a seed breeder and very dear mentor – for selection of the best seed for grow-out. Once the selections were made, our first seed crop was harvested just this fall and is now ready for you for the first time.
We are very proud to offer Chile de Agua for your garden next season!
---
Cold Killer Video
As the winter sets in, cold and flu season are right behind it. We've used this recipe for a few years now and wanted to share it with you. It's easy to make, tastes pretty darn good for how potent it is and will help you feel much better in no time.
Watch our Honey Lemon Ginger Turmeric Cold Killer video to see how it's made!
---
Handmade Shea Butter
Our newest shipment of Shea butter is possibly one of the highest grades we've ever gotten, and we are almost out! We've offered this shipment for the past month and the response has been surprising.
This particular shipment is from Burkina Faso in Western Africa. Our supplier works very closely with several small villages that still hand harvest and process the Shea nuts into what becomes a healing and moisturizing cream that was treasured by the Queen of Sheba. In this way, he can afford to pay a premium to the women who produce this in the traditional way – by hand – without any chemicals or excessive heat that destroys the healing properties.
It takes 20 – 30 hours to produce one kilogram (2.2 lbs) of pure, high quality handcrafted Shea butter. Because our supplier visits the villages where it is still made, he knows and has relationships with the producers, can pay them a better price to get the very best quality while still being competitive in the US market. His regular clients are exclusive day spas on the East coast, but we have worked with him for over a decade so he continues to share only his best quality with us.
Handcrafted, pure Shea butter is produced by roasting and grinding the nuts, and then a small amount of water is added. The mixture is whipped and kneaded by hand in a kettle until the color changes – 1 to 3 hours – then warm water is added to bring the oil or butter out. It is then packed into gourds for shipment.
When our supplier receives the gourds, he gently warms the butter just until it melts, strains it and packs it into jars for shipping. The Shea butter is then shipped to us.
---
Master Catalog
As new catalogs start arriving in the mail, did you know you can download our Master Seed catalog?
Because of our efforts to provide the best seeds to you – our customers – we are no longer printing and sending an annual seed catalog.
Don't worry, our webstore is always up-to-date with availability and what's new. Plus, our website is packed full of gardening resources you wouldn't find anywhere else; with articles on improving soil health, dealing with pests and diseases, gardening tips, seed saving and recipes.
If you are a die-hard fan of a printed catalog we have you covered; you can order a printed copy delivered by first class mail to your door.
Remember to stay tuned to our upcoming newsletters as we unveil our new varieties for 2015! We have some unique seed varieties coming your way and several of them you won't find anywhere else. See our long-term pepper project above for an example!
---
From the soil to the seed to the food you eat – we'll help you grow your best garden!
"We believe in a world of healthy soil, seed, food and people. Everyone has a fundamental need for vibrant food and health, which are closely linked.
We work to achieve this by challenging and changing conventional gardening thinking, providing successful and unique methods and techniques while inspiring the power of choice and action for the individual."
Stephen and Cindy Scott
Terroir Seeds | Underwood Gardens
Unsubscribe or update your email preferences
This email sent by Stephen at Terroir Seeds at P O Box 4995 Chino Valley, AZ 86323.
https://underwoodgardens.com/wp-content/uploads/2014/12/Chile-de-Agua41.jpg
350
350
Stephen Scott
https://underwoodgardens.com/wp-content/uploads/2018/07/TerroirSeedsNEWWebLogo3-300x69.jpg
Stephen Scott
2014-12-13 14:20:43
2020-03-07 12:13:11
Newsletter: December 13, 2014