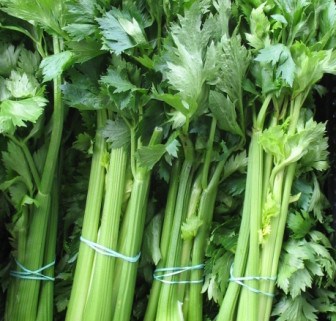 Newsletter: February 14, 2015
Cool Season Veggies & Seedling Damping Off
Home-Grown Celery
A great addition to any garden, home grown celery has an incredible flavor that will leave you wondering why you put up with the insipid, nearly tasteless supermarket variety for so long!
Celery is slow to germinate – often taking 20 days or more – so start indoors early with a soil temperature of 60 – 75°F. Sprinkle the seed on the seed starting medium and pat into the soil, as the seeds germinate better with light. Keep the soil moist.
For extended use, let the plants bolt and harvest the celery seed for a spice. Collect the seed in a paper bag and let dry, then sort out and store for later use to give a bright spring flavor to your cooking.
Ventura Celery – New!
Ventura Celery is an early tall improved Utah type that has been improved to be one of the most resilient and widely adaptive celery varieties. It has more upright growth and better developed hearts, producing many more stalks per plant than older Utah strains. High yielding and widely adapted, this is a great early season variety.
Peppermint Stick Celery – New!
Peppermint Stick Celery is a unique red striped full flavored celery that is perfect for any kitchen garden. Each stalk has alternating pink to light red and green vertical stripes, making this a centerpoint of the garden, kitchen and table. Slow to bolt and tolerates warmer weather better than many other varieties.
Par-Cel Leaf Celery is an 18th Century Dutch heirloom curly, cutting celery that looks like triple curled parsley and tastes like celery. It is a 3 ft tall Celery in leaf form instead of stalks. The most heat and drought tolerant of the celery varieties, it does well in the arid Southwest with some protection, yet is remarkably cold hardy. We grow this in our trial garden.
Heirloom Cabbage
Cabbage is a robust cool season vegetable that contributes to many dishes from coleslaw, sauerkraut, salads, soups and lots of cultural favorites all over the world, from borscht to kimchee to minestrone soup. Easy to grow in the spring and keeps well, cabbage needs the cooler weather to properly develop good sized heads.
There are many flavors on offer from the different varieties, from the very aptly named mild Savoy Perfection to the robust and colorful Red Acre. A single packet of seed will grow some for the spring and early summer and also provide a great crop for this fall and early winter.
Savoy Perfection Cabbage is a large 6 – 8 lb drumhead-type cabbage with delicious finely-crinkled, medium dark-green savoyed leaves that are sweet and mild in flavor. It is finer and milder in flavor than most cabbages; being sweeter with a delicate flavor, it does not give off a sulfurous odor when cooking like other cabbage varieties.
Hardy and easy to grow, its flavor improves even more after a light frost. High production means this is perfect for home gardens and market growers. Great for stuffing, steaming, stir fry, and is the key ingredient in traditional Italian minestrone soup. Loved for hundreds of years, see what Fearing Burr said about Savoy Cabbage in 1863.
Red Acre is our newest cabbage – an early variety that forms dense round brilliantly deep red/purple heads that are 5 – 7 inches around and 2 – 4 pounds.
Highly regarded as one of the all-time best early cabbages for home gardeners because of superior flavor, production and takes up less space than almost any other cabbage. Small compact short-stemmed plants produce heads that are solid even in early stages and are resistant to yellowing and splitting.
Controlling Damping Off
Damping-off is a soil borne disease that can attack almost all young vegetable seedlings.
Home gardeners often first notice that something is wrong when the very young seedlings have a constriction around the base of the stem, some of the seedlings have fallen over or there are small flying gnats around the base of the seedlings. Damping off is caused by soil fungi and the right conditions to help them flourish.
We'll show you how it's caused and what you can do to control and treat this destructive disease in Controlling Damping Off.
---
From the soil to the seed to the food you eat – we'll help you grow your best garden!
"We believe in a world of healthy soil, seed, food and people. Everyone has a fundamental need for vibrant food and health, which are closely linked.
We work to achieve this by challenging and changing conventional gardening thinking, providing successful and unique methods and techniques while inspiring the power of choice and action for the individual."
Stephen and Cindy Scott
Terroir Seeds | Underwood Gardens
https://underwoodgardens.com/wp-content/uploads/2015/02/Celebration-Celery.jpg
448
336
Stephen Scott
https://underwoodgardens.com/wp-content/uploads/2018/07/TerroirSeedsNEWWebLogo3-300x69.jpg
Stephen Scott
2015-02-14 14:44:43
2020-03-07 12:32:41
Newsletter: February 14, 2015