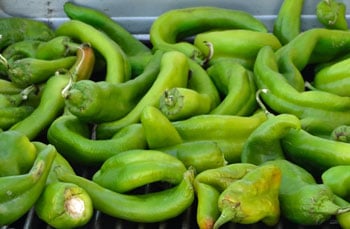 Newsletter: February 21, 2015
All About Peppers and Chiles
Are they properly called peppers or chiles, and why? There's lots of debate on that subject!
I prefer to call them chiles and here's my reasoning: In the Aztec's Nahuatl native language, the word is "chilli", which was changed to "chile" by the Spanish who were looking for a new source of black pepper and discovered these fiery little treasures instead. For me, chile is closer to the original name and meaning.
Whatever you call them, whether you prefer the hot or sweet or a combination of both – chiles or peppers are highly popular and addicting in the garden.
We share some of our favorite ones as well as growing tips along with an old family recipe in this issue.
Growing Better Peppers Articles
Grow Better Peppers with Shade
Peppers or chiles, whether you enjoy them hot or sweet or some of both are an important part of almost everyone's garden. One of the main concerns with growing peppers or chiles is the drop off in both quality and production during the height of the summer heat.
As the long, hot days set in production drops while at the same time diseases increase such as blossom end-rot and sunscald. There are some surprisingly simple approaches that can make a big difference in this year's harvest of your beloved sweet peppers and hot chiles! Grow Better Peppers with Shade explains some techniques that are simple and easy to use to have a better harvest of your favorite peppers this season.
Chiles can be grown with great success in many varied garden climates around the world. They are very adaptable to different conditions and have travelled widely, establishing themselves in many different locations and cuisines around the world.
With a background understanding that they are a tropical plant originating in Central America and the following growing tips as a guide, you can have the tastiest, most colorful and most productive chiles or peppers from your garden this year. Chile and Pepper Growing Tips will help you along the way!
New and Favorite Chiles
Chile de Agua roughly translates as "irrigated chile" or "watered chile" and until recently was almost unknown outside of Oaxaca except for chefs or tourists that travelled there and sampled them. It has a triangular, conical shape about 4 inches long and 1 to 1 1/2 inches wide at the shoulders, tapering to a pointed tip. The skin is shiny, smooth and slightly wavy with a moderately thick flesh which is spicy and very flavorful, while the ribs are much hotter.
It has been grown in Oaxaca, Mexico for at least three centuries and is becoming popular here in the US. Having about the same heat as a jalapeno but with much more flavor, it is most often used fully ripe and orange to moderate red in color.
We have spent the last 4 years trialling and selecting the best chiles for our seedstock and can now offer this delicious and unique chile to you!
Joe E Parker – New!
Joe E. Parker is the premier cultivar for mild green New Mexican chili pods, also known as NuMex. It is the number one green chili grown in Mexico and the U.S. The chiles have an excellent, memorable flavor with thicker walls, more flesh and longer peppers than the original. The great taste of this chile and its consistently mild heat level make it a favorite in New Mexico restaurants and increasingly in home gardens that appreciate a well-rounded, great flavored chile.
Excellent for roasting, stuffing or chopping for a variety of dishes and is commonly used in New Mexico to make the dried pepper wreaths. When grown to full maturity on the vine, fully dried and ground to a powder, it makes a wonderful multi use chili powder.
Melrose Sweet Pepper – Old Favorite!
The Melrose sweet Italian frying pepper has an incredibly devoted following, starting with the descendants of the original Italian immigrants who brought this treasured pepper to Melrose Park, IL. It is normal for great grandkids to call looking for the "true Melrose" that they heard their grandparents and parents rave about. In the past few years, chefs have recognized the rich, complex flavors that this pepper brings to dishes and are growing their own to supply their restaurants.
Much more prolific, flavorful and rich than almost any other sweet frying pepper, these still relatively unknown peppers put popular varieties like Jimmy Nardello's to the test and usually win.
Our Melrose peppers are considered to be the "true Melrose", partly due to our continuous quality selection and refinement to reflect the original flavor and character that created such a following.
Chinese Giant Sweet Pepper – Old Favorite!
The Chinese Giant lives up to its name, consistently growing surprisingly large but sweet and flavor filled bell peppers all summer long. Fruits 6 inches long by 4 1/2 inches in diameter are the norm! They are thick walled and perfect for roasting, stuffing or slicing and eating fresh.
Short plants have lots of leaves for shade and sun protection. Thin the first set of fruits for larger peppers, or leave them all on for loads of slightly smaller ones. This sets the standard for a delicious, memorable bell pepper – let it ripen for more flavor as it turns from green through yellow, orange and finally a bright red.
Delicious Pepper and Chile Recipes
This is an incredibly versatile chile sauce with loads of flavor and just a touch of heat. It is my adaptation of the incomparable Mole Coloradito Oaxaqueno from Susanna Trilling in her "Seasons of My Heart" cookbook, which is sadly out of print. (Mole is pronounced "Mole-lay"!)
It is a wonderful basis for enchiladas, nachos, stews, soups, sloppy Joe's, burritos or even spooned over eggs in the morning. I like to add about half tomato sauce by volume to make a great sauce that is smooth and mellow with the taste of the chiles but none of the bite.
Colorado means "red" in Spanish, usually referring to a deep brick type of red, so coloradito is "little red". Take a trip with us and read as we make Homemade Chile Coloradito Sauce!
Preserving an overly abundant harvest has been one of the major challenges that gardening and agriculture has always had. What if there was a method of preserving the harvest that is not only simple, non-intensive for both labor and equipment and was proven safe? One that is location and temperature independent; doesn't care if you forget the exact timing and still produces an absolutely delicious product?
There is! That method is fermentation.
It has been proven safe over several thousand years, with at least that many different approaches and many more recipes. Almost every culture across history has contributed something to the art of fermentation. We share one of our absolutely favorite ways to preserve the incredibly fresh flavor of chiles in Fermented Chile Paste.
As we write this, we still have 3 jars of fermented chile paste in the refrigerator – all with different flavor profiles that bring back last summer in each spoonful.
I grew up eating this green chile stew, or as we simply called it – green chile. Mention green chile in most places in the Southwest, and people will understand that you are talking about a bowl of stew, made with green chiles, herbs, seasonings and usually pork.
We learned the foundation of this recipe from an old family friend from a small town in the state of Chihuahua in Northern Mexico. She grew up poor, so her family grew and raised almost all of their own food, including chiles that were used in almost all of their cooking. We'll share the recipe for Old Time Green Chile Stew that was handed down to us many years ago!
---
From the soil to the seed to the food you eat – we'll help you grow your best garden!
"We believe in a world of healthy soil, seed, food and people. Everyone has a fundamental need for vibrant food and health, which are closely linked.
We work to achieve this by challenging and changing conventional gardening thinking, providing successful and unique methods and techniques while inspiring the power of choice and action for the individual."
Stephen and Cindy Scott
Terroir Seeds | Underwood Gardens
https://underwoodgardens.com/wp-content/uploads/2015/02/Fresh-Chiles.jpg
229
350
Stephen Scott
https://underwoodgardens.com/wp-content/uploads/2018/07/TerroirSeedsNEWWebLogo3-300x69.jpg
Stephen Scott
2015-02-21 14:46:01
2020-03-07 12:33:17
Newsletter: February 21, 2015