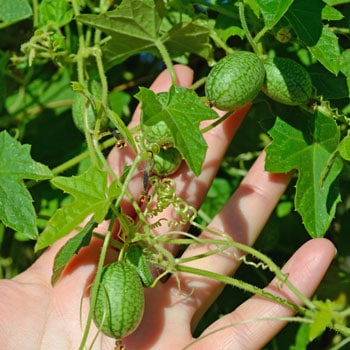 Newsletter: February 7, 2015
Growing Cucamelon and Lettuce
Cucamelon!
These prolific doll-house size watermelons that taste of cucumber with a tinge of lime have been favorites for the past few years, and are featured once again in a gardening magazine! Horticulture Magazine has them in their Jan/Feb 2015 issue, so we are sending them out like hotcakes.
In addition to being very clever and cute, they are highly tasty and addictive once you get to know them. Pick and enjoy them as soon as they ripen, as they will produce more if picked regularly.
If you live in a milder climate, the cucamelons will create tubers in the root mass that you can transplant next season for much earlier and even more abundance of these little jewels! Overwintering Cucamelon has the full story.
We wouldn't feel right letting you grow something that is this abundant without giving you some recipes to enjoy and savor the crunch and flavors later on!
Cilantro Freezer Pickles has been one of our favorite, delicious and most unusual pickle recipes for years now. It doesn't use heat for the pickling, just salt and vinegar in the freezer to capture the fresh, crisp taste of cilantro and the cucamelons or any other cucumber you have.
Another take on pickling is Pickled Cucamelons with Dill and Mint using the refrigerator instead of boiling brine or the freezer. This recipe will give you a quick and easy way to make some very thoughtful and delicious gifts to share with your gardening club, book club or any gathering where you can show off your culinary talents!
Lettuce
Lettuce is a cool-season crop, which means it grows better in the cooler parts of the year. For most of us that means early spring and late summer are the best times to plant.
If you've ever experienced lettuce "bolting", or sending up shoots and flowers, then you've probably tasted the bitterness that results from the transfer of energy from producing leaves to producing flowers and ultimately seed.
There are several cultivars of lettuce that are more heat tolerant, but all will bolt if the weather is warm enough. The names will usually tell of the tolerance to warm weather.
We've written an article to help you understand the ideal conditions for lettuce to grow in, as well as some practical tips to help the germination in warmer weather – such as getting a new crop started in the late summer or early fall. Improve Lettuce Seed Germination walks you through the details.
Here are a few of our favorites from the different types –
Buttercrunch is a classic Bibb or loose heading lettuce that is slightly sweet with crisp leaves. Though it is heat tolerant, the flavor really improves after the first frost in the fall, or during the cooler spring season.
Amish Deer Tongue is an old-fashioned leaf lettuce dating to the 1840s with triangular leaves forming a loose upright bunch or head. Pleasantly sharp flavor contrasts nicely with other sweeter lettuces in a salad.
This incredible lettuce is in danger of extinction and is listed on Slow Food USA Ark of Taste. The Ark is an international catalog of foods that are threatened by industrial standardization, the regulations of large-scale distribution and environmental damage.
Jericho is a desert adapted Romaine variety bred in Israel with smooth sword shaped bright green leaves having a smooth texture. Selected to do well in dry and hot climates, this is one of the best at resisting bolting and turning bitter. Given some shade protection, will reliably produce into warmer weather.
Having trouble deciding on just one or two lettuces, or want to try several but don't have the room? Try one of our special lettuce blends! We've specifically selected several blends ranging from a sweet and crunchy one to a Romaine blend to a spicy greens mix. Have fun and experiment with some new flavors in your salad this spring!
From the soil to the seed to the food you eat – we'll help you grow your best garden!
"We believe in a world of healthy soil, seed, food and people. Everyone has a fundamental need for vibrant food and health, which are closely linked.
We work to achieve this by challenging and changing conventional gardening thinking, providing successful and unique methods and techniques while inspiring the power of choice and action for the individual."
Stephen and Cindy Scott
Terroir Seeds | Underwood Gardens
https://underwoodgardens.com/wp-content/uploads/2014/02/Cucamelon8.jpg
350
350
Stephen Scott
https://underwoodgardens.com/wp-content/uploads/2018/07/TerroirSeedsNEWWebLogo3-300x69.jpg
Stephen Scott
2015-02-07 14:43:38
2020-03-07 12:32:08
Newsletter: February 7, 2015