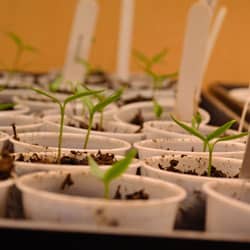 Newsletter: January 17, 2015
Seed Starting Questions, Strawberries & Pest Control
---
What Are Your Seed Starting Questions?
Seed starting season is close upon us – What questions do you have about starting your seeds?
There is a section on our website devoted entirely to seed starting and germination called, interestingly enough, Starting Seeds. Please read these articles to get a head start and contact us with your questions.
It doesn't matter if you are a beginner or have years of experience, your questions will help us help you.
---
Alpine Strawberries For Dessert
While planning your garden, don't forget dessert! Too many times the veggies, herbs and flowers take center stage and the sweet, tasty varieties get left out or not given enough room.
A perfect example of growing a dessert you'll be famous for is Alpine Strawberries and Victoria Rhubarb for the most delightful Strawberry-Rhubarb pie you've ever tasted. Both are hardy, highly productive and have unbelievable depth of flavors.
The Alpine Strawberries are heat and cold tolerant perennial gourmet strawberries that are smaller than domesticated ones, but with much more flavor. Highly productive, they bear continuously from spring through fall.
Victoria Rhubarb is the gold standard for great flavor – large, fat, brightly colored stems with a tart, apple-gooseberry flavor followed by a hint of citrus. This cold-hardy perennial is a heavy producer with few pests.
Both are easy to grow from seed and will stay around for several years, growing great desserts that will be the talk of your family and neighbors!
---
Pest Control & Insect Field Guide
To improve your pest management in your garden, you must be able to properly identify them! The Virginia Cooperative Extension has developed a very useful Field Guide to Stink Bugs that covers the entire USA.
Why stink bugs you ask?
Stink bugs cause a lot of damage to a wide variety of crops across the United States. For example, the Brown marmorated stink bug (BMSB) is creating havoc on the East Coast and is making its way West, causing much concern. To learn more about the BMSB, there is a whole website dedicated to tracking and trying to control this voracious eater – StopBMSB.org.
The Field Guide to Stink Bugs also identifies stink bug-like species including the arch nemesis of many of our customers – the Squash Bug. Proper identification is the first step to an Integrated Pest Management program for your garden. We offer the 100% Natural Organic Pest Control for Home & Garden to give you more identification and methods to control an array of insects.
What better time than the dead of winter to brush up on your bug ID skills! Forewarned is forearmed!
---
Master Catalog
Don't forget that you can download our Master Seed catalog!
To provide the best seeds to you – our customers – we are no longer printing and sending an annual seed catalog. This frees up significant time for us to find and select the best heirloom seeds for you, as well as creating more information and education to help you have a better garden.
Our webstore is always up-to-date with availability and what's new. As a plus, our website is packed full of gardening resources you won't find anywhere else – articles on improving soil health, controlling pests and diseases, gardening tips, seed saving and recipes.
If you are a die-hard fan of a printed catalog we have you covered; you can order a printed copy delivered by first class mail to your door.
---
From the soil to the seed to the food you eat – we'll help you grow your best garden!
"We believe in a world of healthy soil, seed, food and people. Everyone has a fundamental need for vibrant food and health, which are closely linked.
We work to achieve this by challenging and changing conventional gardening thinking, providing successful and unique methods and techniques while inspiring the power of choice and action for the individual."
Stephen and Cindy Scott
Terroir Seeds | Underwood Gardens
Unsubscribe or update your email preferences
This email sent by Stephen at Terroir Seeds at P O Box 4995 Chino Valley, AZ 86323.
https://underwoodgardens.com/wp-content/uploads/2012/03/Seedlings.jpg
250
250
Stephen Scott
https://underwoodgardens.com/wp-content/uploads/2018/07/TerroirSeedsNEWWebLogo3-300x69.jpg
Stephen Scott
2015-01-17 11:35:25
2020-03-07 12:30:59
Newsletter: January 17, 2015