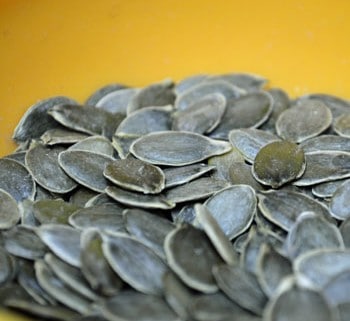 Newsletter: January 24, 2015
Hulless Pumpkin Seeds, School Fundraiser & Radio Interview
Lady Godiva Pumpkin Seeds
Salty, roasted pumpkin seeds are a treat – delicious with a nutty crunch and nutritious to boot. The downside is that they are expensive to buy!
Would you like to grow your own super healthy snacks and not have to buy them?
It's easy with Lady Godiva hulless pumpkin. It naturally grows seeds that have no hard shell to shuck, so you get the goodness much easier – just clean the seeds, dry or roast them, add a little salt and you are in heaven!
We've made a short video showing you the difference in the seeds, as well as sharing some important growing tips to help you have a great crop.
School Fundraiser
Did you know we have a school fundraising program using heirloom seeds? It combines several benefits – raising funds for school programs, improving awareness of gardening, health, nutrition, soil education and plant diversity. Food—how it's grown and prepared, who grows it and the connection to wellness—all starts with a seed.
Schools earn 50% of what is sold, which is better than what many of the cookie or candy programs offer. Grow With Us – A Seed Fundraising Program will benefit your school, your students and your local gardeners. Our program is for any school program needing to raise funds, including school gardens!
Please share this program with schools, teachers, parents and educators; we want to help as many schools as possible all over the country. This is a great time to get involved with this program and have students spread seeds in their community and gardens.
Preparedness Radio Interview
We recently did an interview with James Stevens, also known as Dr. Prepper, about the importance of a home garden in today's world. A home garden can be very positive in helping to create a better life at home with fresh and delicious food, learning essential life skills in growing food and better health and wellness.
In Vibrant Living: Healthy Soils, Seeds, Food, and People we look at some common myths and misunderstandings, as well as what someone can do today to get started with resources that are easily available.
Master Catalog
Don't forget that you can download our Master Seed catalog!
To provide the best seeds to you – our customers – we are no longer printing and mailing an annual seed catalog. This frees up significant time for us to find and select the best heirloom seeds for you, as well as creating more information and education to help you have a better garden.
Our webstore is always up-to-date with availability and what's new. As a plus, our website is packed full of gardening resources you won't find anywhere else – articles on improving soil health, controlling pests and diseases, gardening tips, seed saving and recipes.
If you are a die-hard fan of a printed catalog we have you covered; you can order a printed copy delivered by first class mail to your door.
From the soil to the seed to the food you eat – we'll help you grow your best garden!
"We believe in a world of healthy soil, seed, food and people. Everyone has a fundamental need for vibrant food and health, which are closely linked.
We work to achieve this by challenging and changing conventional gardening thinking, providing successful and unique methods and techniques while inspiring the power of choice and action for the individual."
Stephen and Cindy Scott
Terroir Seeds | Underwood Gardens
https://underwoodgardens.com/wp-content/uploads/2015/01/Lady-Godiva-SeedWeb.jpg
350
350
Stephen Scott
https://underwoodgardens.com/wp-content/uploads/2018/07/TerroirSeedsNEWWebLogo3-300x69.jpg
Stephen Scott
2015-01-24 14:40:21
2020-03-07 12:31:20
Newsletter: January 24, 2015