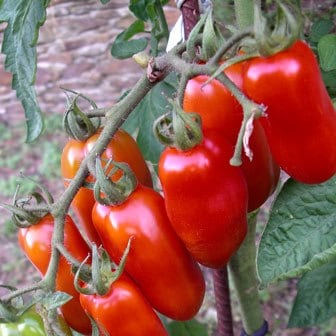 Newsletter: January 3, 2015
San Marzano Tomatoes, Future of Food & Getting Started
---
San Marzano Tomatoes
San Marzano tomatoes do triple duty – they are delicious freshly sliced and are the main ingredient in Caprese salad. Pasta sauce made with them is richly flavorful and slightly sweet with a lingering finish. When dried, their flavors and aromas are intensified and bring back the memories and scents of the height of summer.
We have two types of these mainstay tomatoes – the original San Marzano tomato, which is what the Italian paste tomato industry exclusively uses, and the San Marzano Redorta tomato, a larger variety that is about double the size with all of the flavors and aromas that made the original a treasured favorite.
In fact, the San Marzano is a 'DOP' or Denominazione di Origine Protetta (Protected Designation of Origin) variety in Italy because of the long local history and importance that it has. You can grow and taste this special Italian treat in your garden this year. We've found them to be highly, almost comically, productive. One plant produced over 60 pounds in our best bed that had rich soil! It was a monster, taking up the raised bed and most of the walkway on either side.
Small and medium sized tomatoes produce much better than larger ones in harsher climates or where temperatures have a large day to night swing.
---
Future of Food: Dictatorship or Democracy?
Our newest article "Future of Food: Dictatorship or Democracy?" is a philosophical look at one of the most important topics that most of us don't give much thought to today. We were fortunate enough to attend a lecture by Dr. Vandana Shiva sponsored by Arizona State University's Global School of Sustainability this past October.
We take a look at food as it relates to civilization and how it important it is to all of us in positive or negative ways, from our personal lives all the way up to how governments succeed or fail. Our personal roles in shaping either a food democracy or dictatorship are examined as well.
---
Getting Started Guide
With the New Year, many of us are getting started in dreaming about and planning our gardens. For those that don't have a lot of experience, we've written a guide to help! It is an easy read with some questions to answer that will help minimize the challenges and maximize your fresh veggies.
Our Getting Started Guide walks you through some exploration of the foundations of successful gardening. In it we reference several articles that branch out and deepen your understanding and knowledge base, preparing you for a good, productive year ahead.
---
Master Catalog
Don't forget that you can download our Master Seed catalog!
To provide the best seeds to you – our customers – we are no longer printing and sending an annual seed catalog. This frees up significant time for us to find and select the best heirloom seeds for you, as well as creating more information and education to help you have a better garden.
Our webstore is always up-to-date with availability and what's new. As a plus, our website is packed full of gardening resources you won't find anywhere else – articles on improving soil health, controlling pests and diseases, gardening tips, seed saving and recipes.
If you are a die-hard fan of a printed catalog we have you covered; you can order a printed copy delivered by first class mail to your door.
---
From the soil to the seed to the food you eat – we'll help you grow your best garden!
"We believe in a world of healthy soil, seed, food and people. Everyone has a fundamental need for vibrant food and health, which are closely linked.
We work to achieve this by challenging and changing conventional gardening thinking, providing successful and unique methods and techniques while inspiring the power of choice and action for the individual."
Stephen and Cindy Scott
Terroir Seeds | Underwood Gardens
Unsubscribe or update your email preferences
This email sent by Stephen at Terroir Seeds at P O Box 4995 Chino Valley, AZ 86323.
https://underwoodgardens.com/wp-content/uploads/2013/01/San-Marzano-Tomato.jpg
336
336
Stephen Scott
https://underwoodgardens.com/wp-content/uploads/2018/07/TerroirSeedsNEWWebLogo3-300x69.jpg
Stephen Scott
2015-01-03 11:26:35
2020-03-07 12:13:52
Newsletter: January 3, 2015