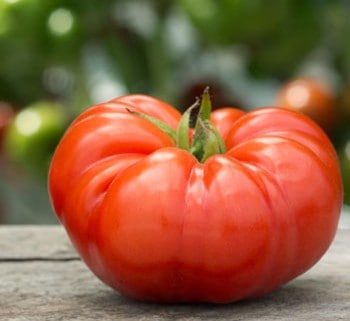 Newsletter: January 31, 2015
Growing Great Tomato Articles
Heirloom Tomato Flavor vs. Commercial Varieties
Heirloom tomatoes are treasured for their incredible flavors, while their supermarket cousins are barely tolerated for the opposite reason.
Why do these universally yucky tomatoes exist, and why do the supermarkets continue to sell such an obviously inferior product? There are many reasons, but a single one stands out.
Read the article for the full story!
Many gardeners focus heavily on heirloom tomatoes, as their meteoric rise in popularity over the past few years would have many a pop and rock star green with jealous envy.
They seem to be almost everywhere these days, from high end cooking shows with their ultra-close-ups and glamor shots to new cookbooks focusing on home-grown and locally sourced produce to Farmer's markets, CSA's and almost everyone's home garden.
We want to give you a better chance of harvesting all of that potentially rich, complex, juicy tomatoey goodness that are only seeds at this point!
Blossom end rot is a bane in many home gardeners' lives, affecting mainly tomatoes and peppers, but also damaging other fruiting crops such as eggplant, watermelon and summer squash.
Some folks think that there is little that can be done before hand, but we'll show you how it works, what to do in advance and how to handle it when it does strike!
New Tomatoes and Old Favorites
This New Jersey tomato variety has abundant yields of slightly flattened, 10 – 16 oz round red to reddish-orange fruits with an excellent sweet-tart flavor that is crack free and disease resistant. The heavy leaf cover helps to protect the fruits from sun scald and cracking.
Cuostralee is a French beefsteak brought to America from Norbert Pairerra of Hellimer in eastern France in 1992. Produces consistently high yields of meaty red ribbed fruit averaging 4 inches across in the 1-2 pound range. The fruit is meaty with small seed cavities, juicy without being loose or mealy. Excellent rich and sweet-tangy old-fashioned beefsteak tomato flavor. Excellent slicing, salad or sandwich tomato.
Dutchman is an old-fashioned strain from 1920 or earlier with large flat dark pink to purple-pink fruits up to 2 – 3lbs with a mild sweet flavor – unusual in the older heirloom tomatoes. The fruit is about twice as wide as deep with almost solid flesh with few seeds, mid-season and prefers warmer summers.
This small grape sized yellow-orange tomato was found growing right along the seafront in the Galapagos Islands, just feet from the ocean in rocky, exposed and in almost soilless conditions. Does extremely well in harsh conditions from hot and dry to cold and damp.
The fruit is intensely sweet, salty and complex and resistant to many tomato pests. We found that the flavor of many other small-fruited tomato varieties paled by comparison.
Considered to be the parent for almost the entire plum tomato market in the United States today. The original paste tomato, even today Italian tomato paste is made with this specific variety. Hugely prolific in fertile soil, often producing 40+ lbs per plant.
By the 1920s it was the definitive Italian plum tomato for the peeled whole canned export market. Redefined the California tomato canning industry by greatly improving the overall quality of the canned tomatoes.
Every now and then a bird or animal is the source of a new old variety of tomato. This showed up just outside of Mayo Underwood's garden, she gave it a try and loved it. After saving the seeds she offered it to her customers and it's been a favorite ever since.
This "sport" produces strong plants with a ton of very large, "black" cherry tomatoes easily the size of a half dollar with a sweet/acidic/salty flavor.
Best Tomato Books
Carrots Love Tomatoes
With this classic gardening reference, learn which plants nourish the soil, which keep away bugs and pests, and which just don't get along.
First published in 1975, this book has introduced countless gardeners to the wonders and benefits of companion planting. Using the natural partnerships of plants and the insects they attract or repel helps produce consistently better and bigger harvests.
In this easy to read but thorough guide to every aspect of tomato growing, readers will find step-by-step, illustrated instructions and scores of professional secrets for growing better tomatoes plus tips for extending the growing season, supporting plants and controlling pests.
Old-Fashioned Tomato Recipes
There are over 75 recipes including main dishes, juices, soups, salads, sauces, cakes, puddings and preserves. There are sections on canning and freezing as well a full section on cooking with green tomatoes.
Make the best catsup with healthy ingredients and tomato paste like you've never tasted with tomatoes from your garden! How about green tomato dill pickles, or sweet green tomato pickles?
Master Catalog
Don't forget that you can download our Master Seed catalog!
To provide the best seeds to you – our customers – we are no longer printing and mailing an annual seed catalog. This frees up significant time for us to find and select the best heirloom seeds for you, as well as creating more information and education to help you have a better garden.
Our webstore is always up-to-date with availability and what's new. As a plus, our website is packed full of gardening resources you won't find anywhere else – articles on improving soil health, controlling pests and diseases, gardening tips, seed saving and recipes.
If you are a die-hard fan of a printed catalog we have you covered; you can order a printed copy delivered by first class mail to your door.
---
From the soil to the seed to the food you eat – we'll help you grow your best garden!
"We believe in a world of healthy soil, seed, food and people. Everyone has a fundamental need for vibrant food and health, which are closely linked.
We work to achieve this by challenging and changing conventional gardening thinking, providing successful and unique methods and techniques while inspiring the power of choice and action for the individual."
Stephen and Cindy Scott
Terroir Seeds | Underwood Gardens
https://underwoodgardens.com/wp-content/uploads/2015/01/Cuostralee-Tomato1.jpg
350
350
Stephen Scott
https://underwoodgardens.com/wp-content/uploads/2018/07/TerroirSeedsNEWWebLogo3-300x69.jpg
Stephen Scott
2015-01-31 14:41:50
2020-03-07 12:31:51
Newsletter: January 31, 2015