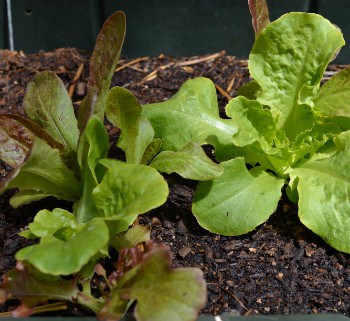 Newsletter: July 25, 2015
Trouble reading this email? View the online version!
Lemon-Garlic Olive Tapenade, Lettuce Starter Pack & Membership Drive
Lemon-Garlic Infused Olive Tapenade
We recently did a video in partnership with our local hospital about growing and cooking with herbs. Yavapai Regional Medical Center has created "Your Healthy Kitchen" recognizing and promoting the idea that eating and staying healthy makes a lot of sense. These programs that integrate food and nutrition into health are on the cutting edge of true "health care" today, and we are happy to help spread the word!
We talk about several easy to grow fresh herbs that do well almost anywhere and in any size container, then use some of those same herbs in making a delicious tapenade or appetizer of olives, capers and herbs to finish the show.
Take a few minutes to relax and watch the show, then head over to the recipe and make up an unusual but highly flavorful appetizer for your family or friends!
Gourmet Lettuce Starter Pack
We've had some questions about choosing lettuces as some gardeners just want a nice mix and aren't interested in specific types, while others like a certain type of lettuce but want to learn more about others and don't know where to start.
Others need a proven selection of different types that they can plug into their succession planting plans without spending too much time researching and choosing the different varieties.
Our Special Blends have been very popular for many new and experienced gardeners.
We've just created a new selection that answers many of the most common needs, plus has a great hand seeder that really helps make seeding those tiny lettuce seeds easier.
The Gourmet Lettuce Starter Pack has six of the easiest to grow and most productive varieties we carry, making it simple to learn and experiment with different varieties in your garden.
Membership Drive
Our Membership Drive continues, with many gardeners joining us in helping many incredible programs teach and inspire a real change in people's lives.
It is truly a blessing to see you joining with us in walking our talk!
Cindy and I give a great big "Thank You" to those who have joined us as Members these past two weeks!
If you missed the past couple of Newsletter, during the month of July and August we are running a membership drive.
Our Membership Program is a core group of dedicated people working alongside us and we want to include you! One of the great benefits is our members receive 20% off any order all year round.
Your membership dollars help us support amazing programs like these Organizations and Programs that have been helped so far this year.
If you join our Membership program you will receive our membership thank you package and an extra seed bonus you can plant this Fall.
We invite you to become a vital part of our small family owned business on a whole new level. It is individuals like you purchasing seeds and supporting our membership program that allows us to continue to provide great information on gardening and encourage a new generation to grow some of their own food.
This is truly an example of one person making a big difference in several lives!
Join us today!
---
From the soil to the seed to the food you eat – we'll help you grow your best garden!
"We believe in a world of healthy soil, seed, food and people. Everyone has a fundamental need for vibrant food and health, which are closely linked.
We work to achieve this by challenging and changing conventional gardening thinking, providing successful and unique methods and techniques while inspiring the power of choice and action for the individual."
Stephen and Cindy Scott
Terroir Seeds | Underwood Gardens
https://underwoodgardens.com/wp-content/uploads/2015/09/Gourmet-Lettuce-Blend11.jpg
350
350
Stephen Scott
https://underwoodgardens.com/wp-content/uploads/2018/07/TerroirSeedsNEWWebLogo3-300x69.jpg
Stephen Scott
2015-07-25 15:35:15
2020-03-07 12:49:02
Newsletter: July 25, 2015