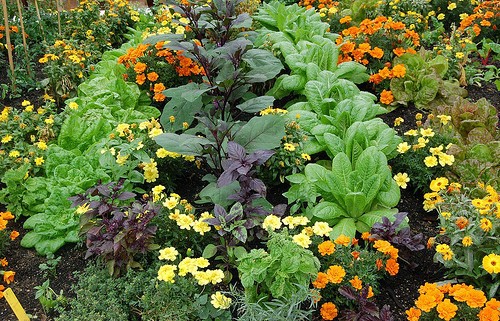 Newsletter: June 2011 Gardening Tips
June 2011 Edition
Hello Subscriber!
Welcome to the June edition of Terroir Seeds Gardening Tips. Most gardens are growing well, with some last minute direct sowing going in. Succession planting is also in progress to ensure an even crop of lettuces, carrots, beets and such throughout the summer and into fall.
Last week was the first ever survey we have sent out, with an absolutely positive response from you. We are both pleased and humbled by what you have said. Pleased that the number of responses were several times more than we expected, and that you value the time and effort we put into each and every eNewsletter. We are humbled that so many of you took the extra time to write a response, not just click the boxes and be on your way.
You have affirmed the direction we have started, and very clearly shown what you want and need from us.
What you liked most- 83% said Gardening tips, 56% History and highlights of heirloom varieties, 49% Soil building and composting articles, 40% liked the Recipes. That will be the majority of the format from now on.
What you like least- 57% said News about other companies and services, so that will be only very occasionally included.
On the timing and frequency- 41% like it just as it is now- every 2 weeks from Dec thru May and monthly the rest of the year, 29% once a month. This is good, as it is sometimes challenging to get it out on schedule!
More coupons and discounts- 85% said yes- so starting now, we will be offering more! We will keep them tasteful and appropriate.
Many of your comments showed more depth and detailed information are wanted, as well as articles on drying herbs, saving seeds, canning, urban and small gardens, etc. We will provide more of these articles in the coming months, keeping the Newsletter fresh.
Please realize that the Newsletter is a product of two people, Cindy and myself, while you -our customers- are spread across North America and some 43 countries! We don't have the resources to provide localized, zone by zone planting and harvesting guides at this time. Everything that we write is based on what will work for the most people most of the time, regardless of where they are.
There are several great online resources that can provide the information you need.
The

Cooperative Extension Offices

have Master Gardeners that can provide local info on planting dates, pest, weed and disease control. Click on your state, then county for local contact info.

Mother Earth News Organic Gardening page

is another, scroll down to the Essential Reading section where you can read What to Plant Now for your area, as well as All About Growing all of the garden crops.
The

Old Farmer's Almanac

has a great table of when is best to plant garden crops based on your zip codes. Click on each crop for more how- to grow information.
If you live in a harsh climate,

Zone 4 Magazine

has some incredibly useful information on gardening. We have found several articles that have been very useful to us here in Zone 6-7!
---
Join Us at
The Mother Earth News Fair
San Rafael, CA Sept 3, 4 & 5
The month of September will see us on the road, as we travel to two large shows in Northern California.
We are excited to be both an exhibitor and a speaker at The Mother Earth News Fair in San Raphael, CA over Labor Day Weekend- Sept 3 through the 5th. This is being held at the Marin County Fairgrounds north of San Francisco.
We are doing a presentation titled The Cycle of Terroir: From the Soil to the Seed to the Food You Eat. It is an overview of how the health of the soil combined with the quality and vitality of the seeds has a direct impact on the taste and nutrition of the food, which in turn directly influences your health. The times haven't been posted yet, so check back as we get closer to September.
If you can't make it to see the presentation, we will have it on our blog once we return, so don't worry about missing out!
We will also be participating in a seed swap and a panel of experts to answer your questions about gardening and all things heirloom! If you are in the area, please stop by and say hello.
---
We're also at
The National Heirloom Exposition
Santa Rosa, CA Sept 13, 14 & 15
Just over a week later we will be at The National Heirloom Exposition in Santa Rosa, CA, just a little further north of San Francisco from September 13 through the 15th.
This is a World's Fair just for Heirlooms! There will be seed companies, farmers, gardeners, chefs and food organizations from across the country. The goal is to be the largest event for heritage agriculture ever held.
We will be exhibiting at our booth and presenting The Cycle of Terroir as well.
---
Braised and Herb Marinated Carrot Recipes
Carrots are a spring and summertime favorite, sweet and crunchy fresh from the garden. Succession planting will give you a harvest all spring and summer long and in most parts of the country, well into fall. Speaking of which, it is probably about time to do the next succession planting!
We were looking for some unique and tasty ways to use carrots at this time of year that didn't call for canning and was different from the "slice 'em up on your salad" approach. We found a couple of great recipes- the first is Pan Braised Carrots with Rosemary and Parsley, the other one is Herb Marinated Carrots. Both of these are very unique but extremely tasty. The full flavor of the heirloom varieties really comes through, not just the sweetness.
Our Purple Dragon carrot is one of the best for the pan braised recipe, and any of the carrot varieties will work well for the herb marinade. You can read the full recipes at The Heirloom Seeds Blog.
---
10% Off of Everything Through June
Our Thanks for Your Response on the Survey
When we launched the survey last week, we gave 2 free seed packets to the first 50 people that responded. Well, that lasted almost 5 minutes! We did not expect to have such a large response, so here is our thanks to all of you- 10% off of anything in our store through June 30th. That means if you are a Member- you get 30% off- the normal 20% Member discount plus 10%. If you received the email for 2 free seed packets, yes, you can combine the two! Just use code JUN11ES at the top of the shopping basket page where it says "If you have a key code, please enter it."
The two brand new books that we've just added are included also. Vegetable Gardens, a great beginning gardener guide that walks you through gardening from planning, planting, soil topics, selecting the right plants for your area, and more. Canning and Preserving is about just that- putting up your harvest to enjoy later. Canning, preserving, freezing and dehydrating are all covered, along with recipes for each.
---
Companion Planting with Herbs
When the subject of companion planting arises, many think of companion plantings of vegetables with perhaps a Marigold or Nasturtium thrown in for good measure. Herbs are one of the original beneficial companions due to their volatile oils and organic compounds that are natural repellents of troublesome insects and pests.
Not only are herbs repellent to the undesirables, but have many positive contributions to the garden as well. Some will enrich the soil, others encourage beneficial insects and microbial communities to establish themselves, and most will have measurable benefits to the growth of other vegetables and plants that they are around.
Here is a small sampling of some well-known herbs that have great benefits in your garden. They shouldn't be planted all by themselves, but in amongst those vegetables that they can benefit. This is the beginning of intensive gardening and permaculture.
For most parts of the country, it is not too late to get these sown into your garden!
Basil

– Good companion to tomatoes, improves growth and flavor, repels flies and mosquitoes. Due to its' round size, grow parallel to tomatoes and not among them.

Sweet Marjoram

– A general beneficial herb, improves growth and flavor for all other garden vegetables. Tiny white flowers attracts pollinators. Substitute for oregano, has a milder flavor.

English Pennyroyal

– Butterfly and pollinator attractant, increases production in garden by increasing pollinators. Beneficial to broccoli, Brussels sprouts and cabbage against cabbage maggots. Repels ants at entrances and good mosquito repellent when rubbed on skin or clothing. Fresh and dried sprigs good flea repellent.

Nasturtium

– Beneficial with radishes, cabbage and the cucurbit family- all of the squash and pumpkin family against aphids, squash bugs and striped pumpkin beetles. Also improves the growth and flavor of the above.
---
Garden or Culinary Sage
The name- Salvia- is derived from the Latin word 'salvare' which means "to save" or "to heal". Salvia officinalis has proven anti-fungal, anti-viral and anti-bacterial properties that make it valuable in combating many illnesses.
Garden Sage has volatile oils that act as antiseptics as well as the astringent tannins in its' leaves help sore gums, mouth ulcers, sore throats, coughs and bad breath. For a mouthwash steep one teaspoonful of fresh sage leaves in a cup of almost boiling water, covered for four minutes. Swirl in a quarter teaspoon of sea salt and a teaspoon of cider vinegar. The Jamaican herbalists use lime juice instead of the vinegar. Swish mixture around in mouth for a minute while still hot and spit out.
Sage has shown great promise in aiding digestion and enhancing overall tone of the digestive tract. It is a rich source of potassium, zinc, calcium, iron, manganese, copper, and magnesium minerals. It enhances concentration and attention span; an infusion of sage leaves has long been recognised as a "thinker's tea". Its effects have been used for centuries to deal with grief and depression.
In the kitchen, garden sage has the best balance of volatile oils of the sages for culinary uses. Traditionally used to cut and balance the fatty taste of sausages, duck, liver, cheese dishes and meats, it sharpness can also add strength to the flavors of vegan or vegetarian dishes. Try it toasted, minced and sprinkled on roasted butternut squash, sweet potatoes or roasted tomato and vegetable soups. Sage pairs well with onion, garlic, shallot or leeks in cooking.
Garden sage is one of the easiest herbs to grow, as it is hardy to both cold and heat. One little known secret to successfully keeping sage going year after year is to trim it into a mound in the fall to prepare it for the winter and protects it from root rot and insect infestation. Most people will trim it in the spring, which endangers the flowering that happens early in spring and slows down the rapid early growth.
Sage is beneficial to rosemary, helping to prevent powdery mildew.
---
Our customers are friends that we have not yet met, as you share our interest and passion for growing incredibly delicious foods, preserving heirloom seed traditions and biological diversity for the future through our own home gardens. Sharing this is possibly the most important work, as it helps all of us make a definite, positive impact in our lives and in those that we share.
Thanks for your time this edition, we hope you have enjoyed it. Please let us know your thoughts and suggestions, as we are always working to improve.
Stephen and Cindy Scott
Terroir Seeds | Underwood Gardens
https://underwoodgardens.com/wp-content/uploads/2015/04/HerbCompanionPlanting.jpg
333
500
Stephen Scott
https://underwoodgardens.com/wp-content/uploads/2018/07/TerroirSeedsNEWWebLogo3-300x69.jpg
Stephen Scott
2011-06-15 18:43:51
2018-04-19 11:25:58
Newsletter: June 2011 Gardening Tips