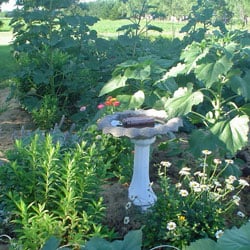 Newsletter: Late July 2013 Update
Late July 2013 Edition
"The 'control of nature' is a phrase conceived in arrogance, born of the Neanderthal age of biology and philosophy when it was supposed that nature exists for the convenience of man."
~ Rachel Carson, Silent Spring, 1962
In This Issue-
Share Your Garden Photos
We Need Your Reviews
Fall and Winter Gardening – Plan Now
Your Gardening Questions Answered
Hello Subscriber!
Welcome to our late July edition of Gardening Tips! July is an interesting juxtaposition for us as it is a transition time between the heighth of the gardening season, planning for and starting to plant the Fall and Winter garden, as well as working on website updates and upgrades, finishing inventory and forecasting, seed germination, working on next year's seed grow-out lists, catalog planning and more. Much, much more.
Our hope is that your garden is a riot of life with greenery, fruits and veggies that are beginning to burst out and flood your kitchen. Late evenings on the back deck or around a picnic table close to the garden just seems right!
---
Share Your Garden Photos
How is your garden growing this year? Are you interested in sharing some photos and information about it, so we can share your approach with others?
We want to show how your garden fits into your everyday life, from planting, gardening and weeding to the food it grows and how you and your family use and benefit from it.
Send us your garden photos with people in it; kids, family or pets enjoying the space, planting, harvesting or just smelling the flowers! Bunches of fresh greens, veggies or garden goodies would be perfect as well, or show us what delicacies you've made with your garden bounty.
Community gardens and school gardens would be wonderful to show as well as balcony, container, urban and other smaller gardens!
---
We Need Your Reviews
We are starting to see some reviews trickle in and want to encourage them! For August and September we will be drawing a $25.00 gift certificate each month from the reviews we get during that month.
We are looking for real, constructive reviews that will help other gardeners reading them. Please enter your state, so that others can see how it did in your area. Your name is published if you enter it, but your email is not. We need your email address so we can keep track of the number of reviews for the drawing. If you choose not to enter your email in the review, make sure to send us an email letting us know what items you've reviewed so you get credit for your entries.
If you haven't submitted a review yet, it's easy! Go to the item you want to review and click on the item number, photo or name to get to the extended description. There you will see the review link, as shown above. It will say "View Reviews | Review this item" if there have been previous reviews, and "Be the first to review this item" if not. Just click on the link and enter your review!
---
Fall and Winter Gardening – Plan Now
Over the past several years we have noticed an upswing in the number of people planting a second garden in the fall, and this year is no exception. After our article in the last Newsletter on Fall and Winter Gardening, many of you have taken the plunge and jumped into the "second season" of gardening.
Congratulations, you will enjoy the rich and unique flavors that the cooler season will bring you!
If you've held off a bit, thinking that it is too early, don't hesitate too much more, as the planning season is upon us with the planting season coming soon. To get you started, read our "How to Plan for Fall and Winter Gardening" article to see when to plan in your zip code, how to do the math and work "backwards" to see when you really need to plant those veggies to get the harvest in before the frosts arrive. The Fall/Winter edition of our Heirloom Times focuses on what you can grow, as well as items to help you through the winter months. We've added a Fall and Winter Heirloom Vegetables section with all of the information, inspiration, seeds, books and resources to help you have a very successful fall garden.
---
Your Gardening Questions Answered
Here is the first in an on-going series of gardening questions that we get through the website or email that we feel should be shared with all of you. If you have a gardening question, please ask!
"I have questions about my zucchini plants the Black Beauty.
This year like every year they are gi-normous, beautiful plants, approximately 48″ on some of them. BUT I have only gotten (1) zucchini from these……. combined!
I have a very rich soil, as evidence of the size and the health of the plants…..WHAT am I doing wrong?
btw, no fertilizer at all."
It sounds like you might have too few male blossoms to fertilize the female ones. The male blossom has a long, slender stem, while the female blossom is on a short stem. Also, look at the point where the petals of the blossom attach to the stem. Male blossoms have only a slender stalk, while female blossoms display a small bulbous area, which is the ovary — an unfertilized zucchini.
The first few zucchini should be picked as soon as they start to form, about an inch long. This encourages the male flowers to develop several weeks later. Let the later growing zucchini grow, as they will encourage more production. It fools them into thinking that they are going into seed production mode, and they will put on more zucchini.
My guess is that by allowing the single zucchini to grow, you have stunted the rest of the male flower production. I would pick it and see if you get some male flowers developing.
You mentioned that you didn't use any fertilizer, but I'm hoping that you have amended the soil with a well aged compost? Zucchini are heavy feeders and need the nutrients in the compost. If you haven't added at least a couple of inches of compost at the beginning of the growing season, add some now, along with a mixture of milk/water and blackstrap molasses. The recipe is this – 2 cups of milk (any kind – whole, 2%, dry, organic, whatever you have) into 10 cups of water. Add 1/4 cup of blackstrap molasses for the first feeding, 1/8 cup afterwards to this, stir in well. Give your plants 1 – 2 cups of this mix, following with another feeding in 2 weeks.
Yet another potential issue is crowding. Squash dislike crowding and will produce poorly as a result. Melons like some crowding, but squash of all kinds (pumpkin and all squash) really dislike it. The shading that results from canopy overlap of the leaves, reduced leaf area per fruit and competition for food, sunlight and water reduces the number of female flowers (as does excessive nitrogen in the soil), the number and quality of the fruits.
---
We believe in a world of healthy soil, seed, food and people. Everyone has a fundamental need for vibrant food and health, which are closely linked.
We work to achieve this by challenging and changing conventional gardening thinking, providing successful and unique methods and techniques while inspiring the power of choice and action for the individual.
Our customers are friends that we have not yet met, as you share our interest and passion for growing incredibly delicious foods, preserving heirloom seed traditions and biological diversity for the future through our own home gardens. Sharing this is possibly the most important work, as it helps all of us make a definite, positive impact in our lives and in those that we share.
Thanks for your time this edition, we hope you have enjoyed it! Please let us know your thoughts and suggestions, as we are always working to improve.
Stephen and Cindy Scott
Terroir Seeds | Underwood Gardens
https://underwoodgardens.com/wp-content/uploads/2012/06/Linda-Dugan-Garden.jpg
250
250
Stephen Scott
https://underwoodgardens.com/wp-content/uploads/2018/07/TerroirSeedsNEWWebLogo3-300x69.jpg
Stephen Scott
2013-07-29 07:50:07
2017-08-14 18:31:02
Newsletter: Late July 2013 Update