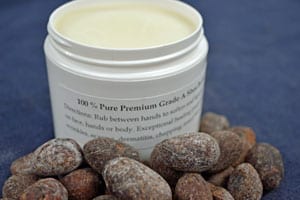 Newsletter: March 1, 2015
Avocado Shea Facial Cream & Early Spring
We were delayed a day in getting this week's Newsletter out due to a fiber optic cable going down that supplies northern Arizona with internet this past week. Most of the communities north of Phoenix along the central part of the state were offline after an act of vandalism cut the cable.

Many businesses in a dozen towns were severely impacted when they couldn't process cards for payment and it brought home a lesson for us that day. Even though we live in an ever-increasingly and always connected virtual world, we are still part of and should be grounded in the real world. We couldn't access the internet, but could plug into our garden; enjoying the beautiful sunny day and dreaming of this season's crops that we want to grow, photograph and enjoy cooking with friends and family. Make sure to plan some intentional "down-time" to re-connect yourself with those things that make our real world so beautiful and delicious!

We want to give a very warm welcome to some of our newest readers, many of whom we got to meet and talk with at last weekend's New Mexico Organic Farming conference in Albuquerque. It was very affirming and encouraging seeing so many diverse backgrounds, experience levels and ages come together around organic food!
Avocado Shea Facial Cream
We have worked with our Shea butter supplier to formulate a lighter facial and skin cream that has all of the moisturizing and healing benefits of our renowned 100% pure Shea butter combined with the skin nutrients of avocado oil. Now you can have the best of both worlds with our new Avocado Shea Facial Cream!
Avocado oil comes from the avocado fruit and is a hidden treasure for its great variety of health benefits. It provides skin with deep moisture and is rapidly absorbed.
We've been testing this Avocado Shea cream for a few months now and are impressed with how easy it is to apply and how long it continues working, especially in the colder months.
Stephen has used it as a pre-shave conditioner as well as an after shave moisturizer and really enjoys how it soothes the skin and eases any razor burn.
Early Spring Veggies
We've heard from many of you doing some serious planning on your garden right now, waiting for when the weather is finally nice and warm enough to start planting what you've only been day-dreaming about. To help further your planning (addiction?) we're highlighting some varieties that will do extremely well in your early spring garden. All of these tolerate light frosts and the cooler, unpredictable weather that is the early spring season.
The only real limiting factor for direct seeding is the soil temperature of 50 – 55°F needed to start germination. This limitation can easily be overcome by starting the seeds inside and transplanting them outside when they are 3 – 4 inches tall. This technique has been used for several hundred years by the French, perfected in Paris by small scale growers and known as the "French Intensive Method".
They would sprout almost all of the vegetable seedlings and transplant them into beds of horse manure and straw that were about 2 feet deep. As the manure decomposed it created warmth, heating the seedlings while providing nutrition for their growth. Use the First and Last Frost Dates planner to see when you can start planting outside, and when starting and transplanting early season vegetables makes sense.
The best way to maximize the germination in the shortest time is a heat mat under the seedling tray. For the optimal soil germination temperatures see our Seed Germination Guide. Once the seedlings are up, reduce the moisture and temperature for strong growth. You can get a couple of weeks head-start when transplanting outside with floating row covers or small hoop houses that provide added protection during the night and help heat the soil and retain moisture during the day, acting similar to the glass covers over a manure bed that the French used.
For a more in-depth look at starting seeds inside successfully read Starting Seeds At Home – a Deeper Look.
---
From the soil to the seed to the food you eat – we'll help you grow your best garden!
"We believe in a world of healthy soil, seed, food and people. Everyone has a fundamental need for vibrant food and health, which are closely linked.
We work to achieve this by challenging and changing conventional gardening thinking, providing successful and unique methods and techniques while inspiring the power of choice and action for the individual."
Stephen and Cindy Scott
Terroir Seeds | Underwood Gardens
https://underwoodgardens.com/wp-content/uploads/2012/09/SheaButterWeb.jpg
200
300
Stephen Scott
https://underwoodgardens.com/wp-content/uploads/2018/07/TerroirSeedsNEWWebLogo3-300x69.jpg
Stephen Scott
2015-03-01 14:47:23
2020-03-07 12:33:34
Newsletter: March 1, 2015