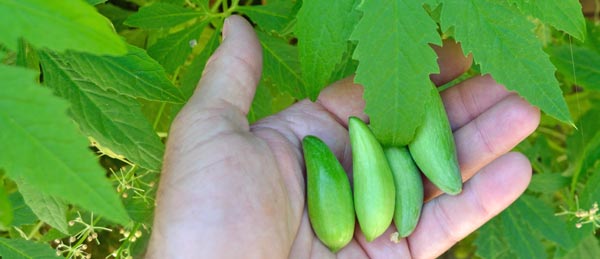 Newsletter: March 12, 2016
Achocha or Caihua (pronounced kai-wa) is an unusual and relatively unknown member of the cucurbit or cucumber family with a difference.

Although they share family roots with cucumbers, squash, pumpkin, zucchini and melons, they are almost completely immune to many of the diseases and pests that attack the other cucurbits – squash bugs, vine borers, cucumber worms and powdery mildew along with other fungal issues.

Achocha are hugely prolific both in leafy shade growth and fruit, making them a dual purpose plant for gardeners looking for a green shade or windbreak which gives a good supply of tasty treats.
---
Here are two seed collections which are perfect to start planting right now and will give you tasty, aromatic and healthy benefits!
Our Salad Bar Collection has easy to grow greens, produce a maximum amount of food in a small space and makes for a delicious dish.

For much less than what you'd spend on a week's supply of veggies from the grocery store, you can grow a season-long supply of fresh greens, with plenty left for sharing.

Greens are a nutritional bargain, being low in calories but very rich in vitamins and minerals. Learn how to get started producing much more food from a smaller space than you thought possible.

Included is the Grow Super Salad Greens book and eight packets of seed for the most diverse salad you've ever had!

Our Aromatherapy Collection introduces you to the art and science of using natural aromatic plant essences to promote the health of body, mind and spirit.

No matter the size of your garden, from a few containers to a large traditional one, an aromatherapy garden will give multiple benefits.

From wondrous aromas to tantalize and captivate your senses, to the butterflies, bees and other pollinators they attract, to the culinary and traditional medicinal uses, the plants used in aromatherapy truly have multiple and generous benefits. Many of these are excellent as herbal teas as well.

Included is the Aromatherapy Garden Chart, a sample bar of our Lavender soap and six packets of hand selected herb seeds.
WHO ELSE WANTS EASIER, BETTER FUNDRAISING?
Great fundraising should be easy and fun to do, with questions answered and support throughout the activity. Grow With Us Seed Fundraising Program will benefit your school, your students and the gardening public.
Ideally it should do more than simply raise money for this year's project – it should create a feeling of accomplishment and strengthen a child's sense of self. These lessons stay with and guide them for the rest of their lives, creating the framework to make better decisions and accept challenges as opportunities instead of obstacles.
For a club or small organization, fundraising often means being more independent and making decisions and choices which are best for the club or group.
We have many schools participating this spring, with the first one just completed. The third graders at this Waldorf school in Chicago are using the funds to build a garden shed for their school garden.
Funds have been used to provide student travel scholarships, build raised beds in school and community gardens and buy tools, among other uses.
If you need a better fundraiser, we can help.
---
From the soil to the seed to the food you eat – we'll help you grow your best garden!
Discover a better, holistic gardening approach with our hand-selected heirloom seeds, expert gardening advice and delicious recipes.
Stephen and Cindy Scott
Terroir Seeds | Underwood Gardens
Unsubscribe or update your email preferences
This email sent by Stephen at Terroir Seeds at P O Box 4995 Chino Valley, AZ 86323.
https://underwoodgardens.com/wp-content/uploads/2016/03/Achocha2.jpg
259
600
Stephen Scott
https://underwoodgardens.com/wp-content/uploads/2018/07/TerroirSeedsNEWWebLogo3-300x69.jpg
Stephen Scott
2016-03-12 09:50:02
2020-03-07 13:43:49
Newsletter: March 12, 2016