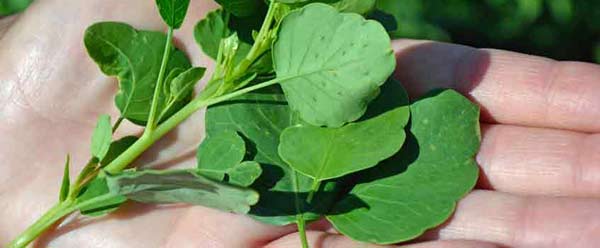 Newsletter: March 19, 2016
Papalo (pronounced PAH-pa-low) is a fabulous, unknown, ancient Mexican herb you should be growing. A heat-loving cilantro alternative, its flavors are both bolder and more complex.

It has been described by some as somewhere between arugula, cilantro and rue; others say it tastes like a mixture of nasturtium flowers, lime, and cilantro.

Younger leaves are milder flavored, gaining pungency and complexity as they mature.

Papalo pre-dates the introduction of cilantro to Mexico by several thousand years, which is a very interesting story all by itself. South America is thought to be the ancestral home of papalo.
---
TGIS
Thank goodness it's spring! Its official – Spring is here (this Sunday!) and now is the time to get in gear and get your seeds! As you are planting your seeds, remember the wonders of nature and the beauty of spring –
"Those who contemplate the beauty of the earth find reserves of strength that will endure as long as life lasts. There is something infinitely healing in the repeated refrains of nature— the assurance that dawn comes after night, and spring after winter."
~ Rachel Carson
Did you know there is more to greens than just lettuce? Especially early season greens?

Hopefully you do now, after reading about them in the Papalo article above!

Our Succulent Greens 6 Pack has new and unusual greens for your garden.

Purslane is great in potato salad. How about nettle and leek soup? Or steamed lamb's quarter with apple cider vinegar. Fireweed blooms make a great jelly, and Sorrel is great in salads and soups.

Let your culinary imagination run wild as you explore these succulent greens.

Included are six seed packets to get you started!

Our Yellowstone carrot has wide-shouldered, 8" or longer roots have a crisp, clean, consistently mild flavor that's great raw or cooked. This variety has been selected for a uniform shape: big shoulders, pointed tips and large tops.

Yellow carrots were first recorded in Turkey around the end of the 1st Century. They contain xanthophylls to help develop healthy eyes.

Delicious and unusual carrots like these are preferred by gourmets and chefs. Carrots were originally purple or yellow, while orange ones are relative newcomers. Diverse colors in carrots are becoming very popular.

70-75 days

Organic

Approx 500 seeds per pack
When a farmer became thirsty during spring planting, he would reach down, pluck up some wild sorrel, and eat it. The sour-citrusy taste has been prized throughout the world for thousands of years as a wake-up call for taste buds dulled by bland winter foods.
French sorrel is considered by many chefs to be the benchmark variety and is an indispensable green in French cooking.
Sorrel is a very ancient herb, the name comes from the Teutonic word for "sour".
In the days before refrigeration, sorrel was often the first fresh food that people ate each spring. In Europe it was (and still is) a popular ingredient in spring tonics, taken to prevent scurvy as fresh sorrel leaves are a good source of Vitamin C.
Ancient Greeks and Romans used the herb for promoting digestion and considered it a good complement to rich, fatty meals. Spring sorrel blends perfectly with other spring herbs such as dill, chives and watercress, and complements such spring foods as new potatoes, salmon, soft-shelled crab, peas, strawberries and spinach.
We share two sorrel recipes showcasing sorrel's flavors in completely different ways!
---
From the soil to the seed to the food you eat – we'll help you grow your best garden!
Discover a better, holistic gardening approach with our hand-selected heirloom seeds, expert gardening advice and delicious recipes.
Stephen and Cindy Scott
Terroir Seeds | Underwood Gardens
Unsubscribe or update your email preferences
This email sent by Stephen at Terroir Seeds at P O Box 4995 Chino Valley, AZ 86323.
https://underwoodgardens.com/wp-content/uploads/2016/03/Papalo-Leaves-1.jpg
248
600
Stephen Scott
https://underwoodgardens.com/wp-content/uploads/2018/07/TerroirSeedsNEWWebLogo3-300x69.jpg
Stephen Scott
2016-03-19 09:53:53
2020-03-07 14:08:07
Newsletter: March 19, 2016