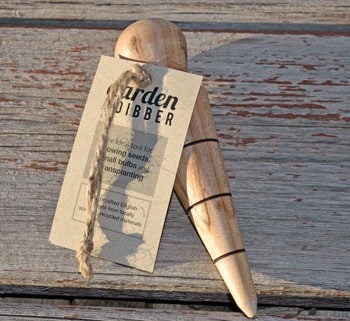 Newsletter: March 28, 2015
Garden Dibbers, Salad Bar & Garden Answers Shared
Garden Dibbers
A 'Dibber' or 'Dibbler', as they're sometimes called, is a small hand-held tool that neatly pokes holes in the garden soil for planting seeds into. Good ones are slightly tapered – but not too much – with markings to make it easy to get just the right depth of hole – every time. Really good ones are just the right size, not too big but not too small, to hold in your hand along with the seed packet or tray.
These have all of the above features, and are handmade in Washington State of reclaimed wood by a small family company – much like ours. We are very happy to feature these quality tools that will become treasured parts of your garden history to become heirlooms in their own right.
Grow Your Own Salad Bar
Any way you look at it, garden greens are a bargain. For a quick spring crop of the maximum amount of food from a small garden space or for a nutritious, low-calorie food, garden greens just can't be beat.
For much less than what you'd spend on a week's supply of veggies from the grocery store, you can grow a season-long supply of fresh greens, with plenty left for sharing. Some of these greens are considered gourmet and can't be bought in many places for any price.
Our Salad Bar collection starts you off right with some familiar and easy to grow greens, along with a book that introduces how to grow a salad bar in some unusual or under-utilized spaces, even in very small gardens or apartment spaces. In as little as 20 – 30 days from now, you can be eating a fresh home-grown salad from your garden!
Garden Answers Shared
One of the biggest questions we are often asked is what to do about furry and/or feathered critters that want to snack on our gardens. There are a lot of approaches, and we realized that our customers have more experiences to share that can help more folks, so we put out the question of what has been successful in helping to deter critters from your garden?
We received some great replies that we've included here. We'll start off with perhaps one of the most challenging garden conditions in the US – at the South rim of the Grand Canyon national park. Here elk and other wildlife are protected, and there is a short growing season to contend with.
Read "Critters In The Garden Questions" for all of the hard-won tips and techniqes that our gardening customers have shared!
---
From the soil to the seed to the food you eat – we'll help you grow your best garden!
"We believe in a world of healthy soil, seed, food and people. Everyone has a fundamental need for vibrant food and health, which are closely linked.
We work to achieve this by challenging and changing conventional gardening thinking, providing successful and unique methods and techniques while inspiring the power of choice and action for the individual."
Stephen and Cindy Scott
Terroir Seeds | Underwood Gardens
Unsubscribe or update your email preferences
https://underwoodgardens.com/wp-content/uploads/2015/03/Garden-Dibber.jpg
350
350
Stephen Scott
https://underwoodgardens.com/wp-content/uploads/2018/07/TerroirSeedsNEWWebLogo3-300x69.jpg
Stephen Scott
2015-03-28 11:54:02
2020-03-07 12:34:34
Newsletter: March 28, 2015