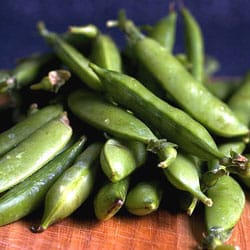 Newsletter: March 7, 2015
Spring Peas & Controlling Fungus Gnats
Fresh Peas for Spring
Did you know the delicious snow pea that we enjoy in the early spring dates back to the Stone Age? It's true, the humble pea in all of its different cultivars have ancient roots, which we'll explore some in this issue's article – The History of Peas.
It seems they originated in middle Asia and the Near East, and then migrated with nomadic peoples into Northern Europe where they were developed into what we recognize today. If you are interested to see where some of our most loved garden vegetables came from, you'll enjoy our research into peas, or as the English used to call them – pease!
Dwarf Grey Sugar Pea – New!
Our newest pea variety – Dwarf Grey Sugar Pea – is one of the earliest and most dwarf edible sugar pod pea around. This very old heirloom sugar pea dates to before 1773 and was likely described as the Early Dwarf Dutch Sugar pea in Fearing Burr's book "Field and Garden Vegetables of North America", published in 1863.
Popular for the colorful blossoms, shoots and leaves as well as its prolific crop of curved small snow pea pods that average 2 1/2 to 3 inches long. The blossoms brighten up salads with their color and mild, pea-like flavor. Shoots and leaves add color and interest to an early spring salad mix or in micro-greens mixes. The peas are also steamed, stir-fried or added to soups. The young pea shoots and leaves are attractive and delicious when stir-fried with garlic.
Sugar, Snap and Snow Peas with Lemon Butter Recipe
Sugar peas, snap peas, snow peas – what's the difference?
This little article explores some of the differences between them and gives you an easy but impressively delicious recipe to use your early spring peas with – Snow Peas with Lemon Herb Butter!
Controlling Fungus Gnats in Seedlings
Fungus gnats are tiny mosquito-like insects (actually flies) that hover around seed starting trays and young seedlings in the spring. They are more of a nuisance than a real problem to most young plants and seedlings, but they can cause some issues if their population gets high enough. Whether they cause damage or not, they can by quite annoying and pesky!
We look at why they show up, what they do and how to monitor and control them in our newest article on garden pests – Controlling Fungus Gnats in Seedlings. Read it by clicking the link or the photo.
---
From the soil to the seed to the food you eat – we'll help you grow your best garden!
"We believe in a world of healthy soil, seed, food and people. Everyone has a fundamental need for vibrant food and health, which are closely linked.
We work to achieve this by challenging and changing conventional gardening thinking, providing successful and unique methods and techniques while inspiring the power of choice and action for the individual."
Stephen and Cindy Scott
Terroir Seeds | Underwood Gardens
https://underwoodgardens.com/wp-content/uploads/2012/03/Sugar-Ann-Snap-Pea-Web.jpg
250
250
Stephen Scott
https://underwoodgardens.com/wp-content/uploads/2018/07/TerroirSeedsNEWWebLogo3-300x69.jpg
Stephen Scott
2015-03-07 14:48:38
2020-03-07 12:33:52
Newsletter: March 7, 2015