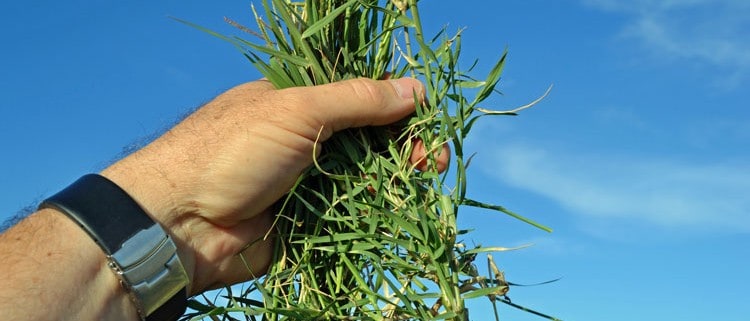 Stopping Bermuda Grass, Using Basil & Gardening Interview
Stopping Bermuda Grass
Bermuda grass: love it or hate it – most people fall into one of the two camps; there doesn't seem to be much in-between.
Personally, I think it's a well-adapted grass for our harsh, dry Western climates. It loves heat, is remarkably wear resistant to foot traffic and is one of the most drought tolerant turf grasses around. It's great for areas that need turf, for erosion control and for feeding to horses, but it's an invasive alien weed in the garden. That's where we have a problem.
We've dealt with a slow Bermuda grass invasion over the past few years as it spread from the walkway between our greenhouse and garden into the garden itself. At first it wasn't such a pain because it colonized the wood chipped walkways and area where the picnic table is. Then it headed toward our smaller raised beds, completely taking over one and entangling the drip system where it entered the raised beds in 3 others.
Planting & Using Basil
Basil is well known and loved today but has so much more history and many more uses than we commonly know today. It is the center of a centuries-old controversy that attributes both awful and evil powers to it as well as holding it as an object of sacred worship.
In ancient Persia, basil was planted on graves to remember those who had passed on, while Egyptian women would scatter the flowers on the beds of their family members for protection. In India, both Krishna and Vishnu considered it to be sacred and basil was cherished in every Hindu house, to the extent that there was a leaf of basil placed on every Hindu's heart before the funeral as a passport to Paradise.
In contrast, the ancient Greeks considered basil to represent hate, misfortune and depicted poverty as a woman with a cluster of basil by her side. They and the Romans also believed that basil would simply not grow without being sown with vile shouts and curses. That tradition gave rise to the French saying semer le basilie – "sowing the basil" for bouts of raving, loud cursing or shouting.
In spite of this, the French also consider basil to be the herbe royale – the "royal herb", and in modern Italy, a sprig of basil is a sign of courtship.
Today it is one of the most widely used and easily grown herbs for the home gardener or cook. There are several varieties of basil with the most commonly used and known being sweet or Italian basil. The leaves are used fresh for pesto, for seasoning soups, stews and for adding its well-known aroma and flavor to tapenade spreads. They are also dried to bring the fresh summer aroma back in the wintertime.
What many people don't know is that the flowers are even more aromatic than the leaves and dress up a fresh garden salad when stripped off of the stalk and added whole. The flowers can be cut back to encourage more leaf production, and will often give 3 or more flushes of leaves for prodigious amounts of pesto, to be frozen for another treat of summertime in the cold depths of winter. Once the seeds have developed and dried, they should not be wasted, but harvested and used as a bright, floral aromatic seasoning when lightly ground.
We share a couple of our favorite basil recipes that are super easy in Fresh Heirloom Basil Recipes and All About Basil, where you can watch the making of classic Pesto Genovese, done by an Italian expert.
If you want to take your exploration of basil in particular, and herbs in general, a bit further, our Old-Fashioned Herb Recipes book will have you tasting and discovering new ways to build aroma and flavors into some new dishes.
Explore our full basil section here!
Heirloom Gardening Interview
Dave Ledoux of Back To My Garden podcast radio show interviewed Stephen about gardening and asked him to share some knowledge he's gained along the way.
Listen to the 30 minute show to discover some of the history of how both Stephen and Cindy came to gardening, as well as some of the challenges and successes we've had and how that lead to the creation of Terroir Seeds. Stephen shares some great resources on the show as well as some hard-earned advice, so give it a listen!
---
From the soil to the seed to the food you eat – we'll help you grow your best garden!
"We believe in a world of healthy soil, seed, food and people. Everyone has a fundamental need for vibrant food and health, which are closely linked.
We work to achieve this by challenging and changing conventional gardening thinking, providing successful and unique methods and techniques while inspiring the power of choice and action for the individual."
Stephen and Cindy Scott
Terroir Seeds | Underwood Gardens
https://underwoodgardens.com/wp-content/uploads/2015/05/DSC_0177.jpg
500
750
Stephen Scott
https://underwoodgardens.com/wp-content/uploads/2018/07/TerroirSeedsNEWWebLogo3-300x69.jpg
Stephen Scott
2015-05-30 17:24:21
2020-03-07 12:39:35
Newsletter: May 30, 2015