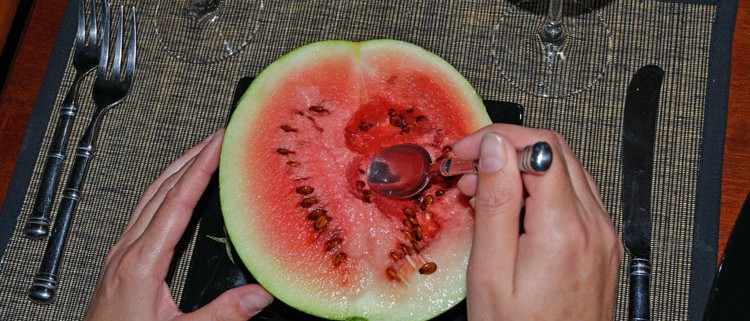 Watermelons, Direct Sowing Seeds & Garden Therapy
Watermelons
Heirloom watermelons are a scrumptious, memorable summertime treat. Eating and enjoying them are the easy parts; it's the growing and harvesting or choosing them that must be learned. There's no guarantee of choosing a delicious, fully ripe watermelon at the supermarket or store – thumping or sniffing alone won't do it.
Growing your own is a far better guarantee of a delicious and tasty treat that will be remembered for years after the summer picnic or barbeque is over. Did you know that there is a difference in flavor and sweetness from larger to smaller watermelons? It is true, and we tasted those differences when we visited our grower. We share those experiences and some great growing tips in our newest article – Heirloom Watermelons – Size vs Flavor.
Watermelons demand a warm soil, and it is getting close to planting time for many of us, so we're sharing a couple of our favorites below:
Sugar Baby Watermelon is the standard for small watermelons since the 1870s. Excellent short-season producer, space saver that is packed with crisp, juicy flavor. Highly productive with 6-10 lbs. fruits on vines that are only about 6 feet long. Usually sets about 4 – 6 melons per plant.
Orangeglo Watermelon has rich, pumpkin-colored flesh, with a pale lime green skin having dark green mottling growing like stripes this orange watermelon possesses one of the fruitiest of aromas and a sorbet-like texture that makes it excellent for frozen desserts. Many watermelons turn bland and insipid when frozen — not Orangeglo!
Well known for its rampant vines and prolific production of oblong shaped melons weighing from 20 – 30 lbs, it needs some space but rewards you with lots of flavor.
Direct Sowing Seeds
For many of us, it is finally becoming warm enough to be able to plant seeds directly in your garden! This is a time that is much anticipated, as it truly signals the end of the cold and start of warmer seasons. The warm time in between the cold and hotter weather just ahead of us is truly magical, if we can stop and spend a few minutes looking at all of the rebirth and new life emerging into the world right now. Here in Northern Arizona we have newborn Pronghorns, baby calves and horses everywhere, along with newly minted sheep and goats. Wildflowers are blooming, grasses are greening up and life is just downright wonderful!
This is the time to transplant and direct sow your garden, if you haven't been able to already. There are a few things to keep in mind when you start poking seeds into the warm soil in anticipation of tasty garden treats to come.
Make sure it's truly warm enough to plant, not only overnight temperatures, but also soil temperatures. A simple test is to use a thermometer that is accurate down to about 50°F inserted no more than an inch or two into the soil and see what it reads first thing in the morning and then compare that with our Seed Germination Guide to make sure your soil is warmer than the minimum temperatures listed and closer to the ideal temperatures. A couple of good resources to help are Mother Earth News Organic Gardening page- scroll down to the "All About Growing…" section. There is very useful information on how to grow many different vegetable varieties in your garden. Another useful resource is the Companion Planting Chart that will help you get the maximum production from your garden space. With companion planting, you can plant seeds closer together and stagger the plantings with varieties that "get along" with each other, thus effectively increasing your gardening space.
Lots of folks – us included – get caught up in the mainstays of the traditional American backyard garden- sweet corn, tomatoes, sweet peppers and zucchini. Lots of time and attention are focused there at the loss of some really good possibilities elsewhere. For some ideas, look at succession planting different varieties such as yellow and purple carrots, beets, radishes, spinach and arugula. Cucumbers, Summer and Winter squash and pumpkins are excellent choices as well. Winter squash and pumpkins will keep well and don't need constant attention at the height of the garden production.
The technique of succession planting will keep you and your family in fresh vegetables throughout the summer and fall. Succession planting is simply re-planting a small open section of the garden every month of the fast maturing vegetables so that you never run out or have a huge harvest that you get tired of eating every day or giving away. For example, if you have a 10 foot row for carrots, plant 3 feet this month, another 3 feet next month and the final 4 feet the month after. This method can be used until late summer for some late season treats once the weather cools down.
Garden Therapy
Home gardening can be one of the best therapeutic activities available. If you approach the process and activity from the viewpoint of mindfulness, and really pay attention to what is directly in front of you, the mind has the opportunity to relax and stop worrying about all of the little daily concerns.
It will stop trying to herd the cats, untangle the knots and wind the ball of yarn. Home gardening will give you a fresh, relaxed and rejuvenated feeling.
---
From the soil to the seed to the food you eat – we'll help you grow your best garden!
"We believe in a world of healthy soil, seed, food and people. Everyone has a fundamental need for vibrant food and health, which are closely linked.
We work to achieve this by challenging and changing conventional gardening thinking, providing successful and unique methods and techniques while inspiring the power of choice and action for the individual."
Stephen and Cindy Scott
Terroir Seeds | Underwood Gardens
https://underwoodgardens.com/wp-content/uploads/2015/05/Watermelon-Dessert.jpg
500
750
Stephen Scott
https://underwoodgardens.com/wp-content/uploads/2018/07/TerroirSeedsNEWWebLogo3-300x69.jpg
Stephen Scott
2015-05-09 11:14:16
2020-03-07 12:38:46
Newsletter: May 9, 2015