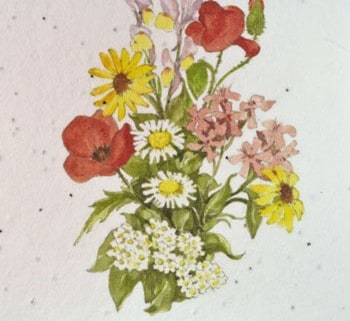 Newsletter: November 15, 2014
Seed Cards, Review Winner & Garden Tool Cleanup
Seed Cards
We have wanted to share these beautiful handmade seed cards with you for some time now, but every time we take them to the Farmer's Market or a show, we sell out! We have reserved this new batch for you.
These cards are made in the USA by hand in a family owned and run business that inserts the wildflower seeds into the paper as it is being made. They have commissioned independent artists for the exquisite artwork, and the result is gorgeous.
These cards can be planted, but everyone who picks them up says they are simply too beautiful. See for yourself!
Review Winner
Congratulations to Brenda W. of Montana! She is our first $25.00 gift certificate winner in our November customer review contest. Remember we will be drawing another $25.00 gift certificate at the end of November, so please send us your reviews!
What did Brenda review? The wonderful flower Calendula officinalis, otherwise known as Pot Marigold. This mighty flower is also a great herb.
"The Common Marigold is familiar to everyone, with its pale-green leaves and golden orange flowers. It is said to be in bloom on the calends of every month (the first day of each month on the Roman calendar), hence its Latin name, and one of the names by which it is known in Italy – fiore d'ognimese – countenances this derivation. It was not named after the Virgin, its name being a corruption of the Anglo-Saxan merso-meargealla, the Marsh Marigold. Old English authors called it Golds or Ruddes. It was however, later associated with the Virgin Mary, and in the seventeenth century with Queen Mary." From A Modern Herbal (1931).
A perfect flower to plant in the spring. Add it to your wishlist today!
---
Garden Tool Cleanup
For most of us, late fall and early winter is the perfect time to organize, clean and repair the garden tools. We've put together a short list to help you get organized this fall as well as take care of those tools that helped grow some delicious veggies. See Garden Tool Cleanup for the list!
P.S. – Don't forget
…to send in your reviews for a chance to win one of 2 – $25 Gift Certificates this month. Each review gives you an entry in the drawing, with a limit of 10 reviews. The next drawing will be on November 30, with the winner announced in the following Newsletter. The Gift Certificate can be used for anything we offer and is good for a year from the date of the drawing.
To submit a review, just go to our website and click on the variety or item you want to review. Click on the "Review This Item" and give us the details. Your name and state will be published on the review, but your email will not. If you would rather send us an email with the number of reviews, that is just fine.
Good luck and let us hear from you!
---
From the soil to the seed to the food you eat – we'll help you grow your best garden!
"We believe in a world of healthy soil, seed, food and people. Everyone has a fundamental need for vibrant food and health, which are closely linked.
We work to achieve this by challenging and changing conventional gardening thinking, providing successful and unique methods and techniques while inspiring the power of choice and action for the individual."
Stephen and Cindy Scott
Terroir Seeds | Underwood Gardens
This email sent by Stephen at Terroir Seeds at P O Box 4995 Chino Valley, AZ 86323.
https://underwoodgardens.com/wp-content/uploads/2014/11/WildflowerSeedCard31.jpg
350
350
Stephen Scott
https://underwoodgardens.com/wp-content/uploads/2018/07/TerroirSeedsNEWWebLogo3-300x69.jpg
Stephen Scott
2014-11-15 14:15:20
2020-03-07 12:10:35
Newsletter: November 15, 2014