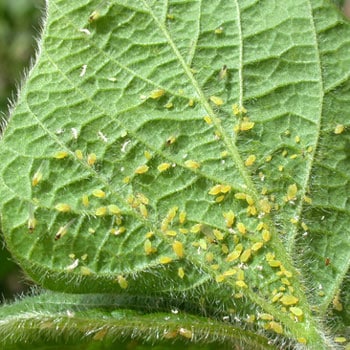 Newsletter: November 2, 2014
Aphid Control, Membership & Reviews
Aphid Control
One of your biggest gardening questions has been about aphid control this year. They will seemingly come in out of nowhere, quietly take over and explode their population just when you first notice them. What can be done?
We show you several different methods, both with prevention that you can do right now to greatly help decrease your chance of getting attacked next year, as well as treatment options for when they do show up.
Read Controlling Aphids Naturally for the whole story, including how nitrogen plays such an important part in aphid infestation! If you like the article, please share it with your friends or gardening club to help others have better success.
---
Membership
You know that gardening has many beneficial rewards, from fresh food to exercise to better health to mental clarity and calm. Your garden, no matter how small, can serve as a tool to help others learn how to grow some food of their own.
Did you realize that your gardening efforts can have a real and very significant influence for a number of people you've never met? By joining us in our Membership Program, you do just that – partner with us to help transform school gardens, community gardens, food banks, fresh food initiatives and educational programs that use gardens as their main tool all across our country.
Read how you and the gardens we both support both benefit in our Membership Program and let's improve food security for lots of people together!
---
Reviews
Now that most gardens are slowing down, we need your reviews! How did things do for you this year? Did you have wheelbarrows full of fruits or veggies, or were you surprised by less than expected production? We'd love to know – it helps us keep the best performing varieties and lets others know what might do well (or not so well) in their region.
Honesty and some detail is what helps us and helps other customers make better decisions. "Grew well, very tasty" is not what we need! We're looking for a little detail as to how the variety did for you, what state you are in, what the climate is like or what challenges you had. These things will really helps someone else make a better decision when choosing their seeds.
To help jog your memory and fire up your reviewing juices, we are drawing 2 – $25 Gift Certificates this month. Each review gives you an entry in the drawing, with a limit of 10 reviews. The first drawing will be on November 15 and the second will be on November 30, with the winner announced in the following Newsletter. The Gift Certificate can be used for anything we offer and is good for a year from the date of the drawing.
To submit a review, just go to our website and click on the variety or item you want to review. Click on the "Review This Item" and give us the details. Your name and state will be published on the review, but your email will not. If you would rather send us an email with the number of reviews, that is just fine.
Good luck and let us hear from you!
---
From the soil to the seed to the food you eat – we'll help you grow your best garden!
"We believe in a world of healthy soil, seed, food and people. Everyone has a fundamental need for vibrant food and health, which are closely linked.
We work to achieve this by challenging and changing conventional gardening thinking, providing successful and unique methods and techniques while inspiring the power of choice and action for the individual."
Stephen and Cindy Scott
Terroir Seeds | Underwood Gardens
This email sent by Stephen at Terroir Seeds at P O Box 4995 Chino Valley, AZ 86323.
https://underwoodgardens.com/wp-content/uploads/2014/10/Aphids.jpg
350
350
Stephen Scott
https://underwoodgardens.com/wp-content/uploads/2018/07/TerroirSeedsNEWWebLogo3-300x69.jpg
Stephen Scott
2014-11-02 14:09:45
2020-03-07 12:10:12
Newsletter: November 2, 2014