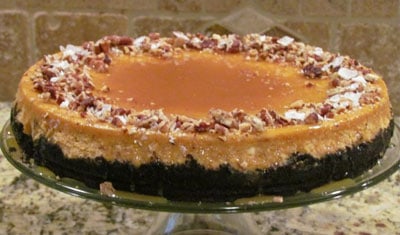 Newsletter: November 2012 Gardening Tips
November 2012 Edition
"The only real mistake is the one from which we learn nothing."
~ Henry Ford
Hello Subscriber!
Welcome to November, hope you are doing well this time of year! If you are one of our American customers, we have some Thanksgiving treats for you in the recipe section and for everyone else, they are just plain delicious any time of the year.
We are back from our incredible, tasty and inspiring trip to Italy with Slow Food USA, getting settled back in and keeping things humming along. There are a couple of videos we've made for your enjoyment.
You have kept us quite busy and for that we thank you deeply. The 2013 Heirloom Seeds catalog is in its final review, with a sneak peek here at the cover for you to enjoy. We plan to have it in your mailbox after Christmas this year. It will be up on the website as a PDF in early December to download and share.
We have approached our new varieties differently this year and added them to the website as we got the descriptions done and confirmation that we would have them. You have made this a success with lots of early orders! We will ship these items just as soon as we get them in and packed, so you will have a jump on the catalog arriving in everyone's mailbox. New seed is arriving now through early January, with the bulk before Christmas time.
This is the traditional time of year to stop and reflect, count our blessings and take a close look at the many things that really make our lives richer and fuller. For us at Terroir Seeds that is you, our customers. For four years now we have grown in many ways; from the amount of inventory, to the number of customers and friends, to new educational programs and recipes, to a new website, to several more years' worth of new ideas and plans. You have made all of this possible with your continued support, ideas, requests and suggestions. Thanks to you, we have helped make some very positive changes in many people's lives through our Membership program donations.
Thank you all so very much, we wish you a delicious and happy Thanksgiving!
---
Thanksgiving Recipes
Pumpkin-Orange Cheesecake
As most of us in America prepare for our annual Thanksgiving holiday, we wanted to share a few recipes that might interest you for your own family feast. One, in particular, is truly a centerpiece desserwith multiple layers of rich flavors that roll across your tongue, surprising with each new taste. I'm talking about Pumpkin-Orange Cheesecake, and you still have time to make this tradition-maker! It is easy to make, and the flavors are heavenly. Well worth trying.
A few other recipes that have become time-honored favorites are Black Powder Buttermilk Biscuits, Mediterranean Pan Roasted Vegetables and two pumpkin soup recipes – Pumpkin Soup with Chipotle and Pumpkin Soup with Sage. All of these will bring accolades to your Thanksgiving table, and even might become new holiday traditions for your family!
After the feast, what do you do with the leftovers? There are many ways of doing this, and we want to add one more – Thanksgiving Turkey and Pumpkin Soup. This is a rich, hearty and extremely satisfying soup that will not only use the remains of Thanksgiving, but also give you an encore from the flavors of the feast.
---
Presentation on Glyphosate (Roundup)
Stephen recently did a presentation on Glyphosate, more commonly known as Roundup, as part of a GMO education series. With the recent GMO labeling movement in California and the increased interest in health and ecosystem impacts of genetically modified foods, we wanted to contribute to the conversation with something that hasn't gotten nearly as much attention, but has just as much direct impact. Roundup is readily available and is widely promoted as "safe and biodegradable", but is that the truth?
Join us for an interesting presentation that looks beyond the marketing seen on TV ads. Here's what we looked at:
Explore the implications and relationships of Genetically Modified seeds and Roundup (glyphosate) to the health of people, animals, soil and waterways.
Show how GMOs are developed to be glyphosate tolerant, able to absorb the poison without dying. They then pass this glyphosate up the food chain, creating a multitude of chronic and acute health concerns in domestic animals as well as people.
Taking a larger view and examining the lifecycle of glyphosate in the soil, how it chelates minerals and nutrients needed for life, and its effects on the lifecycles in waterways it contaminates. Explore ways to tie up glyphosate in the soil through mineralization and soil building techniques.
Watch our Glyphosate presentation and let us know your thoughts!
---
Our Experiences at
Terra Madre and Salone del Gusto
Slow Food Terra Madre and Salone del Gusto were fabulous, tasty, inspiring and involved little sleep and lots of walking.
Terra Madre is educational workshops, culinary tastings, speeches and panel discussions with 130 countries represented this year. Salone del Gusto is a world's fair of food, with 4 huge halls devoted entirely to food of all kinds from around the world.
We are back in the office sorting through over 450 photos and 73 short videos totaling over an hour and a half. There are two short videos we have put together so far, with more to come on our Slow Food delegate experiences. The first is Carlo Petrini's remarks to the Slow Food USA delegates just after the opening ceremony for the meeting. Carlo is the co-founder of Slow Food International, the umbrella organization for all of Slow Food worldwide. His remarks are inspiring, and a welcome positive in today's uncertain world. Watch "Carlo Petrini's Speech to Slow Food USA Delegates" and see for yourself.
The second is a slideshow overview of our experiences at Terra Madre and Salone del Gusto with a couple of short videos showing some of the incredible people and dedication to the tenants of Slow Food – "Good, clean and fair". Watch "A World of Taste – Slow Food Terra Madre and Salone del Gusto 2012" to whet your appetite!
---
Introducing
New Grains Department
We are very pleased (excited!) to introduce what some of you have been asking about for a couple of years now – ancient grains that you can grow on a home gardening scale. Our brand-spanking new Grains Department has taken some time to find what specific grains would be best for the home gardener that yielded the most, required the smallest amount of land, gave the best nutrition and had no hybridizing or other unwanted breeding characteristics that affect so many people today. That is a tall order, folks!
Thanks, as usual, to our mentors and some other incredible people we have not only found the grains that fit the bill, but the growers who are keeping these varieties alive. Some appeared just as we needed them! We are especially proud of finding not only the White Sonora wheat, but the grower who has tended it for the past 15 years and helped re-introduce it to the Southern Arizona market. This wheat has not undergone the extensive hybridization that has made this ancient staple grain un-edible for so many.
In addition to wheat, we have Teff – an ancient Ethiopian grain, Quinoa – the Mother Grain of the Inka, 3 kinds of Sesame and Tarahumara Chia. All of these are ideal for the home gardener. There are other grains in the works as we get them sourced!
---
Planting Seeds
Refer a Gardener Program
A good number of you have passed along our catalogs, the Heirloom Times and seeds to your friends along with your recommendations, helping us gain new customers and grow our business.
We want to say "Thanks" for your trust with our new Planting Seeds referral program.
Here's how it works: When you refer a friend or family member, you will receive a $20 Gift Certificate when your referral makes their first purchase over $20. Your referral will also receive a 15% discount on their first order.
The Fine Print
No time limit between you referring a new customer and their first purchase.
Referral must not have ordered from Terroir Seeds in the last 3 years.
No limit on the number of referrals you can send us.
Gift Certificates will be valid for 1 year from the date of issue.
To get started, just click on the Planting Seeds – Refer a Gardener Program link for the form, download and fill it out and mail, email or fax it in. We will send them a catalog and a coupon for their discount right away.
---
Our customers are friends that we have not yet met, as you share our interest and passion for growing incredibly delicious foods, preserving heirloom seed traditions and biological diversity for the future through our own home gardens. Sharing this is possibly the most important work, as it helps all of us make a definite, positive impact in our lives and in those that we share.
Thanks for your time this edition, we hope you have enjoyed it. Please let us know your thoughts and suggestions, as we are always working to improve.
Stephen and Cindy Scott
Terroir Seeds | Underwood Gardens
https://underwoodgardens.com/wp-content/uploads/2012/11/Pumpkin-Orange-cheesecake1.jpg
235
400
Stephen Scott
https://underwoodgardens.com/wp-content/uploads/2018/07/TerroirSeedsNEWWebLogo3-300x69.jpg
Stephen Scott
2012-11-20 06:16:21
2018-04-23 11:09:50
Newsletter: November 2012 Gardening Tips